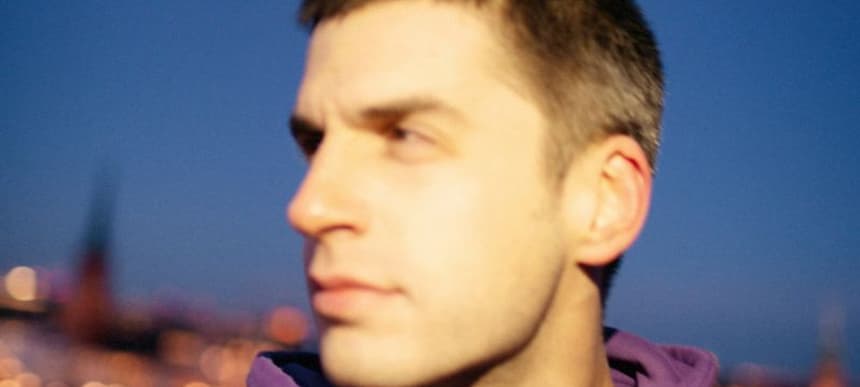 20.05.2019, Words by Felicity Martin
The 10 Best Swedish Non-Dance Music From The Last Year Or So, according to Kornél Kovács
"There's really an abundance of great Swedish rap around at the moment..."
Though the Studio Barnhus label has always operated within the 'dance' or 'electronic' sphere, much of what they release can be termed 'wonky pop' as much as four-to-the-floor house and techno. Its co-head, Sweden's Kornél Kovács (alongside Axel Boman and Petter Nordkvist) has just dropped his second album on the imprint. Where his last album, 2016's 'The Bells', was a collection of water-tight dance tracks, 'Stockholm Marathon' is comparatively more pop-centric, with early '00s R&B influences and bright melodies coursing through its veins.
The album was conceived after Kovács moved back to his flat in Stockholm and, as such, the LP is a love note to the "beautiful, boring" city, and draws in Swedish pop and EDM duo Rebecca & Fiona on vocals. In the spirit of his new record drawing in a wider array of genres, Kornél Kovács has shared his ten favourite non-floor-centred cuts from his native land from the "last year or so" – with a selection of Swedish rap, pop and R&B.
1. Ant Wan – 'Sativa'
"This new star of Swedish rap had already been active for a few years when he dropped this melancholy banger last spring, and really started turning people's heads. He's been following up with smash after smash ever since. One of the leaders of the new school of Swedish urban music."
2. Z.E. – 'Gäller Feat. Jiggz & Thrife'
"Another shining new Swedish rap star is Z.E. Compared to Ant Wan, he relies less on auto-tuned melodics and more on classic, rapid-fire rap delivery. This super catchy posse track also features Jiggz and Thrife. Intense, catchy and endlessly quotable, if you know Swedish at least!"
3. ShitKid – 'Yooouuu'
"ShitKid usually does more uptempo, rowdy punk stuff but this slow, short and sweet heartbreak ballad is my favourite track of hers. ShitKid is currently Sweden's only actual rock star, and a brilliant songwriting talent. Her new album 'Detention' is great but I felt I had to share this track."
4. Viagra Boys – 'Sports'
"Some more punk business here, from this lovely bunch of Stockholm ruffians. This is as perfect as a rock song gets in my opinion."
5. Ellen Arkbro – 'For Organ & Brass'
"Let's change pace a bit eh? Ellen Arkbro has a great new release out, it's called 'CHORDS' and I've been listening to it non-stop, but it's not on YouTube yet so let's all listen to 'For Organ & Brass' once more, even though it's technically too old for this list. This piece of music changed my life with its sheer beauty, simplicity and force."
6. Lune – 'Don't Speak'
"Lune is the voice on Adrian Lux's classic 'Teenage Crime', one of my favourite pop songs ever, which was also brilliantly remixed by Axel Boman on our recent Studio Barnhus 'Volym 1' compilation. Her biggest solo hit is a cover of Swedish House Mafia's 'Leave The World Behind' but this, her brand new single, is the best thing she's released yet. Super catchy modern pop with that magnetic instant hit appeal."
7. Taken By Trees – 'Charlie'
"Victoria Bergman finally returned with a new album last year, and this breezy number was one of the highlights, with it's Lambada-rippin' vocal lines and intriguing production tricks (that sweet sidechained reverb at 24 seconds!). I also want to take this opportunity to point the reader towards 'Taken Too Young' – her collaboration with Tough Alliance from 2007, possibly my favourite song ever from either of those Swedish giants."
8. Miljon – 'Windows Down'
"Miljon is a new duo featuring Lisa Millberg (ex-Concretes, as is Victoria Bergman) and Jon Bergström. They've released a string of gorgeous pop ditties like this one since their debut EP in 2018 and also collaborated with Axel on 'Volym 1'. Can't wait for more from this very creative and cute partnership!"
9. Cherrie & K27 – 'Familjen'
"Cherrie is the undisputed queen of Swedish R&B and probably our next big international star. This cut, featuring her younger brother K27, is my favourite from her new mixtape 'OG'. No proper YouTube upload yet (it's on Spotify) so let's enjoy this live version!"
10. Ozzy – 'Några Gånger'
"There's really an abundance of great Swedish rap around at the moment, I mentioned Ant Wan and Z.E. already and Ozzy from Malmö is also definitely among the best of the new school. Hope he gets that Kylie Minogue collaboration he's been dreaming of soon!"
Stream Kornél Kovács' 'Stockholm Marathon':
Related: The 10 Best (non-Barnhus) Swedish Techno and House Tracks, according to Kornél Kovács