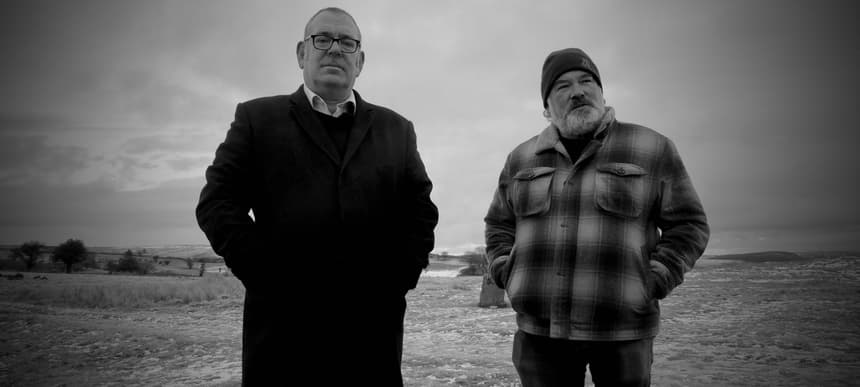 26.11.2019, Words by Felicity Martin
The 10 Best Nightingales Tracks, according to Stewart Lee
"When I toured supporting the band last year this was the one I risked my old knees for, bouncing down the front..."
As well as being this country's greatest comedic treasure, Stewart Lee has long been a vocal music fan. Occasionally moonlighting as a music critic, Lee has penned music reviews for the Sunday Times, Q, Mojo and The Wire, and referenced a love of The Fall, free jazz and even obscure Turkish funk in his routines.
Lee recently turned his attention to enduring yet underappreciated Birmingham post-punk band The Nightingales. They're an act who enjoyed cult status in the '80s but never reached the acclaim of their peers like Joy Division and Wire, and the subject of a documentary feature film Lee is creating alongside Brass Eye director Michael Cumming: King Rocker.
It shines a spotlight on frontman Robert Lloyd, whom Lee describes as 'Britain's ultimate post-punk survivor', who has been 'buoyed by endless critical acclaim, but hampered by ongoing commercial indifference'. Frank Skinner also appears in King Rocker, having briefly performed with Lloyd's former band The Prefects (who went on tour with The Clash in the '70s) before Lloyd took over.
Lee has supported The Nightingales on tour in the past, and, coincidentally, Lloyd now lives in Wellington, the town where Lee was born, shortly before being "dispatched" (his words) off to an orphanage. There's also the matter of the giant King Kong statue that dominated Birmingham's skyline in the '70s and the subject of Lee's childhood fascination, and which Lloyd recently compared his onstage persona to in another twist of weird synchronicity.
The regrouped band have recorded an album, set for release next year and billed to be their best yet. In anticipation of this, and as King Rocker nears completion, Stewart Lee runs us through his favourite ten tracks by The Nightingales, The Prefects and various other Nightingales offshoots.
1. The Prefects – 'Going Through The Motions' (1979)
"A relentless dirge, desired to annoy punks who wanted to pogo, that takes a cynical swipe at the emerging scene. [Robert] Lloyd never wanted to be part of any club that would have him as a member, but he has developed a sudden yearning for posterity."
2. The Nightingales – 'Idiot Strength' (1981)
"Rare Jo Crow composition, one of the great post-punk singles, covered as a sad lament by Liverpool conceptual artist Paul Rooney."
3. Joe Crow – 'Compulsion' (1981)
"Crow left The Nightingales/Prefects for one lone solo single and/or EP – the title track is a slice of cold wave melancholy almost made famous when covered by Depeche Mode's Martin Gore."
4. The Nightingales – 'Well Done Underdog'/'The Crunch' (from 'Pigs on Purpose', 1982)
"These segue together and it's hard to separate them in my mind. 'Well Done Underdog' is a stream-of-consciousness unaccompanied vocal number, assembled from images in an ordinary pub back room. Robert took us to the pub in question, explained some of the sources for the song, and sang it with a pint sat alone at a table for our film. On the album it bleeds into 'The Crunch', a socio-economic lecture set to driving cheese wire guitars."
5. The Nightingales – 'What A Carry On' (from 'In The Good Old Country Way', 1986)
"Early indication of Lloyd's blue collar c&w sensibilities, exploded and expanded in a kind of dub version for the b-side 'Carry On Carrying On'."
6. Robert Lloyd – 'Sweet Georgia Black' (Me And My Mouth, 1990)
"Pure Nashville balladry that should have been a staple of stadium sized cowboy singers all across America, but even the might and muscle of Virgin Records couldn't nudge Lloyd into the mainstream."
7. The Nightingales – 'Black Country' (2004)
"An uncharacteristically revealing slice of self-reproach, that spills snapshots of Lloyd's missing decade over a twangy country backdrop. When Rob wouldn't be drawn on where he went or what he was doing when he disappeared, 'Black Country', the single that marked his return, helped us fill in the gaps."
8. The Nightingales – 'Born Again In Birmingham' (from 'Out Of True', 2006)
"Lloyd details the years where he nearly became a professional midlander tap-room bore, and the role's attendant perils, over a pulverising krautobilly beat. A late period classic!"
9. The Nightingales – 'Gales Doc' (from 'Mind Over Matter', 2014)
"Lloyd imagines his band as the subject of a documentary while the group display all their characteristic moves. When the real 'Gales doc came to be made, the BBC's voice of conscience Samira Ahmed lip-synched with Lloyd in an unsettling visualisation of this track, courtesy of Brass Eye and Toast director Michael Cumming."
10. The Nightingales – 'It Is' (from 'Perish The Thought', 2018)
"Drummer Flies Kitson takes the high road of the vocal, leaving Lloyd to growl through this relentless slice of gutter space-rock. When I toured supporting the band last year this was the one I risked my old knees for, bouncing down the front. Few groups of the Nightingales' vintage ever sound this vital."
King Rocker is still in production and is looking for donations for its completion – you can donate via the film's website here.