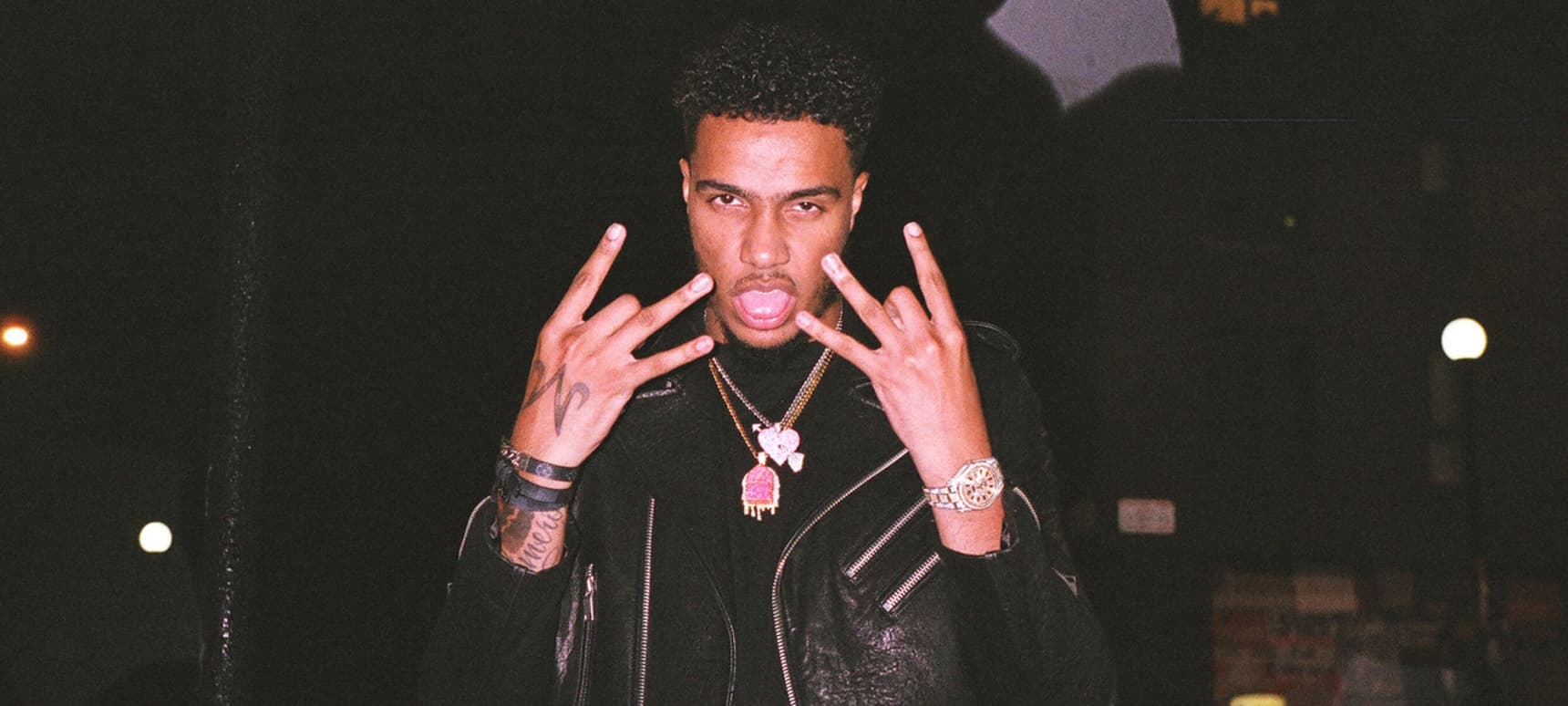 12.02.2019, Words by Felicity Martin
The 10 Best Tracks To Play FIFA To, according to AJ Tracey
The Ladbroke Grove MC shares the ten tracks he can be found hammering his Xbox to...
Last week, AJ Tracey dropped his self-titled debut album to wide acclaim, proving his versatility by addressing a range of styles – UKG, trap, and even country. Having initially entered into music as a grime MC, the Ladbroke Grove rapper has broadened his horizons on the full-length, showcasing an ambition that sets his sights beyond 140, and looping in Conducta and frequent collaborator Nyge on production.
As well as music, AJ Tracey has made no bones about being a football fan. A longtime lover of Spurs, tracks like Dave collaboration 'Thiago Silva' and 'False 9' are littered with references to the beautiful game, with lines like "I chase cheques like Aubameyang", while the Giggs-featuring 'Nothing But Net' on his new record pays homage to his sport of choice. A self-confessed FIFA addict as well as Fortnite and Call of Duty, AJ reveals his ten favourite tracks to play while he's hammering the controller.
1. Lil Baby x Gunna – 'Drip too Hard'
"It's one of my favourite songs and Gunna is one of my favourite artists. I like the content and what they're rapping about – talking about fashion."
2. Jay Critch – 'Peso'
"Its fast tempo is very good to play FIFA to… it charges me up, gasses me up. Jay Critch is bro – so go support the bro. And he's on my album."
3. Lil Uzi Vert – 'Sauce It Up'
"I like singing along to it tbh. I sing out loud to it. I think people on the mic get a bit annoyed with me singing down it though. They can hear more."
4. Playboi Carti – 'Half & Half '
"Another one I just start screaming out in the middle of the night. It's a proper singalong. I think the people who live here get annoyed with me cos the bass is proper loud too. Carti is hard too."
5. Gunna – 'Top'
"It's an unknown song. People don't really know about that song but it's one of his best. It's not well mixed down as I don't think he had the same crew with him then but it still bangs."
6. Travis Scott – 'Butterfly Effect'
"One of my favourites. It reminds me of summer when I used to play that – all summer I would bang that tune. Another little throwback one. The right vibes for video games."
7. A Boogie Wit Da Hoodie – 'Swervin'
"I fuck with him. He's hard. His melodies are different."
8. Blue Face – 'Thotiana'
"He raps offbeat. He's offbeat but he's on beat if you get me. That tune is hard. It's the best for getting you amped up."
9. Lil Uzi Vert – 'Dolly'
"He's one of the best. It's a shame if he quits music because I won't have anymore games to play FIFA to. He's one of my most played probably."
10. Young Thug – 'Sin (ft. Jaden Smith)'
"It's a very ambient song. I have my purple lights running, play that song – it sets the mood for me to start getting people on Fortnite."
Listen to AJ Tracey's self-titled debut album:
Related: Read our interview with AJ Tracey: "You're not gonna hear me on a track with just anyone".