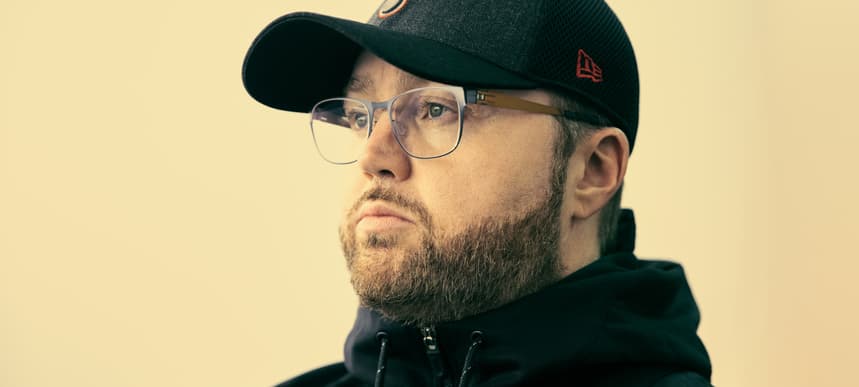 15.10.2019, Words by Felicity Martin
The 10 Best Tracks from Phantasy Rave in Reigate on 30/09/1989, according to DJ Phantasy
"You didn't need to mix this record, just stop the track you're playing and press play on this, instant crowd roar"
30 years ago, DJ Phantasy held his first Phantasy Acid House party in Reigate. A rave that is now infamous, the Surrey party ended up getting busted by the police. Three decades on, DJ Phantasy – real name Stephen Hannon – has written his memoirs: Three Generations Deep is the personal story of a figure at the forefront of UK dance music culture since the early days. In the book, Hannon (described by Grooverider as one of "all them early guys that are often called 'pioneers'") takes you on his journey from growing up on a West London estate, pirate radio, touring with Carl Cox, to his present role in drum 'n' bass supergroup SaSaSaS.
Providing an insight into the development of rave culture, Hannon's book tackles the past as well as the present, sandwiched together with some entertaining anecdotes about his run-ins with Geri Halliwell, Ryan Giggs and Linford Christie. With the book out on shelves now, DJ Phantasy casts his mind back to 1989 to share the best tunes that were spun at the now-legendary Phantasy rave.
1. Technotronic – 'Pump Up The Jam'
"I remember this track was doing the rounds on white label and was played by every DJ as I sat there eagerly awaiting my set. The way the crowd would be bouncing around to this was so good to see, all joined together in what was to be one of the most memorable raves ever. The police tried to stop the event and decided to let the thousands of ravers go ahead with the party as there were just too many to contain. After this party, the government brought in the official licensed party act which basically put a stop to illegal raves. I discuss this event and this situation in more detail in my book."
2. Soul II Soul – 'Back To Life'
"An absolute classic that still sounds as fresh today as it did 30 years ago. I remember Frankie Valentine playing this and even though it was slower than some of the other music that was floating about, instantly you could see the vibes it was creating as people jumped around the field. This was early breaks entering into the scene that was dominated by the 4×4 kick. This track always brings a smile to my face when I hear it. Soul II Soul followed this with many more classics but this reminds me of those days when this was all so fresh and new."
3. Joe Smooth – 'Promised Land'
"Brothers, Sisters, one day we will be free…. One of the things the acid house scene did was unite people from all walks of life together, everyone under one roof, all together dancing as one and joined by the love of this infectious music. Even though this record was released in 1987, it was covered by The Style Council in 1989 which gave the original track another boost into the rave scene. Raving under the stars with your brothers and sisters, this classic is one of them feel good factor tracks."
4. Rhythm Is Rhythm – 'Strings Of Life'
"Another early rave track, way before its time and another classic that every DJ played in their set throughout the night. But no-one cared, it was one of those tracks that you could just listen to over and over again. Them beautifully hypnotic piano intros as the tension built to the drop. The crowd were waiting in anticipation for the drop and you could hear the roar of thousands of people all going crazy to this. As a DJ, it was one of the tracks you just had to play and it still sounds great. Derrick May was an absolute genius and was at the forefront of the sound that captured the imagination of the world."
5. A Guy Called Gerald – 'Voodoo Ray'
"'Voodoo Ray' had everyone in that field bouncing. As people were humming along to the vocal, suddenly this massive bass sound comes roaring out of the speakers. This sound was against the grain at the time which made the track really stand out. I later found out this was made by a UK producer called Gerald who I met a few years later. My copy of this track got scratched because I played it so much that I had to go get another copy."
6. Kariya – 'Let Me Love You For Tonight'
"Wow, listening to this while writing this piece brings me out in goosebumps. You didn't need to mix this record, just stop the track you're playing and press play on this, instant crowd roar. If rewinds were a thing back then I reckon this would have been one of them tracks that just constantly got reloaded. Such a beautiful track that captured the whole vibe of raves in those amazing summers of 88-89. It's funny but it was only recently that I actually looked up the lyrics of this track and i realised I was singing the wrong words for 30 years, haha. Another absolute classic."
7. Turntable Orchestra – 'You're Gonna Miss Me'
"Piano tracks were a massive part of early house and this one was one of the more underground classics. Being part of this culture back then made us feel part of something really special and this music was just a constant stream of surprises both from the music being released and the different parties happening every weekend. I absolutely loved this track and although it wasn't one of them massive crowd reaction tracks, it had the party bubbling along nicely."
8. Raze – 'Break 4 Love'
"Tracks like this set the pace for what was about to happen over the next three generations. One of the biggest classic tracks that came out around that time and another track that was a constant in every DJ's selection. When I perform I play quite quick but back then you would just savour these classic tracks and the moments you shared with everyone there. A feelgood track that still stands the test of time."
9. Frankie Knuckles – 'Your Love'
"That arpeggio intro was so memorable and had you hooked in an instant. No matter what I was doing in a rave, when this come on I had to just take it in, it just felt like it built and built and built till the vocal drops in minutes later. This was part of the golden era of Chicago house music and still stands the test of time. The late great Frankie Knuckles was there at the forefront of this music phenomenon that took the whole world by storm. RIP to the legend whose music lives on."
10. Black Box – 'Ride On Time'
"This was one of the biggest tracks played anywhere, especially at Phantasy, Reigate in 1989. A massive vocal blaring out of the sound system across a field to the thousands of people caught in a trance, in awe of what they were witnessing and a part of. I was there in that same trance thinking about how amazing this feeling was. We just didn't want it to stop. And that beat hasn't stopped since. This all-time classic reached Number 1 in the Official Top 40 charts and was one of many songs that helped create awareness of the movement and the rave culture which grew by thousands each week."
Watch footage from the 1989 Phantasy Acid house party:
Three Generations Deep, by DJ Phantasy is out now – purchase it here.