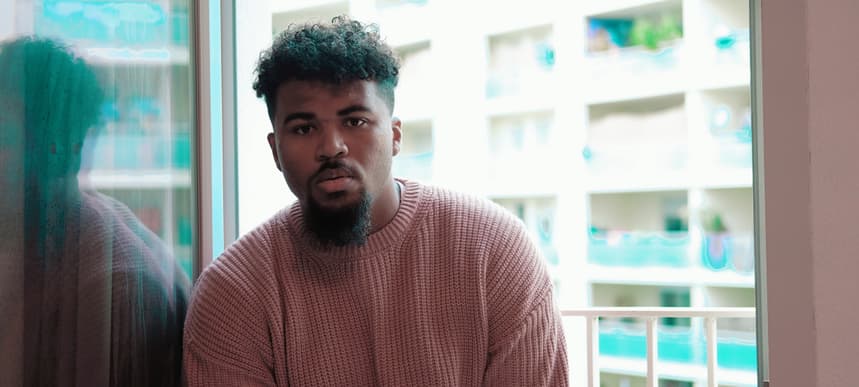 27.03.2019, Words by Felicity Martin
The 10 Best Tracks That Made Me Say 'WTF Is This?', according to Mr. Mitch
"'WTF is this?' is always a good reaction, even when it's not because it means the music is more than wallpaper"
The job of any selector worth their salt should be, as well as keeping the floor moving, to surprise the audience. A good DJ set should contain at least one 'WTF moment' – where clubbers are left scratching their heads, unable to process what they've just heard.
Ahead of a party where south London DJ and producer Mr. Mitch will be doing just that – GETME!'s 12th birthday bash at Tola next week – we invited the spinner to name the cuts that have caused his head to go into a spin.
"This list is not in any order and is by no means the only tracks that have made me say 'WTF', but they are the ones that sat at the front of my mind when I thought about putting together this list," Mr. Mitch says. "'WTF is this?' is always a good reaction, even when it's not because it means the music is more than wallpaper and doesn't just blend into the background. This is a list of the tracks that had made me say it in a good way."
1. Bruce – 'What'
"WTF? club tunes for me are the ones that can transport me to somewhere else completely. I forget who I am or where am and just get lost in the moment. 'What' does this to me every time, whether I'm DJing or dancing, or both."
2. Joker – 'Purple City'
"Was listening to a Rinse FM show driving around somewhere and this came on and blew me away. I'd never heard funk and melodies used in these ways on grime/dubstep and he completely changed the game, for me at least."
3. Randomer – 'Bring'
"I can't remember where exactly I was the first time I heard this but I definitely said, "What the fuck is this?" (in a good way)."
4. Pearson Sound – 'XLB'
"I like tunes that sound like doing balloons, to be honest, and this accomplishes that perfectly."
5. Palmistry – 'Vapore'
"I heard this when I was in the process of making 'Parallel Memories' and it felt like he was in exactly the same place as me sonically but at the same time like nothing else I'd heard."
6. Portishead – 'Machine Gun'
"Whenever me and Social State get together to make tunes we get to the end of the session and then we're like, 'Oh fuck we've just made 'Machine Gun' again.' Their ability to make something feel so noisy and abrasive but super clean through Beth Gibbons vocals is what draws me to this."
7. Nesha – 'What's it Gonna be? (Sticky 2 Step Mix)'
"Less of WTF moment, more of a this is the greatest song ever moment. I first heard this when I was 10 or 11 on a DJ Spoony Twice as Nice in Ayia Napa CD. Sticky quickly became one of my favourite producers in the early 2000s."
8. Trey Songz – 'Can't Be Friends'
"A strange one, but this song was the beginning of my love affair with [Ryuichi] Sakamoto. I even cried to this song in a hyper-emotional state the day after my first son was born eight years ago."
9. Zapp & Roger – 'Slow & Easy'
"I remember discovering this going through my dad's record collection when I was younger. You could easily mistake this for someone making a grime edit of an R&B song, it's even 140. Troutman's use of unusual percussive sounds on this made me prick my ears up as a kid."
10. Brothomstates – 'Adozenaday'
"Heard this first of all from a Sprite advert in the early 2000s and just assumed it was a song that had been made for the advert. Me and my cousin became obsessed with it and made a bunch of grime/garage tracks around this melody."
Mr Mitch plays GETME!'s 12th birthday alongside Sherelle, Lixo and Lumi on April 5th at Tola in Peckham – find tickets here.