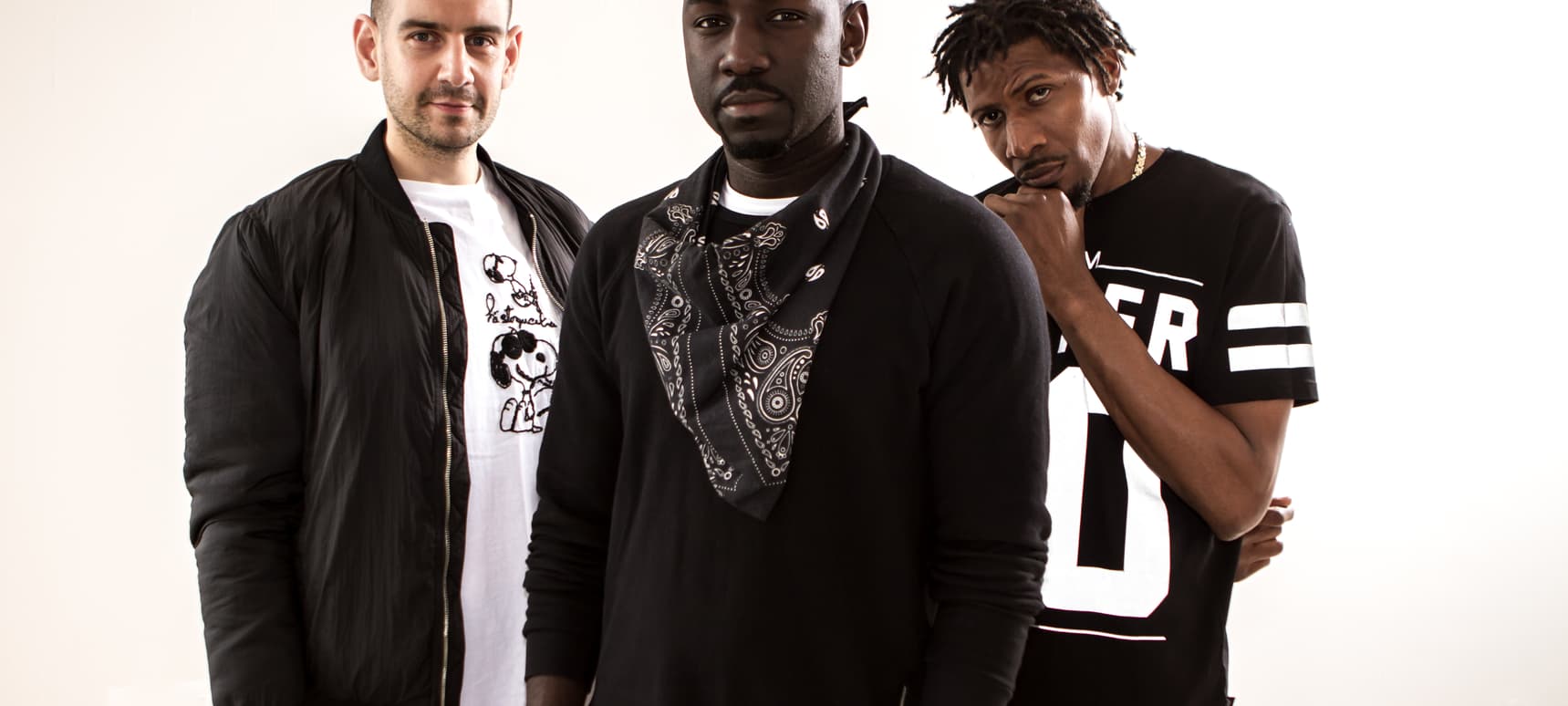 12.03.2019, Words by Felicity Martin
The 10 Best UK Garage Tunes, according to Heartless Crew
"You gotta bust the Napa Dance to this one!"
In the annals of UK garage history, Heartless Crew are a name who need no introduction. DJ Fonti and MCs Bushkin and Mighty Moe are true veterans of the scene, having first collaborated in London in 1992 before bubbling up via pirate radio, quickly coming to infiltrate the scene in the capital. Responsible for 'The Heartless Theme aka Superglue Riddim' as well as their 'Crisp Biscuit Vol. 1' compilation, Heartless Crew's music has made an indelible mark on the London music scene as we know it.
The fact that they haven't left since UK garage's heyday is testament to their love of the music and, ahead of their appearance at Strawberries & Creem festival this summer (where they're playing the Dummy stage), they've given us a list of their favourite UKG cuts of all time.
1. MJ Cole – 'Crazy Love' (2000)
"This was an Ayia Napa anthem for us and we certainly experienced a lot of crazy love scenarios on the island of Cyprus, known in Greek mythology as the birth place of Aphrodite, the goddess of beauty, love, pleasure and procreation! MJ Cole's production is always on point and with the amazing vocals of Elizabeth Troy, who we knew from one of our top ten jungle tunes 'Greater Love', this is one of his finest UKG moments. You gotta bust the Napa Dance to this one! Also check out the 'Crazy Dubb' remix it's crazy!"
2. Roy Davis Junior feat. Peven Everett – 'Gabriel' (1996)
"Spiritual tune right here! This one is healing and right in line with our god bless/love vibes. It's the combination of a deep, heavy bassline with soulful vocals and uplifting horns that are truly heavenly. A real dancefloor classic."
3. George Morel – 'Let's Groove (Morel's Groove Dub) (1994)
"Wow this tune is an oldie, ain't it?! This is a certified classic and we have to include it in our top ten as it was played on heavy rotation notably as the second track in on our infamous 'Crisp Biscuit' compilation mix. Originally released on American house label Strictly Rhythm, this is more like the roots of UKG but it worked for us. As the tune is quite sparse and there are no vocals we were able to chat longer story time lyrics with no interruption and ride all the way through to the end!"
4. Master Stepz – 'Melody' (1998)
"'Melody' was a groundbreaking tune for us and the scene in general and was a tune that started to build a new lane for garage and move it towards a more grimier sound. The drums are easily recognisable as a sample from Busta Rhymes' 'Dangerous' combined with a heavy sub-bass and catchy melody this is a winner. Shouts to MC Splash on the vocal sample too! This was always a firm favourite in our sets. You may also remember this one from our famous clash with Pay As You Go… need we say anymore?! Trivia: You can hear Master Stepz as one of the voices on the dialogue intro on Shy FX's 'Gangsta Kid II'."
5. Big Bird – 'Flav' (1997)
"This was actually a b-side to an EP we first heard being played by DJ Tag who played the slot before us on Mission FM. We all instantly loved the groove and soon adopted the tune as a regular feature on our sets. Also worth checking out the awesome Groove Chronicles remix!"
6. D.E.A. Project – 'Circles Of My Life' (1998)
"So many great tracks were released by the D.E.A. Project back in the days and this was a firm favourite in our camp. The melodic build-up sets up the bassline drop so nicely. This was heavily featured in our old skool sets and we had the pleasure of inviting the D.E.A. team to perform this track at Mighty Moe's birthday bash 2001 at Temple in Tottenham."
7. Mystic Matt & Anthill Mob – 'Burning' (1997)
"A lot of history and legacy here! Ok so you've got Mystic Matt from arguably the first UKG crew: The Bubbling Crew, which was Matt, Rojay and MC Yankee. Then you've got the Anthill Mob who were, at the time, a cutting edge concept group with an unmistakable sound which was pushed out through Confetti Records (shouts to John Joe and Maria). We could tell you how we nearly signed up to Confetti Records but that's another story! This is a belter and just know say fire bun when Fonti drops this and Bushkin and Mighty get to work on the mic!"
8. Wookie – 'Down On Me/Scrappy' (1999)
"Wookie was already doing his thing as one half of production duo the X-Men with Johnny J and they were doing really good remixes but when this double sider dropped it really caused waves (similar to Zinc's '138 Trek') and turned heads. The sound was fresh and tight but still gritty and had an almost jungle/drum and bass feel to it with rolling drums and stomping basslines. This cemented Wookie as a UKG stalwart and he influenced a lot of what was to come after."
9. Wiley – 'Eskimo' (2002)
"Not strictly a garage tune but this white label instrumental surfaced around the time where the sound was getting darker, more MC-led and evolving into what we now know as grime. Rewind back to Ayia Napa in the summer of '02 and this record was causing a real storm and getting pulled up numerous times in the clubs. We would even chant the bassline as a sort of anthem to our fun and frolics at the time."
10. Heartless Crew – 'The Heartless Theme' (2002)
"We originally co-produced and wrote this tune a couple of years prior to our signing and its official release. The dubplate version we would play had completely different lyrics explicitly describing our sexual adventures with the opposite sex and simply titled 'The Love Song'! After some advice from Fonti, Bushkin rewrote his verse and we began to craft ourselves a signature tune which would encapsulate who we are on a wider scale and 'The Heartless Theme' was born. We haven't released many tunes over the years and we are best known as a live rave act but this one has truly stood the test of time and captures our collective energy and style. "We've got the vibe yo!""
Heartless Crew will play Strawberries & Creem festival, taking place in Cambridge on 15th June.