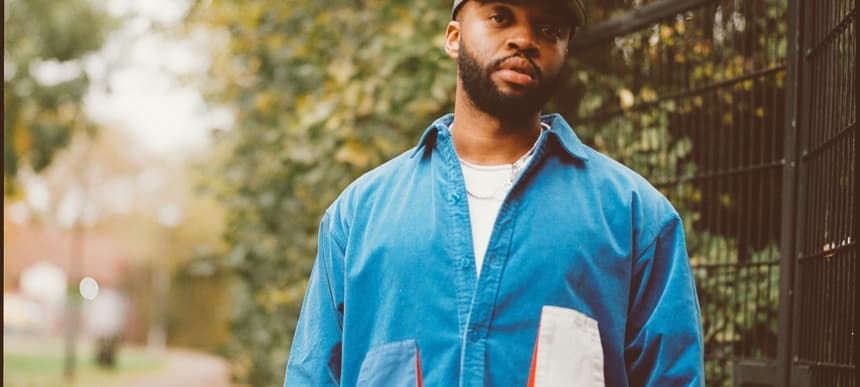 15.05.2020, Words by Felicity Martin
The 10 Best UK Rap Films, according to Jords
"We found it hilarious, terrible and amazing at the same time..."
Shining a light on inner-city living while being soundtracked by some of the best rap music going, the British rap film is a genre beloved by the UK. While classics like 2006's Kidulthood and its sequels have stood the test of time, more recently the Kano and Dave-starring Top Boy has earned itself a wide audience (including, of course, Drake), while there's been an explosion in UK rap artists directing and producing their own visuals.
Croydon rapper Jords is someone who recently dipped his toe into the world of film production, with his unique short film Almost An Adult providing an accompaniment to his mixtape of the same name, released today [15/05/2020]. A coming-of-age drama, the intimate film was filmed while mourning the death of his grandmother, forming a powerful, touching tribute to her as well as beautiful cinematography and spoken word interludes. "Creating this body of work has been one the most challenging, yet most rewarding things I have ever done," Jords said of the project. With Jords' soulful, introspective release out today, we asked him to tip his favourite ten UK rap films.
1. Bashy – Ransom (Ft. Wretch 32 & Scorcher) (2009)
"I remember watching this video for the first time, and thinking: "I have never ever seen this from an artist from the UK." I didn't quite understand what was happening. Was it a film? Was it a music video? Will there be a part two? But I couldn't stop watching. And I watched it over and over again. It's clear to see where Bashy's ambitions were when he created this, and it is no surprise that him and Scorcher have both seen success on the screen since."
2. Crop Circle – A Film By Nines (2018)
"My favourite part about this is the cinematography. It is a very well put together film. I also like that the focus isn't on the music, and this film creates a real image of what the hood is like. Not just crazy stories and unimaginable circumstances. Real day-to-day life, with very well-timed comedic moments from a lot of people you will recognise from Instagram. It is a film that transcends the genre, which makes it timeless."
3. Kidulthood (2006)
"Noel Clarke's Kidulthood is a time capsule for the lives of inner-city teenager. When I watch it today, it takes me back to where I was when I first saw it, sneaking into the cinema underaged with no money for popcorn. This film was for me the first time I saw people like myself on the big screen, and it created a cultural shift in my area. I have flashbacks of seeing the more privileged kids in my school running round saying "ARE YOU DIZZY BLOOD?!", and that was the first time I realised how influential we can be culturally."
4. Giggs – The Essence Part 2 (2019)
"The reason I like this one so much is the Jamaican influence. I love things that I can see myself in, and relate to, and I think what the legend Giggs always does well, is embrace where he came from and celebrate it. So this film is a real good display of the ends for a second generation Jamaican immigrant, alongside being born and raised in the hood. Directed by Buck and Ashley Chin, The Essence touches on several themes of inner city life, from music-making to death, and is also a good demonstration of something that is a taboo in the hood: PTSD. Waking up in the middle of the night thinking that police are knocking down your door. Juxtaposed with touches of comedy, it delivers its message very subtly."
5. Ill Manors (2012)
"Ill Manors is a crime thriller, directed, written and scored by Plan B. This is a film that follows the lives of various characters, all struggling to survive the mean streets of East London. I love how raw and gritty this film is, and stands alone as a film, transcending music, despite a stellar score. I love the fact that Plan B painted a picture of various stories from various multicultural backgrounds, who all combine to live in London. This is a very real and vivid picture of the dark side of life in East London."
6. Novelist – No Weapons (2018)
"I first met Novelist when he was about 14. Him, myself and Hardy Caprio were all freestyling back to back in Lewisham on the backroads. Novelist had the most bars and the best delivery. He had a great sense of purpose, knowing who he was and exactly what he was going to do. I can't really say I've seen him grow, because he is the same guy. I'd rather say that the world has grown to him, and he plays by his own rules. Sticking to who he is, yet still delivering strong messages to change what's around him. This short film sums that up perfectly, and the music is a great soundtrack to a simple statement: stop killing the mandem."
7. 1 Day (2009)
"I remember watching 1 Day with my brother one day when I bunked off of school. We found it hilarious, terrible and amazing at the same time. 1 Day is more like a soap hip-hopera musical, than a film, and I couldn't stop watching. In a nutshell, 1 Day is about a man from inner city Birmingham, who has to make £100,000 in one day while being pressured by his three babymothers, accompanied by strong UK rap, and featuring Lady Leshurr. Enough said."
8. Babylon (1981)
"Babylon is a film my Godfather told me about as I was growing up, and he said I should watch it to understand the history of Jamaicans coming over to England, and the friction we faced in the '80s. It centres on themes of racism and poverty, but also brings about conversations on Rastafarianism and identity, as well as being the first British feature film to take reggae music as its central theme. As a man of Jamaican descent, this film was integral to my education on black British history."
9. Circle Of Revenge (2013)
"Circle of Revenge for me was Top Boy before Top Boy, soundtracked by gritty hood music that I grew up listening to. I have flashbacks of linking my boys and before saying anything, asking: "Have you seen the new Circle of Revenge episode?" For me, and where I came from, seeing people put your life into film and immortalising was so inspiring, regardless of what people may thinking about the topics covered, people were leading by example and turning their experiences into art."
10. Rapman – Shiro's Story (2018)
"This is perfect. Telling a story through music, showing everyone's perspective, creating narratives to make you realise that nothing is absolute, everyone is the bad guy to someone. Doing this while displaying the real-life scenarios that people come from and experience, that is relatable to people from most inner city backgrounds, Rapman created this perfectly. Rapman is a genius. End of."
Watch Jords' Almost An Adult film:
Read next: The 10 Best Female Rappers of All Time, according to Lavida Loca