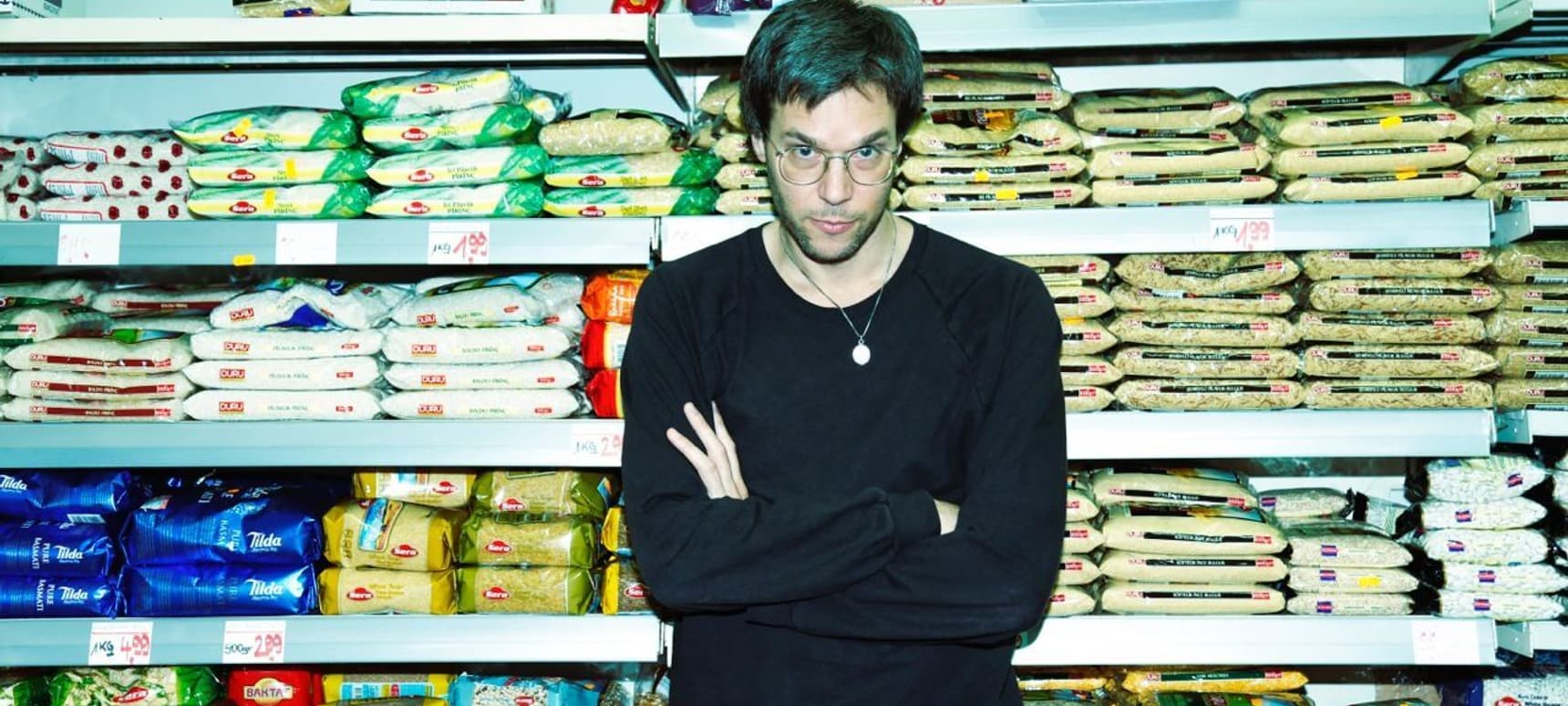 19.10.2015, Words by Natalie /
10 of Frankfurt's finest, according to Roman Flügel
Even if you're not a seasoned head, Roman Flügel is a name synonymous with dance music. Orginally inspired by a Chicago Trax CD tip-off from his elder brother, Frankfurt native Flügel has been active since the early '90s – navigating the scene under various aliases as a DJ, live performer, producer, remixer and co-founder of labels Ongaku, Klang Elektronik and Playhouse. His output is varied: feverish dancefloor cuts full of late night incantation and tracks that are made for cruising outer galaxies. Not marinating in one rigid style for too long, he is the king of reinvention and variability, hooking up most notably with long-term musical associate Jörn Elling Wuttke as Acid Jesus, Alter Ego, Sensorama and Holy Garage as well as working solo to span the sounds of acid, deep house, techno and a few pigeon-hole immune nooks and crannies in-between. His forthcoming EP on Hypercolour, 'Monday Brain', is a warm six-tracker that cements Roman Flügel's ability to glide along with the times with effortless style and ease. The shadowy mass of Vegetarian Leather Jackets and the Chicago bump of Church Of Dork make the release an essential listen with track names that will make even the moodiest fucker smile from eye to eye.
Growing up and studying music just outside the city in Darmstadt, Flügel soon took residence in Frankfurt and made it his base. Of course, he holds the city in very high regard, celebrating both Frankfurt's foundations in his earlier career and also new additions and talents to the city such as Orson Wells and Benedikt Frey. A gratifying nod to the city that shaped him, Roman Flügel marks the release of 'Monday Brain' with a foray into 10 of Frankfurt's finest tracks, new and old. Enjoy Roman's list below and if the mood takes you, listen to the selections seamlessly on YouTube.
01. Supersempfft Be A Man You Frog
Roman Flügel: "An electronic masterpiece by the mysterious Supersempfft, recorded in the Rhein Main area in the late '70s."
02. Ongaku Mihon #3
Roman Flügel: "I joined Ongaku soon after that record came out. It was not only a record label, it was also some kind of an early 'Frankfurt techno supergroup' joined by Ata Macias (who later invented the club Robert-Johnson), DJ Heiko MSO (who played an important part in the Playhouse/Klang Elektronik label family), and Uwe Schmitt who is better known as Atom TM or Señor Coconut."
03. Acid Jesus Radium
Roman Flügel: "I did this with my long time production partner Jörn Elling Wuttke after we experienced a mind bending Sabresonic party hosted by Andrew Weatherall in London, some time around 1994."
04. Sven Väth & Miss Kittin Je t'aime Moi Non Plus
Roman Flügel: "Jörn and I had Sven and Miss Kittin in our studio and it was so much fun! She had to do a few head stands before getting in the right mood to sing while Sven opened another bottle of champagne to make things easier."
05. Isolée Beau Mot Plage
Roman Flügel: "In my opinion, this is one of the best tracks that Playhouse ever released. I'll always remember the day we were listening to Rajko Müller's promo DAT. We simply did not understand how he managed to record this fantastic piece of music since it felt like out of this world and it still does a little bit today. You listen to the original version which was later licensed to our friends from the Classic Music Company."
06. Orson Wells Midnight Mystic
Roman Flügel: "Frankfurt's new wchool in da house! Orson Wells has recorded wonderful music for labels like Life At Robert-Johnson and Innervisions. Here is one of his latest tracks he did for 'Sound Mirror'."
07. Benedikt Frey The Same Old Game
Roman Flügel: "Benedikt moved to Frankfurt recently. I'm totally into his moody and sometimes very trippy productions."
08. Lauer Stigma
Roman Flügel: "The fantastic Lauer. He recently moved to the countryside but I still consider him one of Frankfurt's finest. This epic recording for Tim Sweeney's Beats In Space imprint pros I'm right."
09. The Citizen's Band Smalltown Blues
Roman Flügel: "I'm loving the weirdness. Christian is my neighbour and his use of the legendary Roland Space Echo alongside his modular synth is something I still can learn from."
10. Ricardo Villalobos & Roman Flügel Roric
Roman Flügel: "A session at Ricardo's studio captured on vinyl for the Frankfurt based 'Raum…Musik' label. Before his career took off, Ricardo was selling records at the legendary Delirium record store."
'Monday Brain is due for release 23rd October on Hypercolour and Roman plays Fabric on November 13th (info).