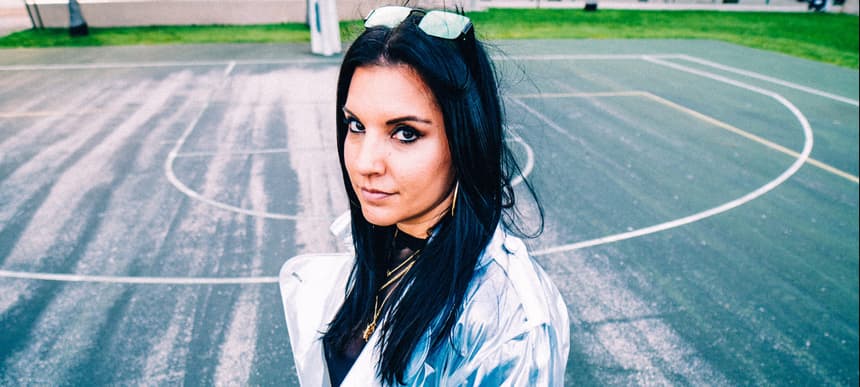 23.04.2019, Words by Felicity Martin
The 10 Records That'll Never, Ever Leave My Record Bag, according to Jubilee
"This song is going to live forever and he is just going to have to deal with it"
Since Jess Gentile aka Jubilee first got acquainted with Miami's rave scene as a teenager, she's been firmly centred within the world of global dance music. After moving to New York, the Mixpak collective member cut her teeth at weekly drum 'n' bass night Direct Drive, coming to blend Miami bass with dancehall, house, grime, and everything in-between.
Exploring these bass-centred selections that are as forward-thinking as they are party-starting, Jubilee's infamously versatile sets are always a joyously good time. Below, the beloved DJ and producer shares the ten records close to her heart that will never, ever, leave her digital record bag.
1. The Beat Club – 'Security'
"I used to hear this song on the radio when I was young and it has stuck with me my entire life. I never knew the name of it until I was in my 20s and I eventually found the record somewhere and it took me back into time. I think 'Security' alone has influenced so much of the sounds in my music."
2. DJ Debonair – 'Samir's Theme'
"The day I take this song out of my digital crates is the day I stop DJing. This is one of the most important American club music songs ever and if there was a musical version of The Met it should be hung in there because it is art."
3. Pearson Sound – 'Working With Refix'
"This was a white label on Night Slugs, I don't even know how old it is but I will seriously play it until I die. I love Rod Lee so much. And I love Pearson Sound… so clearly this is the song for me. It really is one of the perfect records that I will never ever stop playing."
4. Young Chow – 'Waist Gal'
"I feel like this song is criminally slept-on. Dre Skull and I play it all the time and it always really takes the party to another level. Plus, New York City forever!"
5. DJ Laz – 'Red Alert'
"A Miami classic! I think this song came out when I was in grade school. It's SO OLD. But it still sounds brand new. I think it's one of the best songs ever made but so does everyone else that grew up listening to the radio in Miami."
6. Opus III – 'It's a Fine Day (Burt Fox Remix)'
"Burt Fox made this for one of my Magic City compilations and it goes off every SINGLE time. I actually grew up with him and we work on music together. The original was one of the first songs we ever heard that really got us into raving, so it was only appropriate that he flipped it for my comp."
7. Salva – 'The Edge'
"Another one from my Magic City Compilation. I think 'The Edge' is a perfect example of why Salva and I get along so well. I asked him to make a song for the compilation because I knew he would come through with everything that I love. Well… this is everything that I love."
8. Zuzuka Poderosa – 'Seda (Jubilee and Burt Fox Edit)'
"Burt Fox and I made this in 2013 and I don't think there has been a single set I have ever played where I didn't play this song. The video has two versions of this song – our remix kicks in about a little over one minute in. It has the absolute heaviest bass. Zuzuka is such a star and if you ever get the chance to see her perform live please go."
9. Wildlife! – 'Drop It ft. Rapha'
"I always tell Wildlife that this song is going to live forever and he is just going to have to deal with it. I can't seem to get enough of it. It was one of the first songs he ever sent me and he has made a ton of incredible music since then but somehow I always wind up going back to this one. There's just something great about a song that's giving you instructions on what to do on the dancefloor."
10. Jubilee – 'Wine Up ft. Hoodcelebrityy'
"Yes of course I am going to play my own song forever. I also will play literally anything involving Hoodcelebrityy. Win win."
Jubilee plays a headline set at Patterns, Brighton on 26th April 2019 – find tickets here.