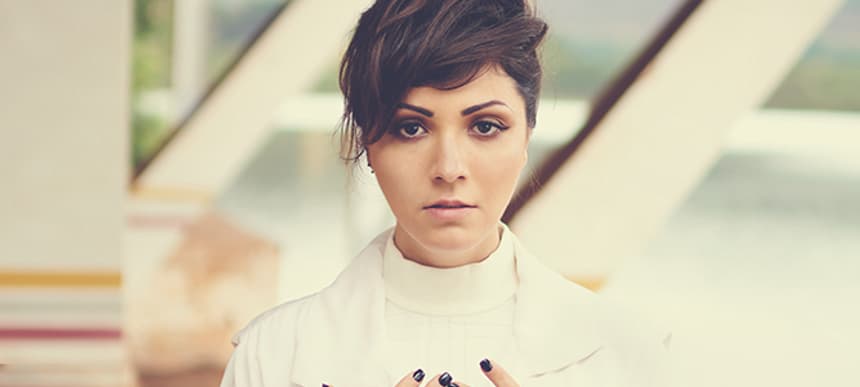 13.05.2019, Words by Felicity Martin
The 10 Best Women Who've Shaped Electronic Music As We Know It Today, according to Terr
"When I heard her for the first time I said 'I want to do it'..."
Although the history of electronic music has long bigged up men's achievements over women's, the latter have undoubtedly had a crucial hand in carving out its path. Brazil-born, Berlin-based DJ Terr – real name Daniela Caldellas – is just one of many flying the flag for female achievements in the dance music world – having just made her debut on Erol Alkan's Phantasy with 'Tale of Devotion'. It's a cut of retro space disco: all glittery textures and laser samples, marking her out as a producer to watch in 2019.
Below, Terr offers the ten women who have shaped electronic music in its current incarnation (full disclosure: she gave Nina Kraviz as a bonus choice) – take a look at her choices below.
1. Delia Derbyshire
"A real pioneer. She started working for BBC in the early '60s, making soundtracks, TV themes and studio effects. There are other women that were also important in the 'pre-history' of electronic music, like Clara Rockmore and Daphne Oram. I look at her photos in those huge studios, with all those tapes and cables and I really envy her. More than a musician – a scientist…"
2. Wendy Carlos
"Probably best known for the Clockwork Orange soundtrack, she was a very important person to make synths popular in the '60s and '70s. Her album 'Switched on Bach' was probably the first electronic-only commercial success in history. She even worked with Robert Moog helping him to develop his famous synths, the now ultra-famous Moog. Thank you Wendy."
3. Cosey Fanni Tutti
"When punk met electronic music in UK the '70s, she was there, as a member of Throbbing Gristle, the first industrial band ever. She's still an active musician, her last album was released some months ago and is incredible – fresh, dark and deep. I love it."
4. Donna Summer
"'I Feel Love' is probably the very first track that mixed 'electronic music' and 'dancefloors', with Summer's sweet vocals and a perfect Moog instrumental, engineered by Giorgio Moroder. When Brian Eno listened to it, in 1977, he told David Bowie: 'I have heard the sound of the future. This is it, look no further. This single is going to change the sound of club music for the next fifteen years'."
5. Gillian Gilbert
"She is the programmer and keyboard player of New Order, one of the most influential synth-pop bands ever. It was probably a bit strange for her to fit in the ashes of Joy Division, but she did a great job."
6. Lady Miss Kier
"She was one third of Deee-Lite, a brilliant house music project (there's much more to discover than the hit). After the gloom and doom of the '80s, the '90s finally arrived, and she was the face of it – the psychedelic colours, the samples, the groove, the fresh and young attitude. Straight from NY to the whole world. She's still DJing nowadays."
7. Björk
"I think she brought a lot of people into electronic music in the '90s with her music. A real innovator, she could mix pop music, electronic bleeps and orchestras and it still sounded great."
8. Miss Kittin
"She was the face of the electro(clash) scene in the early 2000s, taking the world of dance music by storm with the cynical punk nihilistic attitude and repacking the sound of the '80s for a new generation. When I heard her for the first time I said 'I want to do it'."
9. Ellen Allien
"I really liked the minimal techno movement that happened around 2005. I was a big fan of her label, BPitch Control, that released a lot of fresh and interesting stuff. There were other girls involved on this scene as well, like Magda and Anja Schneider. Full respect."
10. Ramona Xavier
"She is the most 'popular' artist in the Vaporwave scene, using dozens of aliases as Macintosh Plus and Vektroid. It's not for everyone – it sounds like your past mixed with LSD on the wrong rotation – but it's brilliant. This is the future."
Terr's 'Tale of Devotion' is out now – listen to it here.