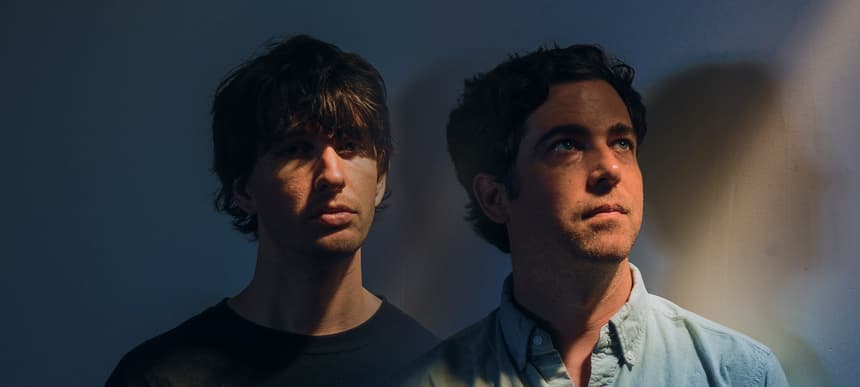 23.02.2017, Words by dummymag
11 Best Japanese Ambient-Pop tracks of the 80s according to Visible Cloaks
Exploring the lineage between early ambient, neo-classical, new age and pop music and inspired by the likes of Brian Eno and Ryuichi Sakamoto, Portland's Visible Cloaks are not your average pop band. Spencer Doran (one half of Visible Cloaks) made an early impact back in 2010 with his mixtape 'Fairlights, Mallets and Bamboo—Fourth-World Japan, Years 1980–1986' and also the ones that followed. But 'Reassemblage', actually Visible Cloaks' second album, is a musical statement so assured that it has finally transcended the shadows of those early collections.
Who better to choose a 'definitive' list of the 11 best Japanese ambient pop tracks of the 80s?
Yumi Murata – Face to Face
Yumi Murata's LPs always have something great on them. Working mostly with the production team of Yasuaki Shimizu and Masanori Sasaji from Mariah, her 80s material is a perplexing mix of 80s boogie sheen and deconstructed post-punk weirdness (Himiko from '81 is essentially the sister record to Shimizu's kitchen-sink classic IQ 179). This Sasaji-produced track from her fifth album Desire draws heavily from the playbook of Roxy Music's Avalon with gliding fretless bass and crisply-rendered studio space, also kinda sits in the same lavish zone as Aragon's eponymous 1985 LP.
Mami Koyama – Love Song
Koyama is best known as a voice actress in anime films (that's her as Kei in Akira) but she also cut this obscure idol record for Victor written by Masanori Sasaji, Pecker and keyboardist Etsuko Yamakawa. Yamakawa's sound design on this track blows me away, with unreal dimension in the use of reverb space, minimal digi-kalimba plucks and cascading drip FX. All the elements just interlock perfectly – sick harp-to-shakuhachi stereo field swipe (on the then-brand new E-mu Emulator II) in the chorus too. Shouts to Austin from Clinton Street records for the tip.
Mariko Fuji – どんな春が
https://www.youtube.com/watch?v=_DNFEqKsJTs
(no embed link available)
Mariko Fuji was an actress/singer/model who released a string of kayōkyoku records in the 80s with interesting left-field flashes. This track – written and arranged by the songwriting team of Yukihiro Takahashi of YMO and Keiichi Suzuki of The Moonriders – is especially potent with metallic electronics and serious gravitas in the vocal delivery. Mariko's non-performance in the minimalist music video is also totally amazing, almost comically listless.
Mu: Pradʒékt – Mu Jo
Killer one-off session from this duo helmed by Ryoichi Kuniyoshi and Kiyoshi Toba with programming by Hideki Matsutake (a man behind the scenes in much of the extended YMO universe). Love the way it just washes over you with the reverse reverb vocals…the whole LP is great, though my girlfriend once derided it as sounding "like Phil Collins" which I gotta say is pretty on point, to be honest. I gotta thank Jamie Tiller for hooking me up with a copy some years back – stayed under the radar for ages due to its confusing use of the International Phonetic Alphabet in the artist title.
Zabadak – Butterfly
This one is almost too heavy to pass as straight ambient-pop (the screwed drum sounds crush on a good sound system) but the overall environment of the track is so vaporous and dispersed that it works for me. Love the distant operatic vocals but the backward fretless bassline is the genius stroke…only downside is it's so short!
dip in the pool – 黒いドレスの女~Ritual~(E)
Hard to pick a dip in the pool track – Miyako and Tatsuji are the masters – but I especially love this song from the OST to Yoichi Sai's Woman in a Black Dress, assisted by Masanori Sasaji. Their use of compositional space always felt very advanced to me, letting the elements of the track just hang in space amidst all the pregnant pauses – there's a certain grace to the construction of their work that makes it stand out.
Takeshi Ohta Unit – Iruka
One of the only two existing tracks by the mysterious Takeshi Ohta Unit, recorded at 882 Studio with Yoshitaka Minami around the time of his Daydream LP. One band member is credited only with "computer operation" (which is usually a good sign when scanning liners) – omnipresent choir pads and ample reverb, the whole thing just floats.
Taeko Ohnuki – Inori
From the Yen records Christmas album! Taeko Ohnuki is, of course, a legend, both as a songwriter and as a solo artist herself. This song was written by Taeko with vocal arrangements by Hosono and further production by Takahashi. Also check "Afternoon Nap" from Africa Animal Puzzle (the elusive OST she did to a laserdisc-only safari documentary) which extends these same vocal arrangements in a more ambient direction.
Mioke Yamaguchi – 白日夢 (White Daydream)
Something like a submerged piano ballad, with drips of 808 bass enveloped in a fog of Juno pads and reverb-drenched woodblocks. Arranged by Masami Tsuchiya from Ippu Do with programming by Hideki Matsutake (again) – the extended ambient intro is so so beautiful, could be a track in itself. Mioko's stylist was pretty on point too.
Haruomi Hosono – Pleocene
The best Hosono track? Perhaps it stands apart from the rest of these as it has more of a bounce to it's step, but overall it's so softly contoured and steeped in "oceanic feeling" that it can be shoehorned. Inspired by poet/author Kenji Miyazawa and visionary painter Nanryu Kanai and adorned with Korean kayagum (played by Hosono himself) and peacock samples from the NHK's sound archives, it's basically a distillation of Hosono's whole "sightseeing music" ethos into one perfect pop song.
Ryuichi Sakamoto and David Sylvian – Forbidden Colours
This one is pretty overtly canonical, with resonance both inside and outside the Japanese pop scene of the 80s. I've always been especially struck by the economy of it's arrangement, Sakamoto's piano paired with the digital bell tones and distant air-infused claves (holdovers from the Hideki Matsutake-assisted programming of YMO's equally-canonical BGM) that became the defining elements of the ambient-pop sound. Much could be said about David Sylvan's presence too, with his lyrics using impressions from Yukio Mishima's novel of the same name to mirror the homoeroticism underpinning Nagisa Oshima's film ("Learning to cope with feelings aroused in me / My hands in the soil, buried inside of myself"). Seigen Ono lends his midas touch on the recording/engineer side, which probably means more than you would think. Also, check Virginia Astley's Hope in a Darkened Heart which extends the concept of mapping brooding Angolo-pop onto an airy Sakamoto framework even further.
Visible Cloaks 'Reassemblage' is out on RVNG now