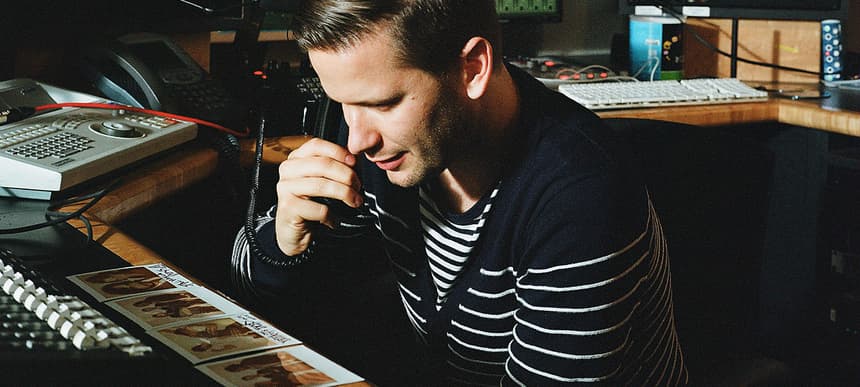 20.11.2014, Words by dummymag
The 15 tracks that define Beats In Space, according to Tim Sweeney
Since 1999, Tim Sweeney's Beats In Space show on WNYU 89.1 has been broadcasting the finest in leftfield house, mutant disco, burnt-out techno, and other strange and fantastic goodness that fits into no particular category, across New York and the world.
His weekly guests are some of the best touring the planet right now – names like DJ Harvey, James Murphy, Four Tet, Ben UFO, Jamie xx, Todd Terje, and Carl Craig have all stopped by the studio – but it's really Sweeney's esoteric tastes, easy-going attitude, and endearingly all-over-the-place interview technique that have earned him a legion of devoted followers who tune in week after week. (Sometimes, in the case of regular listener Victor from Washington Heights, these listeners are a little too devoted).
With a record label arm having released music by Jaakko Eino Kalevi, Paradis, Secret Circuit, and more, Beats In Space is in a new phase of life, and to celebrate this, BiS are releasing a new compilation, mixed by Tim Sweeney. For old-timers, it acts as a celebration of the show's successes over the past 15 years, and for newcomers, it's a perfect introduction into the show's musical direction, crystallising its tastes on two neat CDs.
To celebrate the show's milestone, Tim Sweeney has chosen 15 tracks that defined each year of the show's existence, from Carl Craig's legendary rework of Delia Gonzalez and Gavin Russom to Lindstrøm's cosmic balearic classic I Feel Space.
01. 1999: Sun Ra Space Is The Place
Tim Sweeney: "I think this record was one of the first things I ever played on my radio show. It's basically the theme song for the show. It's a beautiful album that makes you believe Sun Ra did come from another world."
02. 2000: Boards Of Canada In A Beautiful Place Out In The Country
Tim Sweeney: "The Warp Records 'Artificial Intelligence' compilations were my first real introduction to electronic music, and after that I became pretty obsessed with collecting all things Warp. In 2000, when this EP came out, I couldn't stop playing it on the radio show."
03. 2001: Le Tigre Deceptacon (DFA remix)
Tim Sweeney: "Before the DFA record label was launched, Tim Goldsworthy and James Murphy were producing bands and doing remixes. I remember being in the studio with them during this record and helping to cut up drum loops. It ended up being one of my favorite DFA remixes they ever made."
04. 2002: The Rapture House Of Jealous Lovers
Tim Sweeney: "Of course, the huge hit from DFA that started the sky rocket launch of the label. It's funny how the world works, because I remember James Murphy making the first LCD Soundsystem 12" so that he could be the opening band for The Rapture. Then James turned into the band playing at Madison Square Garden."
05. 2003: Matthew Dear Dog Days
Tim Sweeney: "This was a jam! I think it was the first Matthew Dear production I heard, and I haven't stopped following his music since then."
06. 2004: Abe Duque feat. Blake Baxter What Happened?
Tim Sweeney: "10 years later and this one still sounds fresh. Yo New York… What the fuck happened? An Abe Duque classic."
07. 2005: Lindstrøm I Feel Space
Tim Sweeney: "The start of the Norwegian disco hurricane. Lindstrøm, Prins Thomas, and Todd Terje have some viking made ability to make huge disco hits."
08. 2006: Delia Gonzalez & Gavin Russom Relevee (Carl Craig remix)
Tim Sweeney: "I remember first playing this on the show and finally realizing the audience for Beats In Space was bigger than just the cab drivers going down Broadway. I had the exclusive on debuting this track, and the response was tremendous. I got calls and emails from all over the world."
09. 2007: Lee Douglas New York Story
Tim Sweeney: "When I play this one, I can always imagine David Mancuso's Loft Party. The giant mirror ball, balloons every where and a big crowd of dancing New Yorkers."
10. 2008: Laughing Light Of Plenty The Rose
Tim Sweeney: "This might be my favorite of the last 15 years. Just a perfect song for me. The Laughing Light Of Plenty is Thomas Bullock and Eddie Ruscha. I ended up working with Ruscha under his Secret Circuit pseudonym for Beats In Space Records after I reached out to him to tell him how much I liked The Rose."
11. 2009: Tensnake In The End (I Want You To Cry)
Tim Sweeney: "This was the start of Tensnake's rise to the top. It's still probably my favorite production of his."
12. 2010: Steffi feat. Virginia Yours
Tim Sweeney: "I can't get enough of Yours. Steffi just killed it. You can just imagine the crowd at Panorama Bar going insane each time this song comes on, with the shutters opening to let the 8am light into the room."
13. 2011: Matias Aguayo I Don't Smoke
Tim Sweeney: "Matias performing this song live on the radio show was one of my favorite radio show moments. I was so happy I had a video camera in there to capture the whole thing. I couldn't stop dancing. Matias is a superstar."
14. 2012: Pachanga Boys Time
Tim Sweeney: "The Pachanga Boys hit record! 15 minutes of pure psychedelic mexican/german Hippie Dance pleasure. Every dance floor melts when this song comes on."
15. 2013: Murat Tepeli Forever (Prosumer Mix)
Tim Sweeney: "I'm a huge Prosumer and Murat Tepeli fan. When Prosumer debuted this one on the radio show, the whole radio station was going crazy. I stripped down to my Honey Soundsystem speedos, jumped up on the radio station desk, and started dancing like a stripper."
2014 and beyond: House Of Spirits Holding On
Tim Sweeney: "Okay, this one is from my own label, Beats In Space Records – but it's got classic written all over it! I've played it over and over, hundreds of times and still haven't gotten sick of it. Tom Noble is a disco genius."
Beats In Space Records released 'Beats In Space: 15th Anniversary, Mixed By Tim Sweeney' on November 17th 2014 (buy). Tim Sweeney plays XOYO, London for Simian Mobile Disco's residency on Saturday November 22nd (more information and tickets).