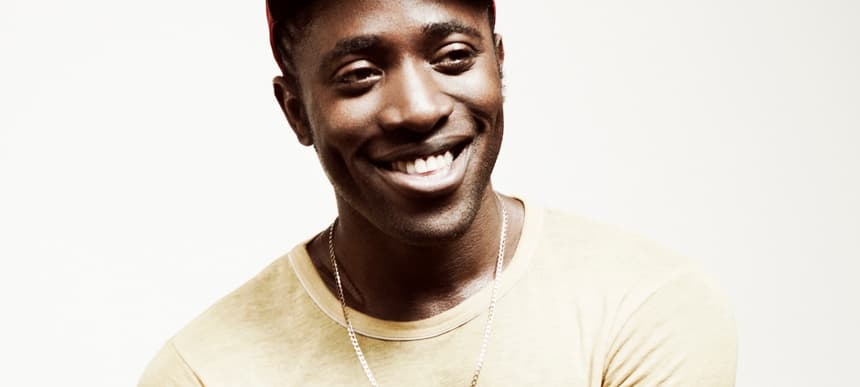 24.10.2013, Words by dummymag
Kele Okereke's 10 favourite garage classics
Earlier this month, Kele Okereke – best known for his role as frontman of titanic alt-rock band Bloc Party – released the latest edition of !K7's 'Tapes' compilation. The mix is an out-and-out love letter to club music, featuring tracks by the likes of Wookie, Larry Heard, and Jacques Greene, and here Okereke further displays his infatuation by selecting 10 of his favourite club tracks. With a focus on garage from the '90s, check out his selections below.
Sticky feat. Kele Le Roc – Things We Do

Kele Okereke: "Beautiful vocal from my favourite other person called 'Kele'. She turned this sticky banger Triplets into something so lush and warm. Many fond memories of raving to this track back in the day. One of Sticky's best moments."

M-Dubs feat. Lady Saw – Bump n Grind

Kele Okereke: "Stealing the hook from Lady Saw's No Long Talking, M-Dubs turned this dubplate into a classic – makes me want to crack out the ones and twos."

Indo – R U Sleeping (Bump And Flex Mix)

​Kele Okereke: "The first real garage track I ever heard. This song was always on in my sixth form common room. It's all about the conviction in her voice – 'she needs a man.'"

K-Ci & Jojo – Tell Me It's Real (Club Asylum Steppers Mix)

Kele Okereke: "Classic garage track from Jodeci's main men, Cedric and Joel. Subtle Spanish guitar flourishes lace the track with lightning speed vocal edits. It's all you need."

Shola Ama – Imagine (Club Asylum Remix)

Kele Okereke: "Shola's finest hour. I actually want to get her on something I'm working on right now – fingers crossed."

Reach And Spin – Hyper! (Hype The Funk)

Kele Okereke: "I still hear this when I go to garage nights in Vauxhall. It still slays the dancefloor almost twenty years later, making me feel slightly old."

Zed Bias – Anything You Need

Kele Okereke: "Sexy little number from one of the most influential garage DJs. It's all about the bass on that drop. Smooth."

Jaheim – Just In Case (Dubaholics Revival Remix)

Kele Okereke: "A perfect little nugget that always got the dancefloor moving, and what a sweet sentiment!"

N'n'G feat. Kallagham and MC Neat – Right Before My Eyes

Kele Okereke: "It's all about the drama in the rising strings and the quiver in Kallaghan's voice. One of garage's best singles for sure."

Mis-Teeq – All I Want (Sunship Remix)

Kele Okereke: "Do you remember when Alesha Dixon was the gravel mouthed MC of British girl group Mis-Teeq? Recently, she seems to have forgotten how awesome her powers were, which is a shame, because this track was a moment for her."
!K7 released 'Tapes' on October 14th. Kele will DJ this Friday (October 25th) at the Nest in London, and on Thursday November 7th at Postbanhof, Berlin.