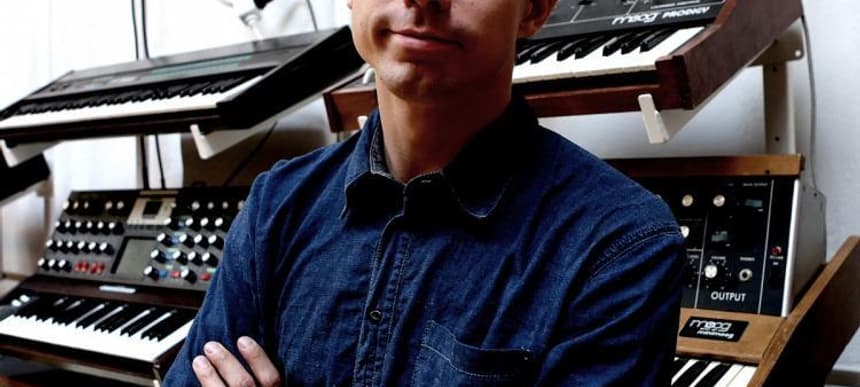 03.12.2018, Words by dummymag
The 10 Best '80s Synth Tracks, according to The Mountain Range
The former synth designer for Depeche Mode and The Knife lists his choice cuts from the era
If there's anyone who knows their synths, it's The Mountain Range, aka Christoffer Berg, aka Hird. As someone who previously designed synths for Depeche Mode and The Knife, the Gothenburg producer has a keen knowledge of programming and his list of his top ten eighties synth tracks below, littered with personal anecdotes, reveals a producer who has enjoyed a rich musical journey. Read his guide below (with some additional bonus cuts) and check out the premiere of his 'Mountainfall' track after the jump.
Of his list, he says: "What made all these artists attracted to me I think has little or nothing to do with The Mountain Range or '80s synth music. I was born in 1982. By the time I was old enough to fall into the trap of music categories, the '80s were over and I was listening to Frank Zappa. My first job working for another artist was mixing The Knife, and that came about through sharing an obsession for ska, drum and bass and house records with Olof. However, my #1 favorite toy as a kid was a cassette recorder with a built in microphone. I grew up in a house with a lot of music and music technology. We had a Hifi, reel to reel, piano, guitars, congas, sometimes a DX7, an S900 sampler and an octa-pad in our living room, where my friends would just have a TV.
"As my music guru once instructed me: Don't get attached to anything I say. That said, here are my ten favourite '80s synth pieces – and two bonus '70s – in chronological order."
–
1. The Normal – 'Warm Leatherette' (1978)
"This one has to be there, even though technically it's from the '70s. I love this for the rawness and punk attitude and how Daniel Miller absolutely made one pretty limited piece of gear sound like so much more. You kind of hear the promise of his later arp2600 drum sounds for Depeche in this. And this is the first release on Mute Records… Phew! I also absolutely love Daniel, such a sweet, dedicated and hardworking music person. Before I got to work with Depeche, I had to fly to Mute in London and get stamped OK by Daniel and we got along well. I remember holding my breath pressing the 'Mute' button on the doorbell, it felt poetic and like a dreamy joke. He was kind enough to accept an invitation to DJ at my first ever live performance with the Mountain Range and we had a very pleasant nerdy lunch with local modular manufacturer Wowa Scwejman. Covered by Grace Jones in 1980."
2. Yellow Magic Orchestra – 'Behind the Mask' (1979)
"This is also proof that the concept of '80s synth music is a false construction anyway. Yukimi Nagano was the first person to get me hooked on this song. Of course it was her! We go way back, her singing on my Hird songs, and me being involved in mixing and releasing the first Little Dragon 7" on our Off the Wall imprint. Such a genius quirky chord progression, robot voices and has that "so stiff it's funky", Kraftwerkian, dry suppressed funkiness. Later covered by Michael Jackson. Ryuichi Sakamoto is still as active and relevant as ever and I love his way of making and being expressive in music."
3. D-Train – 'Keep On (12″ François Kevorkian Remix)' (1982)
"I remember reading the brilliant book Last Night a DJ Saved My Life in 2002 and feeling like I was born at the wrong time, like I missed the party. Not long thereafter, I booked DJ Cosmo to play my Friday night weekly club. She was and is the only DJ to have played the holy trinity of NYC clubs: the Loft, Paradise Garage and Body & Soul. LE-GEND. I learned the Loft was still going and I was invited to come dance. I WENT. To hear 'Keep On' and Dexter Wansell's 'Life on Mars' on Mancuso's sound system felt like a Rubix cube was solved in my brain. It completely clicked for me on the Loft dancefloor how to approach mixing bass frequencies for the club setting. I can't put into words what it is specifically, it was more like an emotional peace. I definitely used that insight mixing 'Silent Shout' with The Knife, that's for sure."
4. Richard Pinhas 'Ruitor' (1982)
"This is probably most representative of the music I enjoy listening to for my own pleasure. I discovered this through a friend's music blog and it's so hard and harsh and embracing, disharmonic and harmonic, streamlined and edgy. Did I mention I am into the dynamics between opposites? A funny story with this one is when I referenced this song in the studio with Martin, Dave, Andy, Ben and Ferg and said Richard Pinhas with a kind of Spanish "ñ" and they all burst out laughing. It was one of the first days in the studio with them – my English was not up to speed after a month in Thailand and it made me feel a bit stupid. I think Dave saw this and stumbled laughing over to me saying "you know where we come from if your name is Richard, we call you Dick! Dick Penis! Hahahaha". Then I got the joke, and it was a kind of icebreaker for me to start having a laugh with them. The first of many to come."
5. Depeche Mode, live at Måndagsbörsen (1982)
"This song by Depeche Mode was the first purely electronic pop song I ever heard. It was around Christmas the year before Kraftwerk released 'the Mix' up north in Sweden, my mother's hometown. My mom's friend had a new boyfriend and his son Hans introduced himself by asking if I had heard "Synth"… He played 'Speak and Spell' followed by Kraftwerk's 'Radioactivity' and my mind was absolutely blown. It's funny that I was born this year and they came out with this in Sweden this year. If you check the interview it sort of says a lot about Sweden at the time too – DDR-friendly, impolite and nouveau riche. The boys perform in such a brilliant and naive way – so of the time, so ahead of their time, still referencing the Beach Boys… Vince [Clarke]'s songs are almost electronic Beach Boys, whereas Martin [Gore]'s songs are electronic Elvis."
6. Manuel Göttsching – 'E2-E4' (1981/1984)
"Ok, here we have a German blues guitarist, turned synthesist via being produced by Conny Plank as Ash Ra tempel in the mid '70s. In 1981, he records an hour of music in his house, plays guitar on the second half and it's released in -84. The record gets picked up by Paradise Garage resident DJ Larry Levan. The influence of 'E2-E4' on electronic music is hard to put a fence around. The bold idea (conscious or not) of letting the polyrhythmic figures, sounds and textures speak for themselves for a full hour is way ahead of its time considering that hearing this music mixed in tempo in clubs was a rare phenomenon at the time. Me and my love Tora Vinter made a pilgrimage to Berghain when Göttsching played the piece live there 25 years on the day after its conception – it was an amazing experience. Also check earlier 'Sunrain' and 'Deep Distance' by his band Ashra for more prototype techno."
7. Art of Noise – 'Moments In Love' (1984)
"My old friend Daniel Becker from the duo Trickski turned me on to this around 2005, and it let me to dive deeper into who Trevor Horn was. Horn was one of the first producers to work in a modern way with his own programming rig of drum machines, sampler and synths. Check the Tape Op magazine interview for a brilliant nerd level dive into that. What's so nice with going back and revisiting this song is the excitement of the NEW. We can sample things! Wow! Some classic Fairlight sampler presets in there along with stupid playful spur of the moment sounds. The 'Now' sample that comes in for instance, it's out of time, ugly and almost breaks the mood but it's so relevant it's awesome in there."
8. Alexander Robotnick – 'Problèmes D'Amour (Ah Ou Ah Version)' (1985)
"Why this is on here for many reasons primarily because it's a Francois Kevorkian mix. FK has been such a role model for me. To learn of a drummer who started DJing and mixing other artists was such a comforting fantasy to lean on through my dog years starting out in my early twenties. When I first stayed in NYC, I went every Monday to his Deep Space residency at Cielo on Little West 12th street and dancing there for an aspiring DJ was like a sit down with a Bhodisatva. Working with Depeche Mode excited me more because of his story with Violator than Depeche Mode themselves, almost. And their story with Mark Bell (LFO) too, he's been another giant. I feel like I've stood on his shoulders many times. I was devastated to hear of his passing a few years back. Kevorkian was hired by Kraftwerk to engineer their NYC Poweplant studio where they were mixing 'Tour de France' and did mixes for Yazoo, The Smiths, D-Train… the list goes on and on and it's all top notch sound crafmanship and fingerspitzgefühl. For a recent FK masterpiece, check his remix of Cascades by Mark Barrot. Next reason: it's a European early synth song that was re-made by the local NYC dj Bruce Forest, mixed by FK. This version ties together sooo many loose ends. Italy to NYC to the early Ibiza scene, Chicago acid… Phew… mind-blowing really."
9. Suzanne Ciani – '01 Logo Presentation Reels Part 1′ (1985)
"The first music computer I used was an Atari. The Amiga500 and fast tracker software was on my wishlist for years. This collection is like a document of the time using really quite old technology from the '50s/'60s, telling a story about the present digital revolution, promising a near future of futuristic dreams coming true. It's also funny – the dynamics between Ciani's success as a young female synthesizer artist but her falling into oblivion, only to be recognized as the pioneer she was now, 30 years on. I had the pleasure of meeting Suzanne a few times and she's always an inspiration. If you are in LA you should not miss her performances at the amazing Ambient Church events.
10. Mr Fingers (Larry Heard) – 'Can You Feel It' (1986)
"Talking about ideas – Larry Heard here does the Manuel Göttsching exercise of letting polyrhythms, harmonies melodies and sound texture roam free at his home studio. The difference is the knowledge of and feel for context. Heard arranges his song to work on the original Warehouse club dancefloor, essentially germinating the seed for deep house. Also check the genius Fingers Inc boyband. And he's still as relevant as ever. One of my biggest inspirations ever. Around 2005 I got an email out of the blue from Larry Heard himself, saying he loved the Hird album and that he discovered he had accidentally gotten some US royalties from misreported radio play. For the music business, that's very unique in my experience, it's a testament to all the warmth of his person and music."
*bonus tracks*
Jamie Principle – 'Your Love (Original Mix)' (1986)
"I love imagining 16-year-old Jamie in Chicago in '86 making this, releasing it and selling ten thousand records locally. What a time to be coming of age in Chicago, eh? I love how by the sound of it alone, it could as well have been made in Europe around the same time, and by the lyrics and vocals it's such a personal intimate expression. The Frankie Knuckles mix is the one I heard first and when I DJ I tend to play that or a white label re-edit i found, but this original mix has more of the '80s naiveté and unapologetic narcissism that is so beautiful and effective whenever someone balances it out with vulnerability on display and takes it far enough to get away with it."
Rhythm Is Rhythm – 'Strings Of Life' (1987)
"Back in 2003 I had some success in Japan with my Hird project and one of my most memorable DJ sets was playing at Derrick May's residency at Ageha at Studio Coast. I was in the studio next door to his friend Samuel L Session, so we made friends and hung out around Tokyo the next night after another gig of mine. At the time I didn't fully appreciate his role in the early days of techno, so only after did this become a track I return to now and again. It's ugly and beautiful, awkward and vibe-y… Very dynamic piece of work. The first version I heard and played at my club at the time of its release was the MR K (Danny Krivit) re-edit."
Cocteau Twins – 'Blue Bell Knoll' (1988)
"Cocteau Twins' output in the '80s is masterly and this is my favourite song from them along with 'Lorelei'. It's really timeless, could have been released anytime between then and now. Elizabeth Frasier is my Madonna. Writing with I Break Horses on the label Bella Union was a special honour, being such a fan of Simon, knowing he would just listen to the songs."
Listen below for the premiere of 'Mountainfall', The Mountain Range's contribution to a new various artists release on Sweden's BROR imprint: