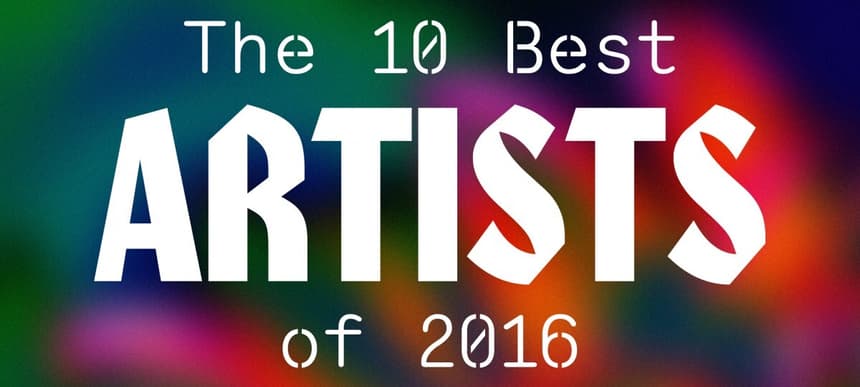 16.12.2016, Words by dummymag
The 10 best artists of 2016
Whether your favourite musician scored an opera, set up their own label, or lost the plot completely – 2016 was indeed the year of the artist.
Half of the time, we witnessed already-established artists take on a life of their own, from a blonde haired Kanye shaking hands with the devil incarnate, to Drake pulling the carpet from under our feet by sampling a UK funky classic. Meanwhile, in the shadows, a school of new faces, including Walsall-born singer-songwriter Jorja Smith, made a mark on the fast evolving music industry.
So, whether you loved or loathed the producers and performers we debated over for this list, they each, undeniably, left a massive dent in the past 12 months. So, from stadium rap to sweet spots of R&B infused pop, read through our top picks below and, if the past year is anything to go by, get prepared for what is set to be a very eventful 2017.
10. Jorja Smith
Jorja Smith has had a pretty good year, by all accounts. She released her debut single in March (which you'll find in our best tracks list), followed up with the Henry Purcell-sampling and Maverick Sabre-featuring A Prince. Disarming and dripping with melancholy, she then rounded off the year with the 'Project 11' EP and a host of new supporters.
She's already been compared to everyone from Amy Winehouse to Estelle, and found herself on pretty much any 'ones to watch' list that's worth its salt. Oh, and she just turned 19, in case you wanted to feel any more inadequate about your ageing self… Will Pritchard
09. GAIKA
In a year that's seen grime take the spoils of a long fought battle for recognition and bat off more than a few bandwagon jumpers, GAIKA's independent streak has been a fitting one.
After first cutting his teeth in Manchester during the '00s, the Brixton-born MC has spent this year taking a long stride away from appealing to any common denominator. 'SECURITY', a pick from our top 25 albums of the year, set out to disrupt and deconstruct not only black music stereotypes but black male identity stereotypes. His live appearances are a far cry from passing a mic in front of a sweaty club crowd, and his photoshoots are more fashion shoot than gunfinger show. Will Pritchard
08. NAO
After kicking off her year at number three on the BBC Sound of 2016 list, London's Neo Jessica Joshua went on to unveil her debut album 'For All We Know' in late July. Released through her Little Tokyo Recordings label, 'For All We Know' saw NAO and an impressive team of studio collaborators including GRADES, Jungle, and A.K. Paul, build on the two EPs she released in the two years prior. Fusing the vibe and feel of late '90s/early '00s R&B and neo-soul with future-forward production and relatable songwriting, the album won NAO critical acclaim and chart success. It also saw her become a festival favourite, and with Australasian and Asian appearances booked in for January and February, NAO is primed for a huge 2017. Martyn Pepperell
07. Kanye West
Kanye West is a troubled genius and 2016 has been another vintage year for him. Whether that is a good or bad thing these days is another issue, but 2016 has been another vintage year for him. From shutting down Madison Square Garden with 'Yeezy Season 3', to dropping acclaimed album 'The Life of Pablo' (and later altering it), via announcing his intention to run for President in 2020, Kanye has been at the heart of pop culture, entertaining and polarising as he does so uniquely.
'Pablo' was amazing enough to warrant his inclusion, but his actions would also have their moments in the sun. Things may be a bit on the rocky side right now, especially following that Donald Trump love-in, but Mr. West is the unpredictable, unconquerable behemoth that the world needs to send shockwaves through the system, for better or worse. Yemi Abiade
06. Drake
Aubrey Graham is not only fast becoming the world's biggest rap star, he's also becoming one of the world's biggest pop stars, and it's hard to argue otherwise. From releasing long-awaited album, 'Views', which topped the Billboard 200 for 10 straight weeks, to becoming the fifth richest hip-hop artist in the world and the most streamed on Spotify, and singing to Taylor Swift on an Apple commercial – Drizzy conquered all in 2016.
He wasn't without his critics but Drake has an aura around him that doesn't seem totally real. He effortlessly rises from the ashes of controversy and criticism like Voltron, impenetrable and infallible. Lord knows how he'll top the achievements of this year, but Drake proved to be a transcendent legend in the making in 2016. Yemi Abiade
05. KAYTRANADA
As far as producers go, no one had a bigger year than KAYTRANADA. The Canadian beatmaker had been readying his debut album since his emergence, and he reached the top with '99.9%'.
On a personal level, discussing his sexuality with The Fader in April was major, setting him free from the barriers that had obstructed his life up until that point. It was an incredibly bold move for a young black man to make, and he followed it up by producing a dance album for the ages. A body of work so good it gained the 24-year-old Canada's most prestigious award, the Polaris Music Prize for Album of the Year, which, for an artist very much in his infancy, is a huge nod to his talent.
What he has planned next will no doubt be exciting, but 2016 was the year the world woke up to KAYTRANADA. Yemi Abiade
04. AJ Tracey
It's amazing where confidence can take you. When we spoke to AJ Tracey at the start of the year, he was unsurprised about his rise from one of grime's many pirate radio regulars into the scene's hottest young talent and I imagine if you spoke to him now, he'd tell you that his continued success this year has all been part of the plan.
AJ's natural ability on the mic marked him out early as one to watch, but he really came into his own this year with his swaggering, electric live performances, which have since taken him all around the world. This year has also seen AJ broaden his sound and, consequently, his appeal, sitting equally comfortably on The Rumble with garage legend MJ Cole, and Be Somebody with Clams Casino and A$AP Rocky.
This time next year he'll be spoken about in the same breath as Stormzy and Skepta – mark my words. Paul Gibbins
03. Frank Ocean
Frank Ocean's comeback was the one everyone was waiting for, and the singer-songwriter paid back the patience on crazy levels. His visual album 'Endless' was quickly followed by the beautiful 'Blonde' and his Boys Don't Cry magazine – which was basically a Frank Ocean starter, main course, and dessert in one.
In each body of work, he is vulnerable and melancholic, but the execution is stunning, displaying his dedication to his craft. It suddenly made sense; all the delays on one album and suspense as to when it would drop, and he gave us two and a magazine! Furthering his status as a style icon also (through his Ralph Lauren editorial and stunting in Vans at the White House) Ocean flooded the market with his presence this year, and we loved it. Yemi Abiade
02. Solange
2016 was the year Solange Piaget Knowles showed us what she was really capable of. Arriving in the fourth quarter, 'A Seat At The Table' took the psychedelic R&B experimentation, studied introspection, and huge pop hooks of her 2012 EP 'True' and elevated them to new heights. In the process, Solange gifted us what she described on Twitter as, "a project on identity, empowerment, independence, grief and healing." 'A Seat At The Table' was accompanied by huge singles Cranes In The Sky and Don't Touch My Hair, immaculate visuals co-created by Solange and her husband Alan Ferguson, and a Saturday Night Live performance.
Since its release, 'A Seat At The Table' has become a critical and commercial success, and conversation piece worldwide. When she takes the album on tour, it's hard to imagine the live shows hitting with anything less than the force of a tidal wave. Martyn Pepperell
01. Skepta
Since late 2013 we've witnessed grime permeate mainstream culture in a way not seen since its inception – with a string of chart successes, huge festival appearances, sell-out shows, and an exposure to new audiences across the world. At the lead of this movement has been Skepta, who has been seemingly unable to put a foot wrong since announcing the end of his identity crisis in 2014 with That's Not Me.
Perhaps the biggest moment in the Tottenham MC's year came when he was awarded the Mercury Prize for his gold-selling album 'Konnichiwa', with a room full of artists chanting his name before the announcement was even made. With the prize money, Skepta set up a studio in Tottenham, aiming to give young people the opportunity to make their own music.
Skepta's journey has taken him from pirate radio sets in high-rise flats to headline slots at festivals, pushing a genre of music which was at one point suffocated into submission by government legislation and hostile media coverage to the forefront. These days, he's appearing on Top Of The Pops Christmas specials and sharing stages with the likes of Drake and Kanye West, whilst Tory MPs rush to label grime the UK's biggest cultural export.
Above: Skepta is showered in red wine by his family after the Mercury win (photo by Laura Brosnan/Hyperfrank)
But Skepta's recent influence on UK music can't be measured with awards or record sales. This year we've seen Skepta reshape British pop music to make space for authentic grime music, we've seen him help bring albums back into the grime game and revolutionise the grime live show, as well as establishing a space in the wider rap world for London accents. He hasn't just torn up the rulebook. He's re-written it instead.
Skepta's achievements in 2016 are a victory for self-belief and carving your own path. For a genre which has been forced to compromise at every turn, his importance cannot be overstated. Paul Gibbins