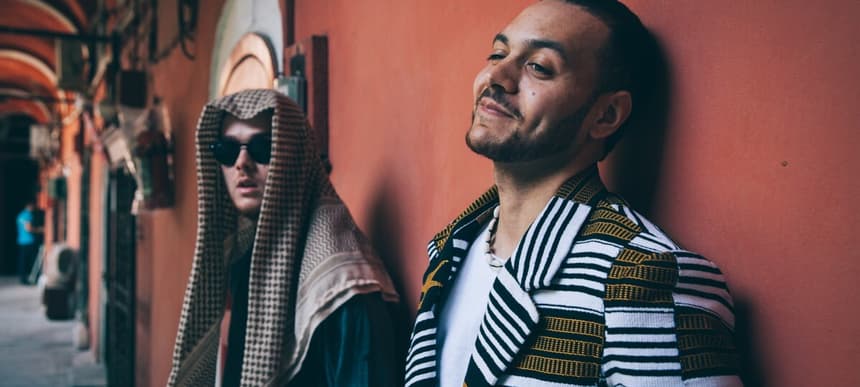 17.10.2016, Words by dummymag
The 10 best broken beat tracks, according to Yussef Kamaal
Over the last few years in America, a new generation of West Coast musicians raised on boogie, rap, neo-soul and modern funk have re-imagined jazz within a hip-hop frame. In the process, they've gifted us with a series of memorable records like Kendrick Lamar's' To Pimp A Butterfly', Kamasi Washington's 'The Epic' and Flying Lotus' 'You're Dead'. On the other side of the Atlantic in the UK, a similar conversation has been going on, as young jazz musicians raised around jungle, UK garage, grime and broken beat begin to locate their jazz chops within the futuristic sound-system culture informed pirate radio broadcasts of London.
Leading the charge amongst this new UK generation is Yussef Kamaal, the duo project of South East Londoners Yussef Dayes and Kamaal Williams (aka Henry Wu). Handling drums and keyboards respectively, the two first met through playing pub gigs around Peckham and Camberwell as teenagers in 2007. Yussef is probably best known for his membership in cosmically-inclined, afrobeat outfit United Vibrations, while Kamaal has made waves with the soulful house 12"s, he's released with crucial labels 22a and Rhythm Section as Henry Wu. Although they didn't come together on stage until relatively recently through a one-off performance of Kamaal's music as Henry Wu for Boiler Room, they quickly realised their shared love of '70s jazz-funk and '00s broken beat made for something special.
After signing with Giles Peterson's Brownswood Recordings off the back of a twenty minute live set at his Worldwide Awards, Yussef Kamaal hit the studio with engineer Malcolm Catto of The Heliocentrics. Over the course of a series of virtual telepathic recording sessions, they translated their shared vibe into their debut album 'Black Focus'. Rippling with loose-limbed virtuosity and feel, 'Black Focus' arrives at a time when the UK's reshaping of jazz inside a bass music frame looks poised to become not just a talking point, but a genuine moment.
Read through Kamaal Williams essential broken beat selections below, and listen seamlessly on our YouTube playlist, ideally whilst thinking about how to open a jazz club with a Jah Shaka sized sound system for Yussef Kamaal to play on.
Kaidi Tatham He Laughs, She Cries
Kamaal Williams: "This is one of my favourite broken beat tracks. I was on SoundCloud, and I heard a young jazz group cover it. They played it live with instruments. When you hear it in that context, you think, core blimey, that's a full-blown jazz composition. That's a very advanced composition. The lead line, the chords, everything about it. I just love that tune. It's a good vibe. I've had the pleasure of working with Kaidi and he's remixed my latest record on Eglo. In terms of someone that plays an instrument, but also has the sensibilities of a hip hop and UK garage fan, he's an all-rounded musician. He's one of my favourite keys players. When he touches a piano, no one knows how he gets his voicings. His voicings are secret; you know what I mean? No one really knows how to get the chords sounding as rich as Kaidi. A lot of top jazz players have heard Kaidi play and said, "How do you get those chords sounding so rich?" I think Kaidi is one of the broken beat pioneers a lot of young people need to know about."
DKD Future Rage
Kamaal Williams: "This is a collaboration between Kaidi, Dego, and Daz-I-kue. It's darker, though. When Kaidi collaborates with people, you hear his elements stripped down a bit more. When Dego and Kaidi link up, Dejo makes it more minimalistic. You don't hear all those chord changes. When he's by himself, Kaidi goes all over the place. When he links up with Dego, Daz and Face [who sings the vocals on Future Rage], that makes for one of those tunes that is a broken beat anthem. I always play Future Rage out, and it pops off."
Bugz In The Attic Redhanded
[Video not on YouTube]
Kamaal Williams: "Redhanded is on 'Back In The Doghouse'. That album was my first introduction to broken beat. I started at the end of the broken beat story and worked backwards. I'm 27 years old, so I was a bit young. I knew about it in the mid-'00s when I got into Bugz In The Attic and went backwards. A lot of people who I used to roll with in West London listened to Bugz. Redhanded came out at a point when they had the platform to reach a larger audience. When you listen to 'Back In The Doghouse', you'll hear a lot of vocal tracks and boogie. That's the one thing with Bugz, I associate the sound of all those guys together with boogie. When broken beat is at its best, I think it's got that element of real boogie."
Neon Phusion Timeless Motion
Kamaal Williams: "Again, this is some darker broken beat, to keep it short and sweet. I play this night in Birmingham. Broken beat has a massive following up there even to this day. There is a crew called Bruk Up. Those guys are, they are the last men standing in terms of running broken beat parties. It's just broken all night. When I was playing one of their nights, they wanted me to play dark broken. They asked what I'd play if I played dark broken. I dropped this, and they were like, yeah! I dunno, that's just an experience I had with that tune."
Incognito Get Into My Groove (Jazzanova Re-Groove Mix)
Kamaal Williams: "I just wanted to put this one in there, because I know Jazzanova were doing it as well. I didn't want just to focus on the West London guys, 'cause loads of people in Europe were killing it as well back in the day. This was just one of the first broken tunes I heard and thought "wicked man!" I prefer it over the original."
Mark Force Gypo
Kamaal Williams: "I had to put a Mark Force thing in there. Mark's thing was dirty, filthy drum programming. He had real stinky drums. That's how I would describe it, stinky – just really aggressive and really London sounding. That is more of a darker thing. I think it ties into the UK garage side of it. You can tell he comes from the school of drum and bass. Things like Reinforced Records and that."
Domu Save It
Kamaal Williams: "Domu is one of my favourite broken beat producers. He's definitely one of the lesser known names as well. If you say Domu, most of the young ones have no idea. I played that tune at Dimensions this year, and it really went down well. It's a bit faster, 128 bpm or whatever, so it kind of fits in with more of a garage tempo."
Seiji feat. Lyric L Loose Lips
Kamaal Williams: "I put this in there because it's an example of good rapping over broken beat. What more do you want? What more can I say? An MC over broken beat. That was a wow moment for me, imagine someone who can flow over that kind of rhythm and blaow! There she was. Seiji is a genius, he's one of those quiet lab coat geniuses, creating the perfect rhythms. He lives in Berlin now. I had the chance to work with him earlier in the year. He's such a nice guy."
4 Hero feat. Lady Alma Hold It Down (Bugz In The Attic's Co-Operative Mix)
Kamaal Williams: "This is another Bugz anthem. I had to put this one in there. That was the peak of it really wasn't it? That and the Amy Winehouse In My Bed remix they did were the peak of it. I think you can play those to pretty much anyway. I drop the Amy Winehouse remix now and then. It's interesting because some of these clubs I play in are student nights. Everyone is under the age of 22, but everyone knows Amy Winehouse. So when you hear that and the beat, the crowd always responds."
4 Hero feat. Ursula Rucker Loveless
Kamaal Williams: "Yussef chose this one. Yussef really likes that one. In terms of drumming that had a big influence on him. It's one of these productions with intricate rhythms. It has something like a drum and bass beat, but you wouldn't immediately affiliate drum and bass with that tune because of the spiritual jazz touches."
Yussef Kamaal's album 'Black Focus' is out November 4th, 2016 on Brownswood Recordings.