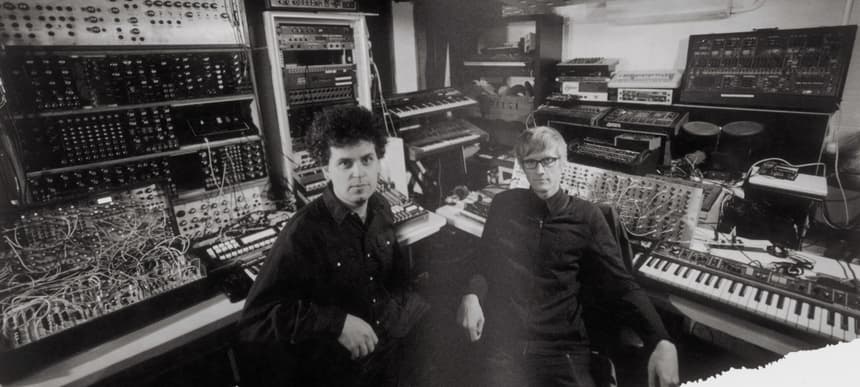 10.12.2014, Words by dummymag
The 10 best Cajmere/Green Velvet tracks, according to Simian Mobile Disco
Curtis Jones has adopted many aliases over the years, but there are two that will always stand out as his most iconic: Cajmere and Green Velvet.
Cajmere's Percolator and Green Velvet's Flash are two of the most instantly recognisable club tracks ever created, so effective on the dancefloor that they've effectively become a template for a certain type of dance track. But, as oft-imitated as these tracks are, they're never bettered.
Still, these are just the tip of the iceberg when it comes to Jones's output. Often released through his own labels Cajual and Relief, Jones's records carry maximum dancefloor impact while remaining coloured by his eccentric personality.
With Simian Mobile Disco inviting Cajmere over to London's XOYO this weekend as part of their residency series, we asked them to count down some of Jones's best moments. All the key tracks are featured – why wouldn't they be? – but there's also room for lesser know, but no less devastating, club material.
01. Green Velvet Flash
Simian Mobile Disco: "This record needs no introduction. A lesson in simplicity. The definition of a 909 workout, it still sounds as raw and powerful as it did when I first lost my mind to it in a club. I've always loved how you can hear him put the mic down after the first bit of vocal. Cameras ready, prepare to flash."
02. Cajmere Brighter Days (feat. Dajae) (Underground Goodies Mix)
Simian Mobile Disco: "Another absolute classic that has been the blueprint for a thousand house tunes since, and is still guaranteed to destroy any dancefloor. Bumpy 909 and chopped up soulful vocal and not much else. Perfect."
03. Green Velvet Destination Unknown
Simian Mobile Disco: "Again, super simple and effective, but also weird as hell. Destination Unknown is a perfect title. Sounds like a spaceship landing when played through a big sound system."
04. Cajmere I Beed U (feat. Dajae) (Green Velvet Mix)
Simian Mobile Disco: "I love the way Curtis makes music as Green Velvet and Cajmere in parallel, and oddly some of my favourite tracks by him are when he remixes his alter ego. This is a great example. It's a pure party starter, especially when Green Velvet strips down the original Cajmere version to its fundamental elements!"
05. Cajmere Percolator
Simian Mobile Disco: "One of the most recognisable hooks in clubland, and it's about a coffee machine! Delivered, of course, in his typical deranged, brutal style."
06. Green Velvet Lalalala (feat. Jamie Principle)
Simian Mobile Disco: "Great house music featuring the legend Jamie Principle. (Not to be confused with probably his biggest hit and most 'pop' moment, La La Land.)"
07. Green Velvet Preacher Man
Simian Mobile Disco: "One of the earliest Green Velvet tunes, which features Aretha Franklin's dad (apparently) preaching over some relentless acid."
08. Green Velvet Brain Dead
Simian Mobile Disco: "Properly bonkers late night tackle this one. Not for the faint-hearted."
09. Cajmere Satisfy
Simian Mobile Disco: "Again with long time collaborator Dajae, Satisfy is more excellent stripped down, gospel-inspired house music."
10. Green Velvet Pursuit
Simian Mobile Disco: "Perhaps less well known this one – but still an absolute dancefloor weapon."
Cajmere plays at XOYO in London for Simian Mobile Disco's Residency on Saturday December 13th 2014 (more information and tickets).