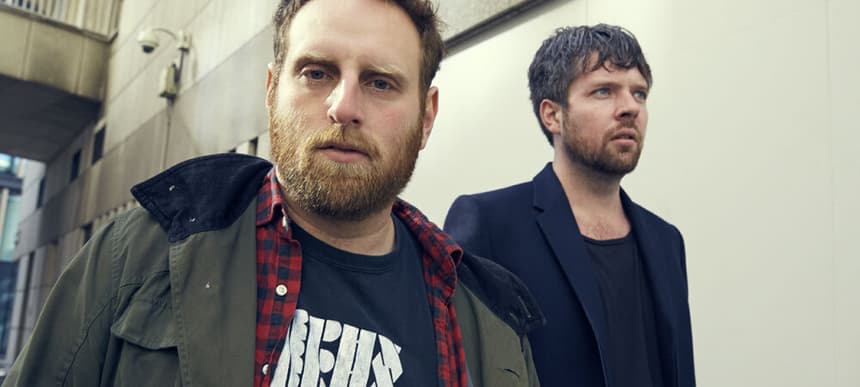 29.01.2016, Words by dummymag
The 10 best Canadian techno tracks of all time, according to Junior Boys
Just before the turn of the millennium in Hamilton, Ontario, Jeremy Greenspan and Johnny Dark decided to form a synth pop act, Junior Boys. Working on promo material together, Dark departed the duo before any interest accumulated and was soon replaced by current member, Matt Didemus. It was around 2003 when things began to take shape, with their debut album 'Last Exit' dropping on KIN. The pair spent the rest of the noughties releasing on Domino and Get Physical, with stand-out tracks including In The Morning and Like A Child, taken from their '06 'So This Is Goodbye', with the latter getting a minimal techno lick from Carl Craig. If there's one thing Junior Boys excel in, it's comedown music. I can't count the amount of times I watched rain roll relentlessly down the window panes of my flat in West Didsbury, burying my head into a pillow whilst listening to 'So This Is Goodbye' until I knew all of the words…backwards, in French, you name it.
It's now been almost five years since their last full length, a hiatus which the pair have spent wisely by channelling their time into solo pursuits and pastures new. Didemus relocated to Berlin and launched his own label Obsession, whilst Greenspan has released his own material on Caribou's imprint Jiaolong, as well as working alongside Jessy Lanza on the writing and production of her 2013 hit album, 'Pull My Hair Back'. The shift in focus was crucial for the pair, who reunite in February for the release of their fifth album,' Big Black Coat'. Returning refreshed, the album explores new territories and sounds like "the sound of fabric swishing", says Greenspan.
A taste for the genre already apparent, we mark the release with a subject close to Junior Boys' heart: techno tracks from their native Canada. Ranging from hometown buddy turned techno glitterati Richie Hawtin, through to underground figureheads such as Egyptrixx and Alixander III (also of Azari & III fame), the list dives deep into the electronic talent the country has nurtured whilst also clearly highlighting the influence techno has had on the Junior Boys sound.
Read the list below and listen seamlessly on our YouTube playlist.
01. Teste The Wipe
Junior Boys: "We are slightly biased because Huren (aka Teste) is from Hamilton and played drums for Junior Boys on tour for years, but honestly this IS the greatest Canadian Techno track of all time. I was also told that Surgeon called this "the greatest techno track of all time… period"."
02. Plastikman Electrostatik
Junior Boys: "I think most people would chose spastik or maybe FU as the most important Hawtin/Plastikman track, but this one has always been my favourite. Richie Hawtin has become a massive DJ and Impresario, but for a generation of Canadians he is always going to be a nerdy guy from Windsor that we all idolized."
03. Dan Bell (DB-X) Electric Shock
Junior Boys: "I've heard conflicting reports on how Canadian Dan Bell is. I don't know him, so I can't be sure. I have some friends who say that he is totally American, and others who say he is from St. Catherine's, Ontario. I'm gonna claim him as one of us, because he is a fucking genius."
04. Engine-O Snake Charmer
Junior Boys: "Ollie Barkovic was a big influence on us. He started Steel City records in Hamilton and organised the first parties we ever went to. He was a great DJ and a great producer."
05. Orphx What Will Burn
Junior Boys: "I saw Orphx live for the first time 20 years ago. What is crazy isn't so much that they've been around that long, what is crazy is that they're doing their best stuff now and finally getting the attention they deserve."
06. Mathew Jonson Learning to Fly
Junior Boys: "I was going to put Decompression on, but this one has a bit more charm. I also like some of the newer stuff he has been up to."
07. Huren / Opgang 2 Prone Decubitus
Junior Boys: "This is my favourite of the Steel City releases and one of my faves from Huren as well. Also shout out to Steel City Recs guy Symplx, who has put out tons of great stuff and who put out some new material recently that was amazing."
08. Egyptrixx Water
Junior Boys: "David Psutka is the most forward thinking electronic musician in Canada today. He has created a sound that is totally his own, and tries out stuff that very few producers would have the courage to do."
09. Alixander III In A Vacuum
Junior Boys: "He is probably best known as the "III" in Azari and III. We've known Al since we were all kids. This new straight techno stuff is getting back to his roots. This track is the old Al we knew."
10. Nick Holder Fear Of The Future
Junior Boys: "Nick Holder is really more of a house and hip-hop producer, but this track is pretty techno. He is one of the most under-appreciated Canadian producers. I think when things really blew up for Kenny Glasgow recently, there were a lot of people who were rightfully super happy to see good things happen to a guy who had been doing great stuff for such a long time. I would love to see Nick Holder get his dues as well."
Junior Boys forthcoming album 'Big Black Coat' is due February 5th on City Slang (pre-order).