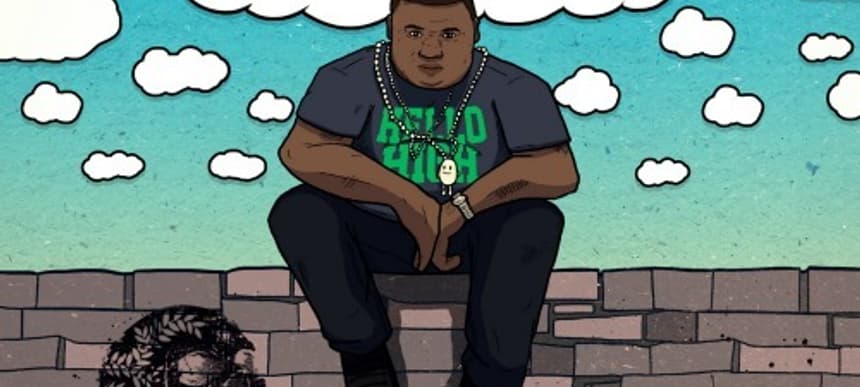 29.10.2013, Words by Anthony Walker
The 10 best cartoons, according to Big Narstie and True Tiger
For their latest single Headgone featuring Tanya Seifert, True Tiger and Big Narstie opted for an animated video, a smart choice that emphasises the boisterous production and Narstie's audacious comic style. Cartoons are with most of us from as early as we can remember, and it's no different for these guys; so, with the video released and a joint EP 'Hello High' (that's the artwork above) on the way, we asked True Tiger and Big Narstie to tell us their top 10 animated TV series. The picks range from ubitiqitous classics to surrealist cult favourites, witty Cartoon Network originals, dark manga and more recent satirical shows – all very distinctive, often very funny and some with unforgettable theme music. Watch their chosen clips and read what they had to say about them below.
1. Tom & Jerry
True Tiger: "This is a proper old school memory for us. Tom & Jerry is like the original comedy cartoon, the first time you realise cats and mice don't like each other. This still cracks us up so it's definitely a classic cartoon"
2. Family Guy
Big Narstie: "Just when everyone had seen every episodes of 'The Simpsons', 'Family Guy' came along. Every episode has killer lines. The clip we've picked is one of the most classic scenes from it, based on a classic cult film Office Space. It's such an amazing re-make of this scene; watch 'Office Space' if you haven't already!"
3. American Dad
Big Narstie: "Another modern classic like 'Family Guy', love the random jokes and some cool characters including Roger and Stan."
4. Teenage Mutant Ninja Turtles
True Tiger: "One of the best theme tunes ever as well as some of the best characters. I remember it getting so popular that they had to change the title from 'Ninja Turtles' to "Hero Turtles' because they were worried kids wanted to become ninjas in real life haha! This is one of my earliest memories of wack censorship by the government. Long live the Ninja Turtles!"
5. Thundercats
Big Narstie: "Another favourite with an amazing theme tune and logo! The original 'Thundercat's cartoons are so classic, but the later animated series are also sick! The sword in this is too gangster! Remember having it as a kid – next hype! If you somehow haven't seen this then it's a must watch!"
6. Ren & Stimpy
True Tiger: "This was the rawest cartoon out there whilst we were growing up. Ren & Stimpy were the original reckless guys, getting in crazy situations and this clip is just one of many."
7. Ninja Scroll
Big Narstie: "Sick animations, crazy fight scenes and then there is Hiyabusa, a demon with ten willies… Auto-Gas!"
8. South Park
True Tiger: "Another classic cartoon that still cracks us up. Always loved the way 'South Park' take the piss out of world affairs and celebrities. Too many classic moments so here's a best of we found."
9. Archer
True Tiger: "This is another sick modern day cartoon, definitely one to check if you haven't watched before. Cool animation as well as story."
10. Powerpuff Girls
Big Narstie: "The Powerpuff Girls are on their job, they're pretty but will fuck you up. Buttercup is anti-social and not ramping. They would f- up the Power Rangers! Base!"
Headgone is out on Stripes Records on 3rd November 2013.