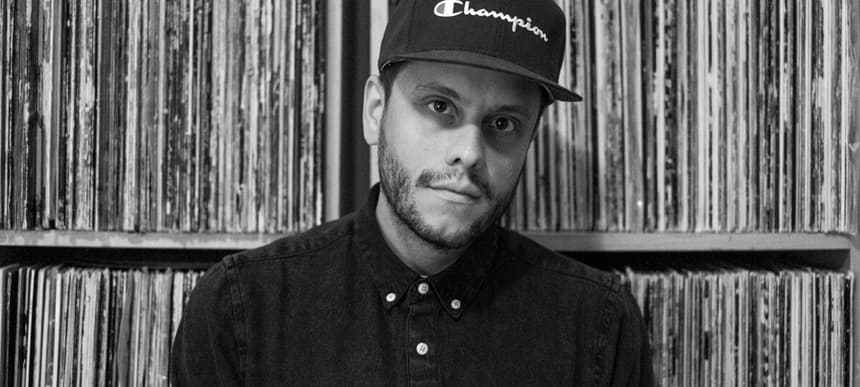 25.07.2016, Words by dummymag
The 10 best Chaka Khan tracks, according to Eli Escobar
A self-proclaimed "house and disco evangelist", DJ and producer Eli Escobar has been a familiar face on New York City's electronic music scene for almost two decades – from his '00s club-kid adored 'Money Lotion Vol. 4' through to the 'Sweet Love' EP on his own Night People label, which came complete with a remix from Kim Ann Foxman.
These days Eli Escobar is best found running his own Night People label, throwing Tiki Disco parties in Bushwick, or joining the dots between golden era classics and present day club anthems with releases on world famous labels such as Nervous and Strictly Rhythm. Now ticking another longstanding house music label off his list, Escobar delivers his second full length album next month on Classic Music Company. Active since the mid '90s, the label was initially founded by Derrick Carter and Luke Solomon, before becoming part of the Defected family. Home to releases from the likes of Tiefschwarz, Isolée, and Brett Johnson – it's definitely the perfect home for Eli's forthcoming 10-tracker, 'Happiness'.
Already dropping Traxsource #1 Phreeky, Eli Escobar is set to release the second single from 'Happiness' in August. Titled Chaka Khan, it's a Chicago inspired workout with empowering samples and a little taste of Eli Escobar's insane ability to lay down some serious percussion. Warming up for the release of 'Happiness' on September 16th, we let Escobar loose on our 10 best series and seeing as he named a track after her, he pays further homage to none other than his all-time hero, Chaka Khan.
Read through Eli's selections below, and listen via our YouTube playlist.
Chaka Khan Love You All My Lifetime (Love Suite Mix Opus)
Eli Escobar: "This is a lush, beautifully arranged house remix that was big in NYC at the early '90s at clubs, like Sound Factory Bar and Shelter. The original has a typical sound of the time – a Brand New Heavies/Soul 2 Soul/Acid Jazz sounding groove which is nice – but in my opinion, the remix elevates the song to where it needs to be to really get a dance floor moving. I made a personal edit that starts with the dub and eventually makes its way to the vocal intro and I've had a few magical experiences playing it at the right time for the right crowd! The pre-chorus is heavenly."
Rufus feat. Chaka Khan Somebody's Watching You
Eli Escobar: "Pretty much every one of the early Rufus LPs has dope album cuts that weren't put out as singles. This one is a great example of how effortlessly Rufus could combine funk and jazz elements into a somewhat light and breezy tune. I particularly love Tony Maiden's guitar work on here, and the way clavinet dances around his chords. Chaka fits in just perfectly and does some amazing harmonies. I used to play this a lot in my sets back in the day."
Rufus & Chaka Khan Ooh I Like Your Loving
Eli Escobar: "Mid-tempo madness here. The groove is so laid back and mean! When I was really young, I bought the I Feel For You 12" (mainly because it had Melle Mel on it) but aside from that, this album (self titled) was the first one I ever got. I actually jacked it from a friend of mine's parents house but it was ok 'cause she gave me permission. It has an awesome fold out poster inside the sleeve! Of course Sweet Thing is the bomb on here, but this track was my favorite to play out. This song is Chaka basically telling her man: "Can you back up off me for one sec so I can get some stuff done?" But I mean who could blame him really?"
Rufus & Chaka Khan Magic In Your Eyes
Eli Escobar: "This is off 'Ask Rufus', which is my absolute all-time favorite album. It's hard to not make this whole list just songs off that album. The last of a trio of classic slow jams (Everlasting Love and Hollywood precede it), this is a sublime piece of work and is one of the most stripped down ballads Chaka ever sang (check Your Smile also). My favorite part is the last minute. Chaka could have went all American Idol and overdid it with the vocal gymnastics, but she holds back, hits just the right notes and even steps away from the mic a little so her voice is more of a compliment to the guitar and rhodes. It's just perfect."
Rufus & Chaka Khan Stay
Eli Escobar: "One of the worst things that ever happened in the history of the world was when the record people at ABC were like, "I dunno guys, I don't think we need to make a 12 inch of Stay." A true tragedy. Chaka wrote this masterpiece with drummer Richard "Moon" Calhoun. They were definitely touched by a higher power that day! Beautiful harmonies and the most laid-back of laid-back grooves that still feels urgent as fuck. The keyboard solo has a little of a jazz-fusion vibe which was a popular style of music in my house hold growing up. Then at the end the band really tightens up and gets moving while Chaka pleads someone to "stay!" I bet they did. I still love to play this out if the time is right. And I never mix it, just drop it right after the three!"
Rufus & Chaka Khan What Am I Missing?
Eli Escobar: "This is from the classic 'Masterjam' album which was produced by Quincy Jones. It's way less raw sounding than the previous Rufus albums, but that's ok because the songwriting is top notch. Tons of classics on here like Any Love, Do You Love What You Feel, and Live In Me. What Am I Missing has a haunting feel to it, which is a bit rare for Chaka. Bobby Watson's bass playing on here is amazing. He's almost as crucial to the verses as Chaka. When I first started DJing out in NYC back in the mid '90s, I played a lot of smaller rooms that were more loungey and I would play a lot of tracks like this. I miss those days and that freedom some times."
Rufus & Chaka Khan You Got The Love
Eli Escobar: "Well, this is probably the hardest groove Rufus and Chaka ever put down. Tony Maiden destroys it on here. It's a stone cold classic and probably in my overall top 10 songs of all time. If you're ever in a bad mood, watch the video of them doing this on Soul Train, and you'll be just fine."
Chaka Khan I Know You, I Live You
Eli Escobar: "Written by Chaka, produced by the legendary Arif Mardin, and danced to by house heads all over the world. Another one that strangely didn't get a 12" release at the time, but luckily Danny Krivit gave us some bootlegs of it to wear out. This is as perfect as a dance record can get. After Chaka went solo, songs like this and Clouds went under the radar, but the dance community loved them and made them the enduring classics they are today. A long time ago I took my wife to see Chaka at summer stage in Central Park, but it was so crowded and we couldn't get in. But everyone who didn't get in just hung outside and danced. This song was the highlight that day!"
Chaka Khan Hollywood
Eli Escobar: "I love songs about guys leaving for Hollywood. Labelle has a great one, and of course there's Midnight Train To Georgia. "Painted faces, sunburnt skin, fixed expressions, smiles worn thin… Everybody makes believe in Hollywood." So true Chaka. So true."
Chaka Khan Ain't Nobody
Eli Escobar: "Back in the late '90s I used to DJ at this short lived club called 95 Leonard in downtown Manhattan. There was the main room where I played with a great DJ named Goldfinger. But way in the back was this stairway that lead to a dark basement, and I would always check it out once I was done spinning. I vividly remember going down there one night, when it was hot as hell and slam packed with people dancing really close. The DJ put on Ain't Nobody from the beginning. Let it fade in and when the beat dropped, people lost their minds. Obviously I knew the song from when I was a kid, but in a way I felt like I was hearing it for the first time. It was one of those moments that shaped me, and made me feel quite aware that dance music was what I loved more than anything else in the world. I'll never forget it. So thanks Chaka!"
Eli Escobar releases Chaka Khan on August 1st, followed by his album Happiness on September 16th.