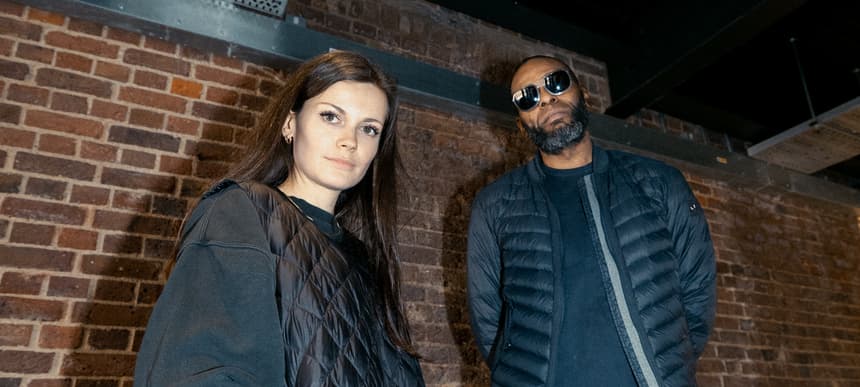 02.05.2023, Words by Billy Ward
The 10 Best Club Bangers, according to Flowdan and Effy
"This one will never not go off in a dance..."
Rising Northern-raised producer Effy and East London MC Flowdan are two artists at very different points in their careers. While one is a certified cult figure in the grime scene with a career spanning the best part of two decades, the other's debut single landed just before the pandemic. These differences haven't stopped the pair from linking up to create 'Stone', an old-school-meets-new-school 140 anthem drawing on the raw energy of early Prodigy with Effy's fierce breakbeat and gritty-grime inspired synths and Flowdan's signature lyrical flair.
Following the success of the MC's collaboration with Skrillex and Fred Again on global hit 'Rumble', we sat down with the pair to run through some of their favourite club bangers, marking the release of the scorching new Effy x Flowdan cut. Below, Flowdan takes us through selections 1-5, while Effy decides tracks 6-10. 
1. The Bug - 'Skeng' feat. Killa P & Flowdan
"Enough has been written about this one, one of the most important tracks in my career."
2. Flowdan - 'Horror Show Style'
"As soon as this one was made, I knew it would be a mainstay at all my shows, I wasn't wrong."
3. Jook & Boofy - 'Clout' feat. P Money
"One of my favourite 140 tracks to come out recently, track is hard."
"Sick VIP of a sick track."
5. Skream - 'Midnight Request Line'
"This one will never not go off in a dance and really crossed over the dubstep and grime scenes."

6. Anz - 'Last Before Lights'
"I play this in most sets, insane tune. So many moving parts but all tie in together so well. Dope bass, cool pads, piano stabs... to me it's the perfect club tune."
7. Virgil Abloh - 'Delicate Limbs' (Special Request remix)
"I love the vocals along with what Special Request did to the original. A 160 emotional banger."
8. Prodigy - 'Out Of Space' 
"I love the Prodigy as they've had a huge influence on my sound."
9. T2 - 'Heartbroken' feat. Jodie Aysha
"A UK classic! This song will always slap."
10. UK Apache with Shy FX - 'Original Nuttah 25' (Chase & Status Remix feat. Irah)
"This is a mad tune. I always listen to it before I play a show.. it riles me up and makes me feel aggy in all the good ways!"
Watch the music video for Effy and Flowdan's new single 'Stone' below: