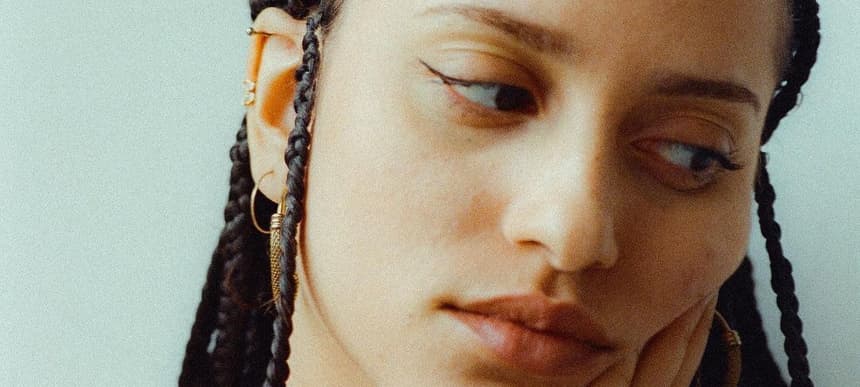 27.02.2023, Words by Billy Ward
The 10 Best Tracks For Overthinkers, according to Léa Sen
A cathartic playlist to get yourself back on track...
Born near Paris, but now operating out of London, Léa Sen has quickly established herself as one of the capital's most in-demand talents, flitting between gossamer vocal features for Joy Orbison, Oscar Jerome, and Wu-Lu in her breakout year. Now in 2023, and approaching the release of her second EP 'You Of Now Pt 2', Léa's latest single 'Dragonfly ʚĭɞ' has a tranquil quality that belies the overthinking, anxiety and hesitation that inspired it. 
To mark the release of the track, we sat down with the songstress to compile the perfect playlist for overthinkers. Below, Léa takes us on a journey into her mind: "There's this girl, she lives in a house on a hill. She's a retired overthinker and decides to puts songs in a digital mixtape to soothe her ghosts of indecision that are coming back to haunt her. Each song she picks accompanied her in her journey recovering from overthinking. (If you ask too many questions, you've already lost.) She knows the best way to find her path again is to let the songs play and to listen to herself without any judgement (can you ever walk away from who you've been?)"
1. Radiohead - 'Everything In It's Right Place'
"Everything starts and ends at the same time. It's like a strange catharsis for her. She knocked on her door too many times."
2. Ryuichi Sakamoto - 'Andata' (Oneohtrix Point Never)'
"No one answers but here's a world where it's safe to trip and fall. She holds on to dust and slips through. She's holding on…to something."
"Holding on to dirt. She always used to put her hands in dirt. Maybe the answer is there? If Oli XL was in avatar, he'd be an Earthbender. She'd still be an overthinker (not the James Cameron one, you losers)."
4. ML Buch - 'Can You Hear My Heart Leave'
"Maybe it's in the water she drinks. This new water makes her skin itch. She's tired so she's letting something die away while playing chess with her brother. Is that where she's supposed to lay and rest?"
5. Radiohead - 'Pyramid Song'
"There's nowhere to go when you run in circles. Her brother is definitely winning at this game of chess (Get yourself together. Play.) If you play for too long without ever lifting your head, you might get lost again."
6. James Blake - 'Retrogade'
"Aaaah she lost again, back at home distracted by images of her mind. Is that where she's supposed to stay? She plays again. Falling off the Rainbow Road in Mario Kart isn't so bad since there's nothing to hold onto but yourself. (Just embrace the fall.)"
7. Instupendo - 'Six Forty Seven'
"When you fall, you fall somewhere. Who can pull you out when you created the black hole from your deep sighs? (I think you should start walking.)"
8. memo boy - 'insomniac' 
"Dragonflies do not go through metamorphosis. They spend the majority of their lives underwater. Try to extract yourself from a cocoon but you're underwater. There was no cocoon to escape anyway. (You really know nothing. You might find something.)"
9. Here We Go Magic - 'Over The Ocean'
"She's met with three doors and a guard looking away. Why does she always want to get the attention of the person in the room? (It all makes sense when you listen to yourself.) If she whispers to him for too long she can almost hear him talk to her internal voice."
10. Florian Fourlin - 'When I Am Here'
"An overthinker struggled with her own sense of self. She was delusional. But she's always been on the right path. There's no other path. She picks the middle door. She was in this room before. She'll be somewhere again."

Stream Léa Sen's new single 'Dragonfly' below: