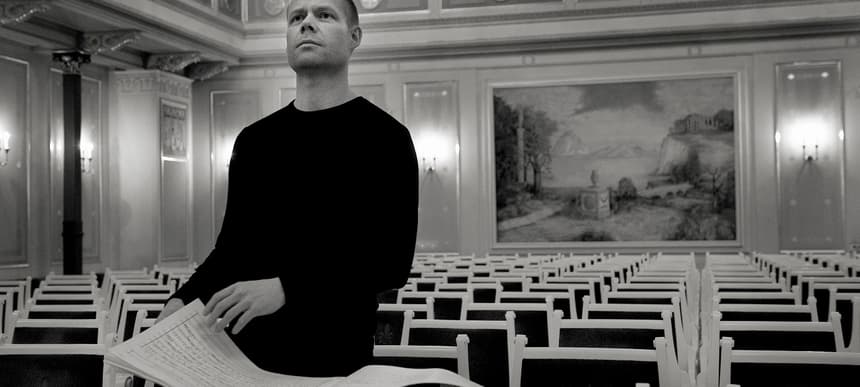 08.05.2015, Words by dummymag
The 10 best dance and music performances, according to Max Richter
Although an accomplished classical composer in his own right, Max Richter is also renowned for his work as a pianist, producer, remixer, and collaborator. Unlike many composers of his generation, Richter has a particular interest in sound: the minimalism of Philip Glass and Steve Reich, but also the dub techno of Moritz von Oswald, the transcendant songwriting of Vashti Bunyan (who Richter has worked with), and the textural post-rock music of bands like The Twilight Sad.
The Grammy-nominated electro-acoustic composer's latest work is the score to a new ballet, Woolf Works, which is receiving a world premiere at the Royal Opera House. Choreographed by Wayne McGregor (his fourth collaboration with Richter) and conducted by Koen Kessels, Woolf Works is a biographical narrative of the life of Virginia Woolf that journeys through her novels Mrs Dalloway, Orlando, and The Waves. Billed as a "giant multi-sensory collage of disparate elements, fusing multiple languages, media, technologies, movement, and symphonic music", Woolf Works will feature computer-generated and analogue electronic music, chamber instrumentation, and, moreso than anything that Richter has done so far, orchestral elements.
Before Woolf Works begins, Richter has compiled a list of his favourite music and dance performances. It's not a surprise to see productions by contemporaries of Richter – not to mention productions that Richter worked on himself – but would you necessarily expect to see a street dance performance shot on handicam and found on YouTube?
01. Maya Deren The Divine Horsemen
Max Richter: "The complete version of this film is really worth checking out. Maya Deren is an early visionary – a complete artist prefiguring people like Yoko Ono and Meredith Monk."
02. sstreetboyzz Best Slow Motion Dancing Ever
Max Richter: "I came across this on YouTube the other day. It's extraordinary – reminds me a bit of that traditional Buddhist training of walking amazingly slowly – or maybe it connects to Butoh somehow. Anyway, this is great work."
03. Pina Bausch Cafe Muller
Max Richter: "There are so many Pina Bausch things I could have chosen, but I suppose this is really her signature piece. The emotionality of her work is undimmed – it cuts through everything."
04. Wim Vandekeybus What The Body Does Not Remember
Max Richter: "I remember the premiere of this. Totally mind-blowing. Although the extremes of this language have since become part of many other kinds of performance, it still packs a punch. This thing still feels dangerous."
05. Anne Teresa De Keersmaeker Drumming Live
Max Richter: "Having performed over 200 shows of Steve Reich's Music as a pianist, I guess his work is in my DNA somehow, and I love Drumming. This is a typically elegant piece of work from Rosas."
06. Lucinda Childs Dance 4 – Solo by Caitlin Scranton
Max Richter: "This is truly a masterpiece. Lucinda Childs is a genius. That is all."
07. Samuel Beckett Quad
Max Richter: "When I first saw Beckett's Quad done live, I had no idea what was going on. In a way though, it is maybe one of his most perfect works – as a representation of our contemporary life, it is unmatched in its bleak humour."
08. Shobana Jeyasingh Configurations 4
Max Richter: "I saw this as a kind and I still love it. The music is golden age Nyman, and Shobana Jeyasingh is working very much within her original frame of reference. The whole piece, of which this is an extract, is just incredible."
09. Martha Graham Appalachian Spring
Max Richter: "This is the orignal Martha Graham choreography for Aaron Copland's music. It feels like it comes from another era, but is beautiful nonetheless."
10. Eric Underwood Infra
Max Richter: "This is a trailer for INFRA, my first collaboration with Wayne McGregor. I'm really fond of this work – Wayne is such an inventive artist. We have been working on our new ballet for the last few months, and it's been a pleasure to work with dance once again."
Woolf Works runs at The Royal Opera House, London from May 11th to May 26th 2015 (info).