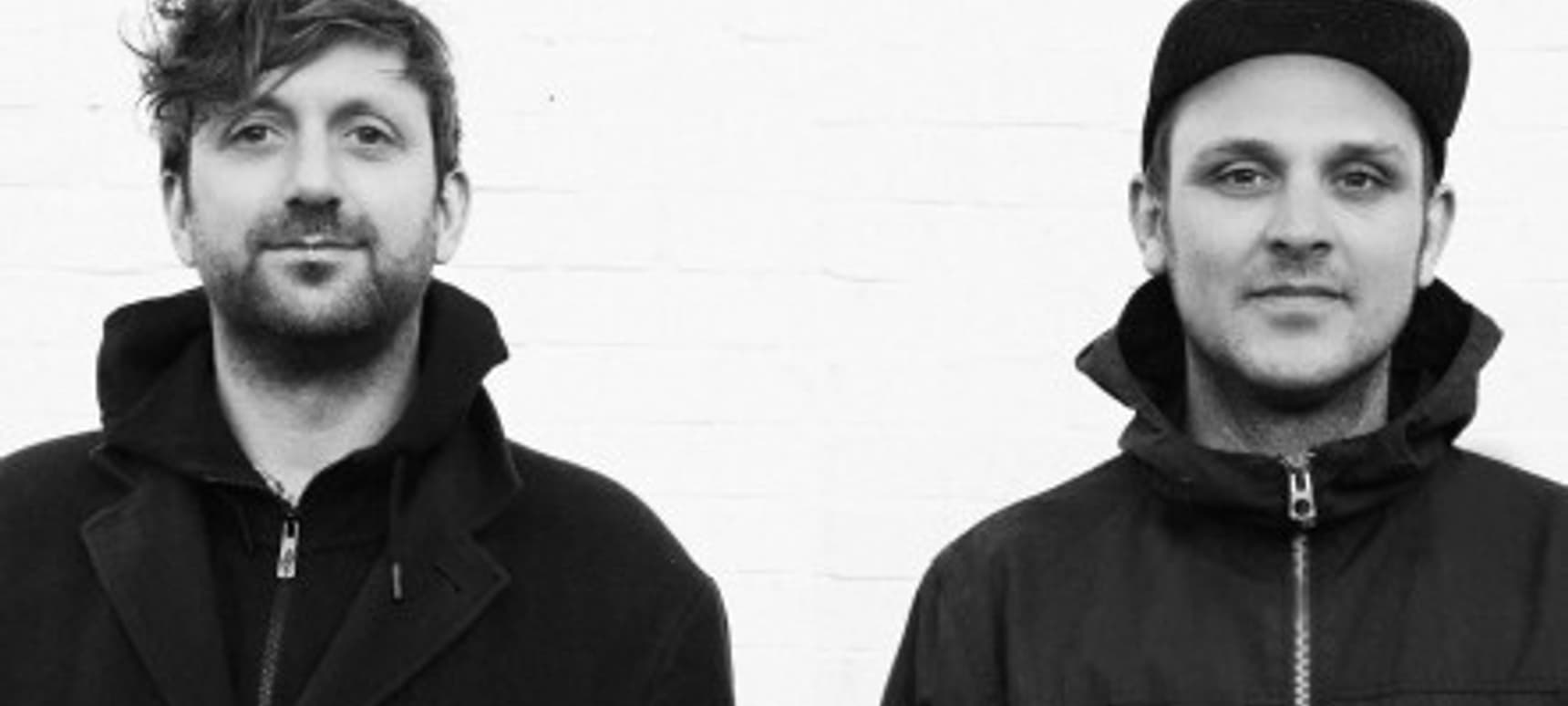 15.11.2016, Words by dummymag
The 10 best dance music duos, according to Appleblim & Second Storey
United by a chance meeting at a house party in Bristol around 2008, Appleblim (Alec Storey) and Second Storey (Laurie Osborne) literally meld together musically to become 'ALSO'. Previously recording under this moniker for a trio of EPs on legendary Belgian label R&S Records – we spoke to the pair early last year about their holy unification as a dynamic dance music duo via a chance meeting at a house party in Bristol, and hitting the studio to record together.
Returning to R&S earlier this month on usual production name terms for the 'Gimme 6' EP, the three-tracker it's a sleek continuation of their genre-defying output, which the label describe as "cyborg funk". Of course, it's devoid of disappointment from the start – progressing from twisting title-track Gimme 6 to the shimmering transition of Levying Rooks and Aperture on the silver flip-side – making Appleblim and Second Storey's reunion nothing short of a well-rounded success.
Following up on the release of 'Gimme 6', we got the duo to knock heads and pay homage to a couple other shining examples of teamwork in electronic music. A thoroughly considered compilation, it reaches from early hardcore and jungle connoisseurs 4hero to Rochdale's finest export, Autechre.
Read through Appleblim and Second Storey's selections before, then listen seamlessly on our YouTube playlist.
Future Sound Of London
Appleblim: "I think people sometimes forget the early stuff by Future Sound Of London. It just sounds so full and psychedelic. It was a massive influence on me and mates as we started raving. Accelortaor collects some of the early singles under different names – Mental Cube, Indo Tribe and so on (which are all worth checking out). They fully stand the test of time. Future Sound Of London brought this sampladelic playful deep production vibe to the house and techno coming from America. A kind of UK take on things, in my opinion…"
Shut Up and Dance
Appleblim: "I don't think that SUAD's influence can be overstated in terms of UK dance music….It's just such funky, rolling music. Full of London attitude and vibes. The sub bass, the breaks, the reggae and ragga influence and the joyful mixture of samples from Detroit, acid, pop…everything. I love the rapping too, and living in Hackney and Stokey when I was younger was a trip as it is all about round there! The Nicolette records they produced blew my mind when I was 15….and they did so much stuff. All of the Red Light ragga jungle stuff is just nuts too, proper music!"
Kassem Mosse and Mixmup
Appleblim: "I was late on Kassem, to be honest, it took hearing Workshop 12 (enchilada, enchilada!) on Labyrinth's insane sound system for the penny to finally drop. The pairing of Kassem and Mix Mup seems to bring out this avante-ly funky side to them both. They are such bonkers records but so undeniably groovy. The first EP from KM.MM was definitely a big influence on the ALSO project. It gave me faith to just do what you do, with no compromises. I try and picture them in the studio and I just have no idea how they would approach these tracks. I love that. Unbound, out there, but totally grooving…."
4hero / Manix
Appleblim: "I think Dego and Marc Mac should get some kind of medal, as I think these guys progressed music and the UK sound so much. Goldie has talked extensively about how he considers them his 'programmers' – some of the people that helped him achieve his visions. They certainly were pushing the envelope in terms of what hardcore music and technology could do. Their beats sound like no one else…and always with a message, or a cartoon, or something funny or weird or dark or spiritual or sci-fi. Always pushing, intriguing people, and what Marc and Dego have done since 4 Hero is testament to both their skills as musicians who change and develop…"
Autechre
Appleblim: "Well what can you say? They're the daddys aren't they! Them and AFX obviously. I just can't think of another duo or act or anyone in electronic music who has constantly developed what they do in the same way with absolutely no compromise, totally pursuing what they need to make and want to hear. There's just too many amazing moments, and they always feel years ahead of everyone else. It takes me time to catch up to an Autechre album you know? I remember my mate putting the first track of Exai on hearing the first few bars and just thinking 'here we fucking go..!' It took a few plays but once we were in the right frame of mind…wow. It just opened up and you hear the funk and melody in it. Stunning…"
Drexciya
Second Storey: "I was part of a sound system called Molotov in my formative rave years and my friend James Elston who owned it introduced me to Drexciya. I instantly fell in love with the music and mythology that James Stinson and Gerald Donald created, though details of the exact collaborations involved in the project are sketchy. I've been immersed in their sound world ever since and they remain a huge inspiration."
Two Lone Swordsmen
Second Storey: "Keith Tenniswood and Andy Weatherall are obviously heroes in their own right but it was as a duo was when I first heard their music. I consider 'Tiny Reminders' to be one of the best electro/electronic albums of all time."
Metro Area
Second Storey: "I've probably listened to the Metro Area back catalogue more than 100 times (perhaps too much to be honest!) I'd been totally into harder techno and electro before I heard them and it really changed my perception of what disco could be. There's so much musicality, subtlety, and charm in the sound. Impeccable."
Ed Rush & Optical
Second Storey: "Another early inspiration of mine, I heard Alien Girl (though Fierce should also be credited) when I was 15 and it completely freaked me out. Still sends chills up my spine. Nothing sounded so futuristic, dystopian and industrial. Their later work and album 'Wormhole', in particular, are ingrained in my psyche."
Zenker Brothers
Second Storey: "I became aware of the Zenkers via their first record on Tresor and have since become a big fan of their music and their label Illian Tape. Their productions have a darkly tinted funkiness and roughness that I love."
Appleblim & Second Storey's 'Gimme 6' EP is out now on R&S (buy).