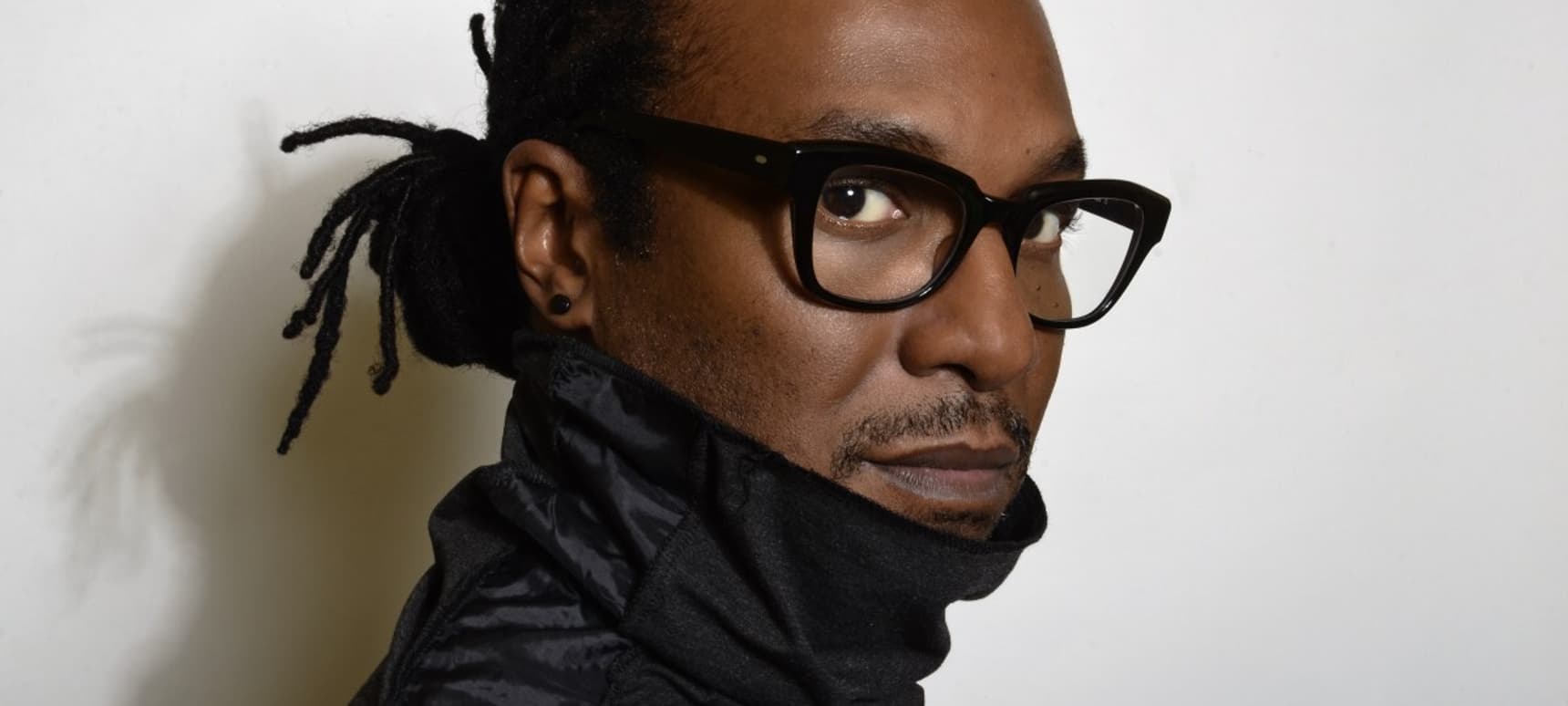 22.07.2016, Words by dummymag
The 10 best Detroit techno deep cuts, according to Stacey Pullen
Stacey Pullen one of the key players in Detroit techno's second wave. Born in the city to a musical family, Pullen played instruments in school bands throughout most of his childhood. However, it was the mid '80s when techno hit his home city hard, and Pullen caught the bug – which saw him switch up traditional instruments for turntables, a mixer, and wax. His clubbing experiences started at 15, with his first DJ set following soon after in 1985. Three years later, whilst studying in techno-free Tennessee, he bought a Yamaha RX7 and the rest, they say, is history. It was at this point that Pullen decided to head back to Detroit and pursue a career in music.
After chance meetings in Detroit's clubs, Pullen steadily made connections to some of the scene's luminaries. First up was Derrick May, which led to an introduction to Kevin Saunderson, who helped kickstart his production career by giving him a foot-up on his first release. Since then, he's received global acclaim with releases under his various monikers (Black Odyssey, Kosmic Messenger and Silent Phase to name just a few) on Belgian powerhouse R&S, Science and Elypsia – as well as mixes for fabric, and !K7's celebrated series DJ Kicks.
Stacey also established his own imprint, Blackflag Recordings, which has been an active platform for him since the late '90s, with the most recent release being the hedonistic, futurism tinged 'ROK' EP last month. To mark the release and his Music On residency at Amnesia, Ibiza this summer, we caught up with Stacey for a trip back in time to Detroit techno's golden age. From a guy who pretty much lived in the city's clubs, he shares a selection of 'real-deal' deep cuts from the era.
Read Stacey's deep-reaching selections below, and listen seamlessly via our YouTube playlist.
Vision Other Side Of Life (Juan Atkins' vocal club mix) [Interface Records]
Stacey Pullen: "The harmonic synth line is the most beautiful riff I can remember in Detroit techno. The vocals add so much dimension. Who says techno can't have a chorus, bride, and hook line? Pure beauty."
Neuro Politique Artemis [ART]
Stacey Pullen: "I remember cruising around Detroit when I had this on cassette before it came out. Derrick May gave it to me before I started making music. I loved and still love the melody of this track. You weren't from Detroit but you recorded this track in Detroit, so in my eyes this was and will always be, the spirit of Detroit techno. RIP MATT."
Anthony Shake Shakir Breathe Deeper
Stacey Pullen: "Shake is a producers producer. Almost like Jay Dilla was for hip hop, Shake was that way for us. He took elements out of their ordinary character and gave them a new life."
Instinct A Groove [Decisive Records]
Stacey Pullen: "Another Anthony Shake Shakir track. The dark chords were brought back together with the funky bassline and drum programming. Simplicity."
MK Strider [1991 promo acetate]
Stacey Pullen: "Yep, MK made some rocking early Detroit techno tracks. I remember hearing this on one of Kevin Saunderson and Juan Atkins' radio shows in Detroit."
Channel One It's Channel [One Thunder Records]
Stacey Pullen: "This reminds me of the movie Beat Street. Juan did it all, with straight up funky Detroit electro. Jeff Mills, aka The Wizard, used to play this in his radio show days."
Claude Young Impolite To Refuse [Astralwerks]
Stacey Pullen: "Memories of this track bring me back to when when we all were complimenting each other on who could play the most beautiful chord arrangement. This was one of those moments."
Santonio Echols That's Where It's At [Siren Records]
Stacey Pullen: "Roland drum machines forever!!!! The signature sound of Detroit."
K Hand Insight [Arcacia Records]
Stacey Pullen: "The First Lady of Detroit techno lets loose with this loopy banger. You can still play this in clubs today."
Kosmic Messenger Get Down [Elypsia]
Stacey Pullen: "Last but not least it's my epic intro and the circus arppegiated melody, that even I'm still surprised how this happened."
Stacey Pullen'a 'ROK' EP is out now on Blackflag Recordings (buy). You can also catch Stacey as a resident of Music On at Amnesia in Ibiza this summer (info).