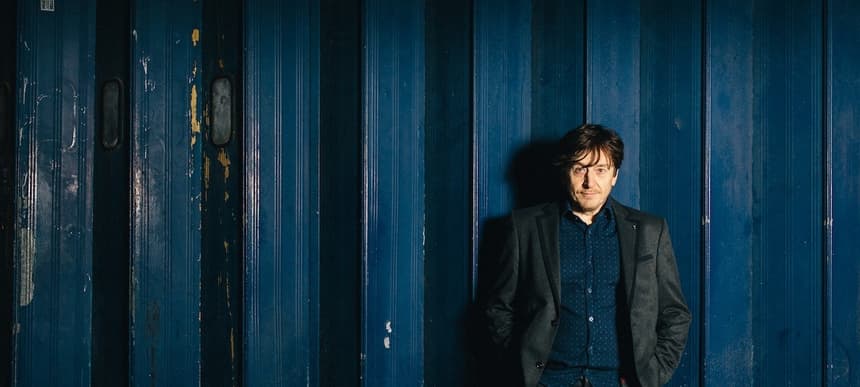 12.05.2015, Words by dummymag
The 10 best disco cash-ins by pop artists, according to Bill Brewster
Bill Brewster is making his third contribution to the 'After Dark' series, a spinoff of the popular Late Night Tales compilations. Where Late Night Tales is all about the music you listen to when you get home from a party, 'After Dark' is about the music that starts the night: sexy, midnight disco, low in tempo but high in energy.
The latest – subtitled 'Nocturne' – features exclusive material by The Emperor Machine, Hugh Mane, Lindstrøm (remixing Charli XCX), and Brewster's own Hotel Motel project with Alex Tepper. But a bigger draw for the spotters will be the rare tracks that have been licensed for the compilation – out-of-print or otherwise obscure cuts by Rudy Norman (bizarre 10cc-ish AOR), Coalkitchen (bizarre funk rock), and Plastic Bertrand (just plain bizarre) all make appearances.
Brewster should, hopefully, be a name Dummy readers recognise. His long career as a music writer includes publishing the definitive history of the DJ, Last Night A DJ Saved My Life, written with Frank Broughton, while as a selector he's one of the most reliable for getting bodies moving to deep cuts and records of the 'what-on-earth-is-this?' variety. Otherwise, you might know him as the guy who keeps the anoraaks in check at DJ History.
With Bill's new compilation out now, and with a launch party taking place this Friday (May 15th) at London's Love Vinyl, we asked Bill to contribute to our '10 best' series. We didn't ask for a specific topic, but what he came back with is brilliant.
During the disco boom, many established pop artists desperately sought to cash in on the fad, cynically making their own disco tunes – with most of the results being, well, a bit crap. But occasionally the stars aligned, sometimes through luck, but mostly due to the help of great session players and engineers. Here are Bill's pick of the ones that worked out surprisingly brilliantly. We're hoping we can do a similar playlist of popstars-gone-dubstep in 30 years time.
01. Billy Ocean What You Doing To Me
Bill Brewster: "Actually Billy did a few (check also Nights (Feel Like Getting Down)). This was the b-side to the also good Stay The Night, but I really like the slow, funky groove to this one better. It was produced by Ken Gold who did tons of (often naff) British disco tunes, including The Nolans, bless 'em, and Liquid Gold."
02. James Last Summertime
Bill Brewster: "James Last – or Hansi to his hardcore fans like me – made some astoundingly brain-melting tosh in his long and varied career, but also used to alight upon the occasional funky moment, though whether it was by accident or design, we shall probably never know. (The two best examples can be found on the 'Voodoo-Party' and 'Well Kept Secret' albums, the latter yielding Summertime.) Hansi was helped in his search for the disco-funk on this album thanks to the inclusion of the cream of NY session players, including Larry Carlton, Jim Gordon, and Tom Scott. Go, Hansi, go!"
03. Cliff Richard Ease Along
Bill Brewster: "Cliff has had a fair few moments of brilliance so it seems somewhat churlish to single out one as though it was an aberration, but bear with me on this one. It was written by Alan Tarney and Trevor Spencer, who also had their own band (Tarney also later produced many pop gems, among them Take On Me by a-ha) and also includes Brian Bennett, who made many a cosmic library tune, on drums. It has inevitably been edited and sampled more recently, but the original is still the one to go for."
04. Demis Roussos Midnight Is The Time I Need You
Bill Brewster: "Demis made a number of killer dancefloor cuts, though this is my favourite, taken from his 1975 'Souvenirs' LP (which also contains the ace Action Lady). Before he let the moussaka portions get the better of him, Demis was also part of the excellent band Aphrodite's Child, alongside Vangelis, and despite being known as a package holiday crooner for the best part of the '70s, was still capable of delivering the funk on a regular basis."
05. The Hollies Dragging My Heels
Bill Brewster: "Pretty much every band on the planet had a crack at disco at some stage during the 1970s, though few were as joyously funky as the Hollies' Draggin' My Heels, which is very collectible on the rare US 12" (if you've got £200 spare, there are a few copies knocking about). Check this excellent live version, recorded at the UK pop show Supersonic."
06. Lulu I Love To Boogie
Bill Brewster: "Lulu had a number of funky moments, but this is her best disco effort, taken from the 1978 album 'Don't Take Love For Granted' on Elton John's Rocket label and produced by longtime collaborator Mark London. Here she is on the Dick Emery Show boogie-ing, while all around are lost in writhing ecstasy. Ooh you are awful."
07. Leo Sayer Easy To Love
Bill Brewster: "Taken from the 'Thunder In My Heart' LP (the title track was re-made into a house hit in 2005 by Meck), it's comfortably the funkiest thing Sayer has done, aided by producer Richard Perry, who produced many commercial disco tunes around this time (as well, bizarrely, as Safe As Milk with Captain Beefheart). The tune was later 'covered' by Dutch group Cashmere under the title Love's What I Want."
08. Barry Manilow Rain
Bill Brewster: "Although Manilow made more famous disco tunes, including the brilliantly camp Copacabana, this tune – taken from 1979's 'One Voice' – is pure class. Great production from Ron Dante, with a song driven by Jim Gordon's drums and Ed Green'e's congas. Fantastic."
09. Marti Caine Love The Way You Love Me
Bill Brewster: "Not that well-known outside the UK, Caine was a Sheffield lass who rose to fame off the back of the New Faces TV show (a 1970s equivalent of Britain's Got Talent) as a comedienne and singer. She recorded a few albums before sadly dying prematurely from cancer at 50 in 1995. This is taken from her sole LP for the BBC, 'Point Of View', and produced by Barry Blue. It appeared more recently on the first 'After Dark' compilation for Late Night Tales."
10. The Sweet Funk It Up (David's Song)
Bill Brewster: "Given how The Sweet tended towards heavy rock (check out b-sides like the ace The Juicer), this came right out of leftfield and is one of the best cash-in disco tunes of the era. Written, arranged and produced by the band, the 12" now fetches about £50."
LateNightTales released 'After Dark: Nocturne' on May 11th 2015 (buy).