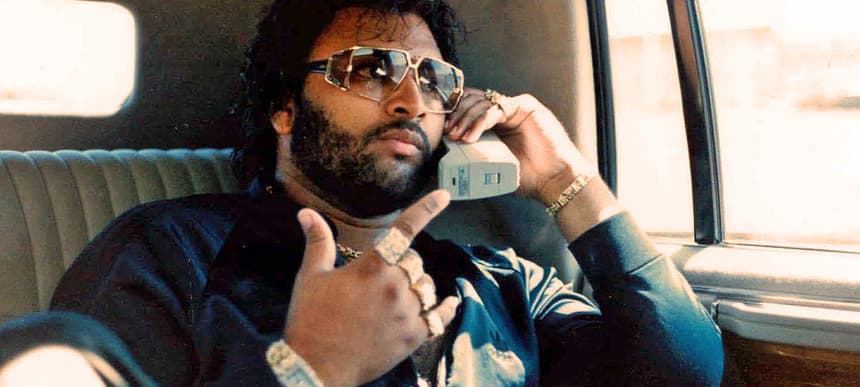 02.11.2015, Words by Natalie /
The 10 best electro funk songs for your soul, according to Egyptian Lover
With a career spanning over 30 years, Egyptian Lover is a certified don dada.
You may know him from the ever-infectious and timeless hit Freak-A-Holic, his sharp-as-fuck dance moves, his late-night-creep inducing lyrics, his collection of gold rings, those aviator shades that make your black Ray Ban's look shameful, or is motivational speech to DJs on Chris James' roof-raiser Just For You. "I bought the vinyl down from Los Angeles, heavy vinyl, on the aeroplane. Brought it here, played it, just for you." He bought his baby the 808 down, too.
Born Greg Broussard, Egyptian Lover boasts credits as rapper, producer, and DJ on his résumé. Starting out in the '80s dance music scene of Los Angeles, his discography spans from his own imprint Egyptian Empire Records all the way through to the home of J Dilla, Stones Throw Records. Channeling the sound of his influences – including Kraftwerk, Prince and Zapp, Man Parrish and Afrika Bambaataa – his tracks became standard material amongst club DJs in the breakdance scene. Egyptian Lover progressed into the hip hop obsessed latter half of the '80s by flirting with new techniques on his tracks, including catchier melodies and vocal hooks. Give Freak-A-Holic a test-run and you'll know exactly what we mean.
In more recent years, Egyptian Lover has worked with varied musicians from James Pants to Hot Natured's Jamie Jones and also working on tracks and appearing on tour with M.I.A, keeping his sound incredibly relevant. Returning to the UK later this month for a special appearance at Feelings LDN, Egyptian Lover blesses us with the 10 electro-funk tracks that got him all rared up back in the day. From Herbie Hancock to deeper cuts from Midnight Star, here's a selection of fundamental funk-tinted tracks that will get your soul feeling all types of good.
01. Electric Kingdom Twilight 22
Egyptian Lover: "I remember when I first heard this track – it sounded so futuristic and so clean. The whole thing was exactly what I wanted to do."
02. Nuclear Holocaust The Future
Egyptian Lover: "I absolutely loved how Nuclear Holocaust made this track. Nice 808 program and such a great overall track. This track inspired me and my career so much."
03. Newcleus Computer Age (Push The Button)
Egyptian Lover: "This track is recorded in such a perfectly clean way – built with an 808 and music that came from a great mind. I still to this day love this track."
04. Reggie Griffin Mirda Rock
Egyptian Lover: "Mirda Rock's Reggie Griffin has a very big sound, and the background vocals inspired me to do so much within my own work."
05. The Bar Kays Do It (Let Me See You Shake)
Egyptian Lover: "This is such a very nice funk song with a very electro feel and whenever I've played this track out people have always danced like crazy."
06. Midnight Star Electricity
Egyptian Lover: "Midnight Star kept coming up with solid hits like this, absolutely timeless. It's pure funk and at the time was a touch of the future. I loved the quality."
07. Tom Browne Rockin Radio
Egyptian Lover: "When people like Tom Browne started doing electro I knew it was a sound that would last forever. Those beats!!! This is timeless for me."
Maurice Starr Spacey Lady
Egyptian Lover: "Anything from Maurice Starr has always had me going. This was so much a huge inspiration for me to get into music and it has helped me lots in my own work and career."
Planet Patrol Play At Your Own Risk
Egyptian Lover: "What? Is that Planet Rock with someone singing on it? Craziness. Instant love for this one."
Herbie Hancock Rock It
Egyptian Lover: "Quality. I learned how to Keep It Clean and make futuristic sounds that have a great feel to music from this. What a groove!"
Egyptian Lover plays on Feelings LDN on November 21st at Oval Space (tickets).