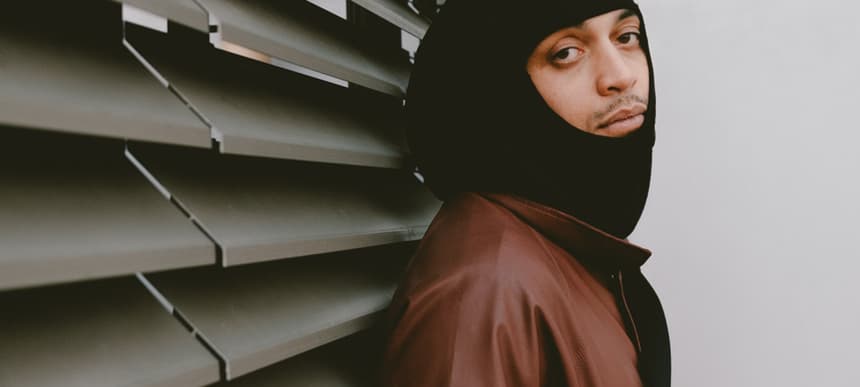 30.05.2023, Words by Billy Ward
The 10 Best Emerging Irish Artists & Producers, according to EMBY
"Well and truly ahead of their time..."
Alexander Malcolm-Bourne, aka EMBY, has steadily manoeuvred himself to the forefront of Northern Ireland's burgeoning alternative music scene over the last year and a bit. Originally born in Enfield, North London, the underground rapper quickly fell in love with his surroundings after re-locating to Belfast aged 13 and embedded himself into the local creative community, where he has thrived ever since. 
EMBY's first big break came at Belfast's AVA Festival back in 2021, when the rapper gave the festival's first ever grime performance and received one of the event's most positive receptions that year. It makes sense then, that the MC is returning to AVA later this week to further stamp his influence on the local music scene. In the run up to his afternoon show at the Pump House on Saturday, we sat down with the rapper to highlight ten of the best up-and-coming Irish artists and producers to keep on your radar going forward. 
"Quickly becoming Belfast's finest export. Now posted up in Rotterdam, Kessler is making waves across the continent with with his roof raising DJ sets and infectious production. With shades of DJRum, 'Endless' has a smoothness found in ambient music yet seemingly so fitting to a rolling breaks track. Catch me and Kessler @ AVA on the Saturday, Pump House 4PM."
2. Rory Sweeney x Kayleigh Noble - 'Needy' (Ultrapollen remix)
"Rory's really one of the coldest in the country. Can turn his hand to absolutely any genre and produces tracks for everyone and anyone. When we say one to watch, you have to be watching Rory. Linking up with Kayleigh Noble for the original 'Needy', Ultrapollen takes this all Irish link up somewhere completely beautiful."
3. Ahmed, With Love. x E The Artist - 'Shallows'
"One of my favourite songs from last year. Posted up in Dublin, Ahmed With Love and E The Artist are two of the best rappers and multi-disciplinary creators I have had the pleasure to call friends. The two team up for 'Shallows', a track filled with suspense and trepidation from the persistent key structure with introspective lyricism making each word so relatable. Another all Irish link up with Adam Kelleher (@weepywoopy) creating a seriously amazing animated piece for the visuals."
4. Curtisy x Txpe_Eater - 'Sugafree/Blckmgc'
"Best rapper in Ireland. Period. Running out of superlatives to explain how much I rate 'yungcurtisyalwayswiththesliderson'. Teaming up with long-time collaborator Txpe Eater on this Alchemist type beat with a Mike-like flow but a cadence and delivery only Curtisy possesses. Well and truly ahead of their time."
"A new one from Tomiké. Again hailing from Dublin, Tomike has one of the best voice and pen games in the country. We linked up in 2021 on a tune called 'Radio' and Tomike has been going from strength to strength. Currently posted in London, keep it locked to see what's next for her."

6. Sloucho - 'Memory Walk'

"Unveiling (whilst wearing a veil) his new moniker 'Sloucho' this guy has even taken me by surprise. We have linked up on Sloucho's other alias for a few hip hop tracks which just shows his versatility. 'Memory walk' and 'TM'd in my my DM's' are sure to take over every festival stage this year."

7. Bricknasty - 'Skinhead Bottlebank'
"The no longer lesser known Bricknasty. These guys have been making waves in Ireland and beyond for a while now. If you have seen them live it's truly something to behold and cherish. Stage presence on a hundred from start to finish, inspirational to any young artist. 'Skinhead Bottlebank' is probably one of their lesser known tracks but I go back to it all the time. Filmed in Flay Apparel in Belfast - shout out flay - this is another North/South link up, something we all love to see."

8. Sputnik One x K Wata - 'Back Innit'
"DJ, producer, label owner, collaborator and genuinely one of the hardest working men I know, Sputnik One is really pioneering a new sound in Ireland. Recently launched label 'N_Face' - paying homage to Spud's French roots - comes with a magical VA that has the UK underground clubs going crazy. Steeped in really interesting percussion, the VA takes influence from all over the globe and brings it into the realm of UK bass. With tracks from Dual Monitor, Glimmerman and Spud and K Wata on this one (among others) this is a must-listen."

9. Aby Coulibaly - 'Long Nights'

"Not much needs said that hasn't already been said about Aby. Destined for stardom with a country all pulling for her. Aby expresses a spectrum of emotion across her music which blur the lines between pop, R'n'B and soul so perfectly. This one 'Long Nights' highlighting the complexities of relationships and self discovery. One of my most listened to artists for sure."
10. Citrus Fresh - 'You and Me'

"Hailing from the city streets of Limerick, Citrus Fresh is someone I have recently been out onto and fallen in love with instantly. This single 'You and Me' truly captures the essence of the emerald isle's underground music culture. The accent, visuals, cadence and beat have me locked in to anything else that comes from 'Citrus Fresh'."
Watch the music video for 'Two Faces' by EMBY, Pagan and Rory Sweeney below: 
Tickets for AVA Belfast 2023 are available HERE.