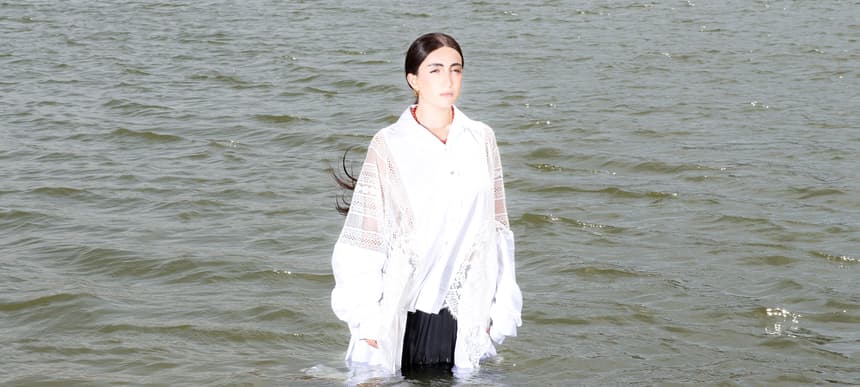 09.05.2023, Words by Billy Ward
The 10 Best Sardinian Creatives, according to BLUEM
"They broke a barrier that seemed impossible to break..."
Like many Sardinian creatives who have carved out a career beyond the borders of their island, London-based singer/songwriter and producer BLUEM is deeply connected to and proud of her heritage. The artist project of Chiara Floris, her releases are rooted in her vocation for the survival of the island's cultures and traditions. 
Floris' blend of electronic alt-pop takes inspiration from artists like Oklou, Kelly Lee Owens and Caroline Polachek, while lyrically she speaks in both her mother tongue and English in an effort to portray the island in a contemporary light and to highlight the burgeoning but often overlooked creative scene in Sardinia of which she's at the centre. Set to the template of ancient storytelling forms, her forthcoming LP 'nou' explores themes of death and love from a feminine perspective, intersected at every turn with BLUEM's personal experiences. The album's collaborators and references see BLUEM push the boundaries of her creative practice, ensuring that traditional elements converge with the contemporary by shining a light on her "still deeply underrated corner of the Italian music and creative scene." With the release of 'nou' on the horizon (dropping May 12), we sat down with BLUEM to unpack some of Sardinia's best creatives. From musicians through to sculptures, photographers and fashionistas, this is the ultimate guide to artistic talent coming out of the historic island. 
"Jacopo Incani, aka iosonouncane, is one of the most influential contemporary music artists in Italy right now. Although he has been part of the music scene for many years, each one of his projects is a new, innovative chapter that captures the attention of an audience that, like him, is constantly growing and changing. He does this by always giving away something pure, genuine, which comes with years of research and introspection. 
"I felt the strongest connection with him as an artist when he released an album called 'DIE' (which means day, in Sardinian language), in 2015. 'DIE' is an album that can be and has been appreciated by anyone, but for the Sardinian audience in particular it has something really special. For me personally, it contains perfumes, sensations, familiar landscapes and carries them in the form of a very powerful sound that reaches directly where it needs to, giving an experience that, for those who have never been to Sardinia, unconsciously means setting foot there for a moment. His latest project, 'IRA', is a long explorative journey through unknown territories and languages, that reaches its full meaning in the live performance. From my personal perspective it has dark colours and deep feelings that go further than being relatable to any personal experience and instead bring us back to a collective feeling of being human. We are now waiting for the release of 'JALITAH', a live album that narrates the union of Iosonouncane and Paolo Angeli, an incredible and quite unique Sardinian guitarist and composer. I had the pleasure of meeting Jacopo after releasing my first project 'NOTTE' (which, ironically, means night in Italian) during his performance in London in December 2021. Not long after that, he launched his record label called Tanca Records, which is contributing to the Italian music scene with some wonderful new projects. One of them is the next artist I will be mentioning."

"Daniela Pes is the latest project from Tanca Records, she is a Sardinian singer, songwriter, composer and instrumentalist from Tempio Pausania. Her debut album, 'SPIRA', came out less than a month ago but has already gained a lot of attention. I felt a strong connection with Daniela from the first time we spoke, when I was releasing 'NOTTE' in 2021, but the connection became even stronger after hearing her music. Daniela was already well known and respected in the Sardinian territory, but these three years spent working on her album alongside Iosonouncane, who supported it not only with his record label but also as a creative producer in the music, clearly meant a lot for her and were necessary to create something that to me, is a visceral and intense experience. 
"Now that her name is traveling beyond the borders of our island, a lot more people are discovering and appreciating her talent, and I think it's right to say the Sardinian music scene is making another strong statement through her. Yesterday, I was listening to the intro of her album, 'Ca Mira', and I was instantly brought back to those summers, when I was a child, spent running, exploring, looking for the magical in the countryside of Medio Campidano. I was once again listening to the cicadas while walking long ways next to my grandmother to get water from sa mizza de Veronica (Veronica's spring), under the warmest sun."
"Maria Lai is perhaps the most internationally known Sardinian artist. Mainly because of her textile works, her creations and her artistic technique in fact revolve around the original use of textile materials and poor elements, like bread. She was born in Ulassai, a small town in the Sardinian hinterland. Her life became such a great symbol of female tenacity, in a time when being a woman in the arts wasn't an easy thing. Through her friendship with Sardinian author Giuseppe Dessì, Maria begins to rediscover the traditions and the very deep bond with her homeland, in particular in the practice of weaving, often conducted by women, from which she starts transforming the act of sewing into an artistic gesture, not only an exclusively functional one. 
"She has been an inspiration for many, and especially for Sardinian women in the creative industry. Her most famous work is 1981's "Legarsi alla montagna" (Binding to the Mountain). She asked the whole population of her hometown to tie their houses together with a blue ribbon in a relational performance that revealed the friendships and the animosities between the individuals, and which lasted three full days, crossing 27 km and terminating in Monte Gedili, a mountain that is a symbol of the town. I've always known about Maria Lai, but I got to explore her story and creative works in more detail after listening to an episode of the podcast 'Morgana', curated by another incredible Sardinian woman, Michela Murgia. Since then, I haven't stopped thinking about her and how fascinating her life and creative work have been."
"Maria Carta, another Maria that comes to everyone's mind when talking about Sardinian creatives, was a singer, songwriter and actress. She dedicated a good portion of her career to the traditional Sardinian practice of "cantu a chiterra", often reproducing religious chants. Fun fact, she also starred as the mother of Vito Corleone in The Godfather - Part II by Coppola. I came closer to Maria Carta's life and career when I was researching references for my own project and live show. I had heard her name so many times growing up, and when I started listening to her, watching her interviews, reading about her, it began making sense to me why she was such an important figure for the Sardinian population. In fact, I also ended up using the audio of a part of one of her interviews as an interlude during my live shows. She talked about life in the Sardinian countryside, poverty, the importance of singing for women, and the liberation of women through art."
"Giuseppe Sciola, aka Pinuccio Sciola, was a Sardinian sculptor and muralist. He's internationally known for his creative work, particularly for his "pietro sonore", or "sounding stones". They are large sculptures made mainly in limestones or basalta, that resonate when rubbed by human hands or by small rocks. The sound they create is unique and each stone has its own peculiarities. A lot of Sciola's creative work sits in his hometown, which was transformed by him into a museum, exposing some incredible murals and being the home to his "Giardino Sonoro" (sounding garden), a place that had been his open air laboratory since the '60s. The garden is a space open to visitors, where the visceral relationship and connection between Pinuccio Sciola and the nature that surrounded him becomes evident to anyone who walks in. It's a truly magical place, a full immersion in the work of a unique, incredible artist."

"Adele Madau is a Sardinian violinist and composer. I became familiar with her work when Antonio Marras, a well known and extremely talented Sardinian fashion designer and artist, contacted me to use one of the songs from my album 'NOTTE' as the closing track for his SS22 fashion show. The song he chose was 'VENERDÌ' a track I made using my grandmother's voice, where she talks about the importance of her homeland and her family, but also the one of stepping out of our comfort zone and discovering the world. Adele had composed the rest of the soundtrack for the show. 
"When I heard her compositions I was absolutely fascinated by them and I thought it was unreal that I had never heard of her before that. I listened to the whole soundtrack over and over again, until I realised that I had developed an obsession for the composition she made for one particular scene of the show. I decided to ask her if I could sample it and she was kind enough to let me do it. When I started working on my new album, one of the first tracks I put my hands on was the one I wanted to make with her samples. I then decided to call the song 'Adele', as a tribute to her contribution and the incredible artist and person she is, but I will be talking about that in more detail in the next duo of artists I will mention."
"Narènte are a duo of fashion stylists and visual artists based in Cagliari, Sardinia. They work mainly in the fashion industry, casting some of the most interesting faces from Sardinia, and showing a side of the island that is not just about traditional beauty, but also about contemporary Sardinia and how it has been contaminated, in a good sense, from many more cultures in the past decades. Their work is showcased in photographs but also in a series of visual projects and fashion videos they create to present their vision of the world and introduce the new faces they cast from time to time. 
"I was contacted by them in summer 2022 when I was already working on my new album because they had a new project in mind and wanted to collaborate with me music-wise. I sent them the first draft of 'Adele', the song I talked about in the previous paragraph, made using sounds and compositions from Adele Madau. They were enthusiastic about it. We worked together until the day of the shooting and I feel like both the concept and development of the song and the one of the video ultimately influenced each other, creating as a result a very cohesive audio-visual project. I feel like I share a similar creative purpose with Lucio and Franco (Narènte) when it comes to bringing traditional elements into a contemporary project and for that reason we bonded not only on the artistic side but very much also as human beings."
"Tazenda are an ethno-pop rock band that formed in Sardinia in the late 80's. They were the first well known Sardinian band that had a lot of success in Italy and participated twice in the national Italian music festival 'Sanremo'. If you were born in Sardinia after 1980, you know about Tazenda, you know Tazenda's songs and they were a significant part of your life growing up. What I find most fascinating about them, is the fact that they managed to gain that much success in the Italian territory while not only singing mostly songs that recall Sardinian culture (for example, by using traditional instruments like launeddas), but also while singing them mostly in Sardinian language. 
"They broke a barrier that seemed impossible to break, considering that Sardinian language is very different from Italian and that our culture, although we are obviously part of Italy, has always been its own thing compared to the rest of the country. Sardinian people have very little or no representation in the national media, so does our culture, and when we talk about going somewhere in Italy, we say we're going to "the mainland" which gives a strong sense of separation and independence from it . In the past few years, I had the great pleasure and honour of meeting and spending time with Gino Marielli, the main songwriter and guitarist of the band, as he is the father of one of my best friends. His vision of life and the world that surrounds him is very fascinating, as much as all the thoughts he has about our island and the incredible stories that come from a career in such an iconic band."
"Mahmood is a singer and songwriter born and raised in Milan, from a Sardinian mother and an Egyptian father. I decided to mention him in this selection after writing about Tazenda, since he sampled 'Non Potho Reposare' in one of his latest songs, 'T'amo', from his 2021 album 'Ghettolimpo'. The song is dedicated to his mother. Mahmood is an exceptional alternative pop artist that has brought a breath of fresh air to the Italian music scene. The tribute to his mother, quoting the iconic Sardinian song in the chorus, was very much appreciated in the island. I was initially very surprised by this, as Sardinia is a place where traditions are sacred and you have to be very cautious when using them for a contemporary project. I value his courage and the fact that he went back to his mother's land to record a traditional female choir and develop the song at its best. The digital art for the track portraits a woman in a traditional Sardinian costume."
"Valeria Cherchi is a Sardinian photographer, researcher, and visual artist based in Milan. I learnt about her during an interview for my first project. The person who was asking the question mentioned her, asking me if I knew her work. I said I didn't, but as he was talking about it I realised I would have probably been very interested in getting to know her. He mentioned one of her latest projects, called 'Some of You Killed Luisa', where Valeria tries to deconstruct the complex phenomenon of the kidnappings in Sardinia in the years between 1960 and 1990, when almost 200 people were abducted. I ordered the book from The Photographer's Gallery, where I've worked in the past four years. The day it arrived I spent the evening reading the whole thing, I found it so captivating it was impossible for me to stop. 
"The book is not only very well written (in English by the way, so I would advise anyone to buy a copy), it also contains a series of photographs by Valeria, that contribute to the narrative and are absolutely stunning. The visual part of the project was also exposed at Peckham 24 in Copeland Park in 2022. After reading the book, I contacted Valeria and we connected instantly on a human level, later on we collaborated on the visual part of my upcoming album 'nou'. Valeria spent some time in London at the beginning of her career, photographing various artists in the electronic music scene (Flying Lotus, Fatima Al Qadiri, Elisa Bee). Ironically, her very first commissions were for Dummy."
Stream 'moonlight' below: