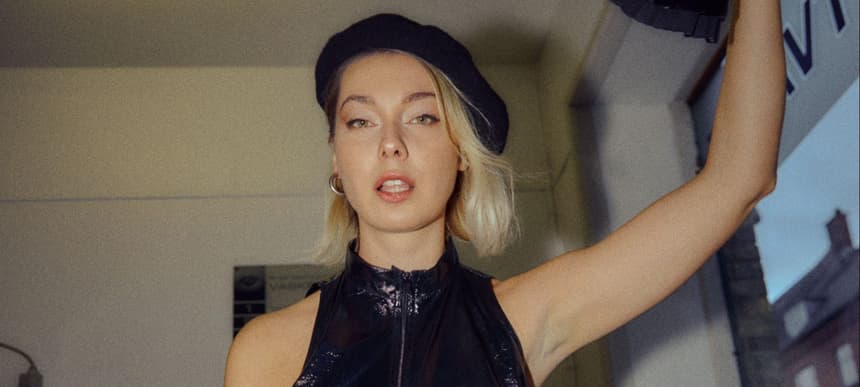 28.07.2021, Words by Maisie Goulsbra
The 10 Best Euphoric Breaks Bangers, according to Anastasia Kristensen
"Breakbeat is like a beating heart, like a mantra."
Anastasia Kristensen's frenetic energy has propelled her into explorations of techno and breakbeat with an incredible velocity; she has navigated most of the world on tour and moved to Denmark as a teen. Born in Moscow and driven by a need for community – the DJ/producer has spoken about the differences between the individualism and socialist formations of Russia and Denmark respectively, and the global community that her scene provides.
Her debut EP garnered widespread attention – its four tracks ranged from omnipotent drone/siren sounds in 'Ascetic', contrasted by its more jungle sibling 'Ascetic (In Breaks)', and the more industrial track 'Donni'.
Two versions of an unreleased track called 'Volshebno' (Волшебно) by Anastasia Kristensen have just been released, with Ctrls and quest?onmarq on remix duties. Ctrls met Kristensen when they were both playing an event together, he says, "I was enthralled by AK's rambunctious spirit and energy behind the decks as she moved along with the music. The quest?onmarq's remix is a hardcore tune in its speed and drum pattern, but is built out of a techno sound palette, and Ctrls' has sub-aquatic bass rolling right through.
A quick Google reveals that 'Volshebno' is the Russian word for 'magical' and it follows her previous drop which was a remix by KETTAMA of another unreleased tune called 'Voice Within', hinting at an exciting future project. If her existing work is anything to go by, we can expect big things – last year she released a compilation album that included tunes by a whole hoard of producers, including Tim Reaper, with the proceeds going to equalitynow.org.
The selector has chosen ten of her favourite tracks spanning techno and bass breaks, to satisfy all of our club cravings and festival fixations.
1. Anastasia Kristensen – 'Voice Within (KETTAMA Remix)'
"Super proud to have KETTAMA work on my music; He's an extremely talented producer – and I couldn't have imagined a better breakbeat reinterpretation than his."
2. Jafu – 'Do it Again'
"Very well produced and has this cheeky and teasing mood to it."
3. Voicedrone – 'Goddess'
"FOLD-boss Voicedrone released this tune a while ago. I enjoy these shifting drums, heavy bass – excellent arrangement in here."
4. Ginevra Nervi – 'P!2 (Anastasia Kristensen Remix)'
"My remix on genius Ginerva Nervi from Italy starts out as breakbeat, that develops into techno later on in the track. Her vocals are blended with thick pads and breakbeat – I never get tired of this combination."
5. Yo Speed – 'Free Ur Mind'
"Some of the most bass heavy production of the newer time. I love this robotic, driving voice in the back. It's a true banger and it spices up any techno floor with loads of attitude."
6. Romy – 'Lifetime (HAAi's Green Lamborghini Romix)'
"The build up here from HAAi is insane; in the end it's the perfect release – its very aesthetic sounding with rich melodies."
7. Anastasia Kristensen – 'Ascetic (In Breaks) [ARC17]'
"This is my debut EP breakbeat track; It holds a special place in my heart and was probably my very first breakbeat track ever. It gained fantastic support in the UK, which I will always appreciate."
8. Yazzus – 'Sleazy'
"In my ears, it's Yazzus' most bright production. It really cuts through and sounds very crisp. Another perfect addition to a sweaty club set."
9. Bicep – 'Sundial'
"Bicep's latest album is breathtaking, and 'Sundial' stands out. This breakbeat is like a beating heart, like a mantra. Extremely beautiful and emotional."
10. Fatboy Slim – 'Right Here, Right Now'
"Not to forget a true breakbeat classic. The pad in here is epic and so is the play with vocal sample. No need for further introduction."
Listen to 'Volshebno' (Ctrls Remix) here.
Listen to 'Volshebno' Stretched (quest?onmarq Remix) here.
Read next: The 10 Best Techno tracks coming out of Russia right now, according to Nikita Zabelin.