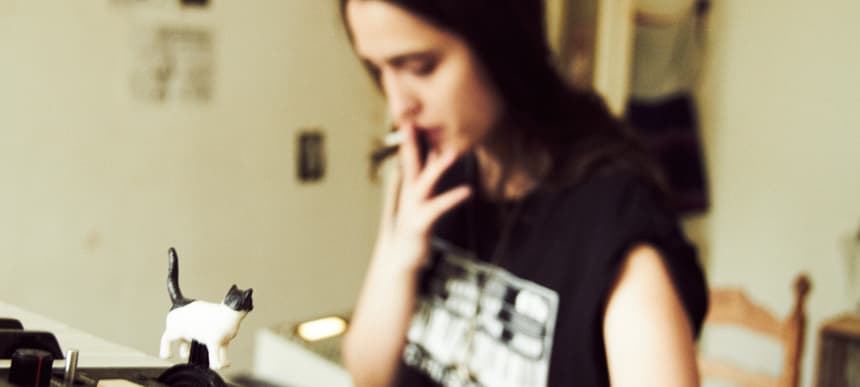 12.08.2014, Words by dummymag
The 10 best dark, experimental electro tracks, according to Helena Hauff
Helena Hauff first caught our attention with her 'Actio Reacto' EP for Werkdiscs last year. As a resident DJ at Hamburg's Golden Pudel club, Hauff plays music from the stranger, more psychedelic end of the electro, acid, techno, EBM, and minimal synth spectrum. Her music, often recorded live in one take, has a raw intensity to it, sometimes incredibly drawn-out and repetitive, as if everything is changing yet nothing is.
Hauff lands in the UK on Friday (August 15th) to play at Fabric for Divided Love, a new residency at the London club from Daniel Avery, where she'll play alongside Dopplereffekt and Factory Floor. Given Avery's own predilection towards burnt-out, droning techno, you can see why he asked her to play.
Here, Hauff highlights some of the dark, psychdelic, and generally messed-up electro tracks that keep her going. Treat this list as the mutant half-brother to The Emperor Machine's far more innocent list documenting the best old school electro tracks.
01. Black Narcissus VARLA
Helena Hauff: "Dark, fucked up shit on WéMè Records. Black Narcissus is Rephlex artist Jodey Kendrick."
02. Hypnobeat Daktari Missiles
Helena Hauff: "[From the official bio] Rooted in the concept of a 'neo-tribal' approach; reducing electronics to the emotional, hypnotic rhythm core, James Dean Brown founded Hypnobeat in 1983. Affected by the energy and the emotional impact of polyrhythms, their live sets turned out to become machine improvisations centered around the inimitable sound of the Roland TR-808 plus a wide range of analog gear including up to six synchronized rhythm machines. Active contributors to the tape scene of the '80s, two retrospective Hypnobeat vinyl albums are planned for release in 2014 on Serendip and Dark Entries.
"I joined the project in 2013."
03. Luke Eargoggle Key (To My Heart)
Helena Hauff: "Dr. Pettersson, aka Dr. Lindh, is one of my favorite artists ever. We played several parties together and I can tell you, he is the debauched '70s rock star of the Swedish electro underground."
04. DJ Stingray Straight Up Cyborg
Helena Hauff: "Atypical downbeat electro by Sherard Ingram. His tracks and his DJ style are pure madness. One of the best DJs I've heard!"
05. Electronome Een Drumcomputer En Een Synthesizer
Helena Hauff: "Great artist from the sinister, drugged up Dutch electro/acid scene of the '90s! I bought all of his records – they are all as good as this!"
06. Klorex55 Mijouki
Helena Hauff: "This is on Käften, a Swedish label run by Towlie. Check it out. Amazing electro and Chicago acid releases!"
07. Zwart Licht Kommando Can U Feel It?
Helena Hauff: "Another great track on another great great label, Kommando 6 from Germany. Run by Beta Evers, their last release was in 2006, but there is a lot of mad electro and EBM stuff in their catalogue."
08. D'Arcangelo Somewhere In Time
Helena Hauff: "Italian duo on Rephlex. Great IDM-ish electro music for twisting one's little brains."
09. Claro Intelecto Tone
Helena Hauff: "Originally released in 2003 on Ai Records, this has just been re-released on Delsin! Ethereal voices, handclap frenzy, creepy horror-movie strings, squelchy bass, and pounding, distorted drums. What more do you want?"
10. Drexciya Aqua Jujidsu
Helena Hauff: "My heroes."
Helena Hauff plays Daniel Avery's new Fabric residency, Divided Love, this Friday August 15th (buy tickets).