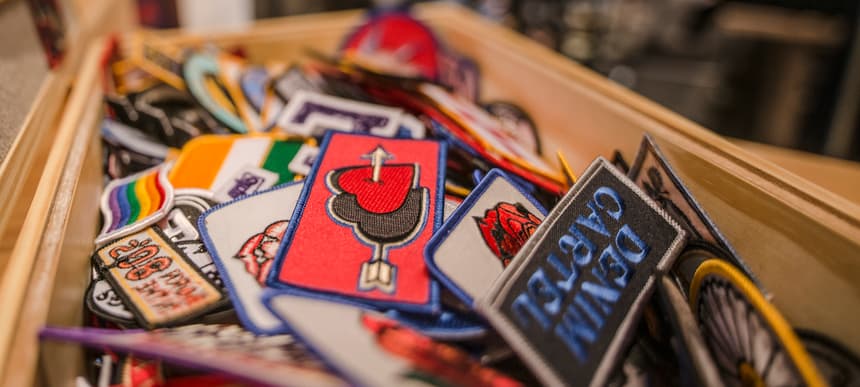 21.07.2015, Words by dummymag
The 10 best festival clothing hacks
Sponsored post
Guess what. It's the year 2015 and everyday clothing doesn't have to be boring anymore. Outfits should exude your personality, reveal all the high jinks of your life and express how you do or don't fit into the different pigeonholes of society. Music has always played a linchpin of fashion; from graphics becoming iconic enough to be laid into tasteless diamante patterns on a high street t-shirt, Pharrell becoming a walking sportswear advert and most notoriously, punk saying you can do what the f-ck you want to your clothes. Bin bags an' all.
Every now and again we forget about that punk ethic and become flocks of perfectly starched shirted weirdoes. Then comes the DIY resurgence. Everybody suddenly raids wardrobes and gets comfortable about rips and tears, adding spikes and disheveling their clothes again. Festival season is a peak time for this, where even the most high maintenance princes/princesses struggle to maintain a meticulous beauty and fashion regime with cheap baby wipes flying everywhere (she's usually strictly top shelf skincare creams) and travel toothbrushes transformed into 'crep' scourers. So here's a few music and culture inspired clothing hacks that'll make any tired or cash strapped wardrobe so fresh 'n' so clean-clean again.
01. Dad Jean Hack
After the mom jean phenomena escorted us safely out of sprayed on skinny denim territory, big jeans are universally acceptable once more. One up on the mom jean is the dad jean. I recently found a pair of Levi's at my parents house that were the same age as me – and what's better they had actual holes that I didn't have to refer to a Pinterest board to create. However the wideness might be something to tackle, as a dad butt isn't really as appealing as a mom butt… on women at least.
02. Enamel Badge Hack
The last minute emergency hack that frugal festival lovers rejoice over. For a denim shirt or jacket – a missing button is like going bald. If you're an avid fan of the enamel pin badge, gather one of your collections prize knockouts and substitute as a button. It'll keep your modesty under wraps and puts you in line to take your shirt/jacket to another level of steeze with the next hack…
03. Patch Hack
Look around you, who has plain denim anymore? You want your jeans to talk and answer questions about you without people even asking, show your favourite emojis or flaunt all the various recesses of your personality. Well, patches are the way to do it. Reclaimed from the dusty memories of Cub Scouts and angry biker gangs; they work on jackets, jeans…and pretty much everything in-between and are affixed with glue, thread or more preferably – the experts.
04. The Fringe Hack
Girls, even for a dyspraxic nightmare like me, this one is relatively easy, plus you don't need a sewing machine – just scissors and a pair of semi-dexterous hands. Cut equal strips up into the t-shirt all the way around and knot and the top, adding additional tiers as you wish.
05. The Canvas Trainer Hack
Those white canvas trainers (whichever brand you desire) were a good idea at the time and they complimented your stonewash 501's perfectly when they were box fresh. Then they got grass stains on. Then your friend dropped a bit of burger fat on them. Then you went to a club-night and got dancefloor juice on them, which we all know has a consistency of mud and absolute immunity to heavy duty stain remover.
Fear not, they can be new again and without buying a new pair. All you need is dye. Scrub said trainers (I hate the word plimsoll) with a toothbrush and baking soda. Treat with a washing machine fabric dye – choosing a colour that'll look good in a field/tent/beach. Dry them, take them to the festival, mess them up and repeat the cycle.
06. Wildcard: Blanket Hack
Hardcore clear out sessions or moving houses (often related) usually spawn a stray pile of clothes that you have some sort of weird infinity with. T-shirts covered in stains that that just won't leave but you see a potential in, jeans with waistbands that never forgave you for ongoing weekends filled with booze and pizza binges, hoodies that got consumed by moths in that terrible New Cross flat-share, some of ex's lingering socks (that are all odd).
Bin the socks – nobody got time for that – but keep the rest and make yourself a blanket (or pay somebody else to). Don't laugh. Festivals, especially in the UK, are generally cold places and unless you're on some Wolf Of Wall Street salary you won't be taking a 100% cashmere blanket to Bestival. Up-cycle sweaters and jeans into the quilt too – the area around back pocket of some outgrown Levi's, including trademark red tab of course, would make a good stash pocket (but only for legal stuff mind).
07. Easier Than The Wildcard Hack Hack
This one is a classic if you're too lazy to make a quilt or would rather stick with the trusty non-brand sleeping bag your mum bought for a Year 6 camping trip. Again, this is great for t-shirts you've grown attached to but might not fit over the outwards and/or sideways swell anymore – examples being souvenir t-shirt from said Year 6 camping trip or an American sports jersey you bought to 'slim into' but never quite got there. It's the ultimate frugal fantasy for a wardrobe retouch and embodies that DIY spirit we always wish we had more of.
08. Protect Yer Neck(lace) Hack
You may have every little element of your festival wardrobe on lockdown from souped up denim to bad hair day headwear – but what about accessories? Necklaces (especially thin gold chains) are usually the #1 go to for effortless style over a white or black t-shirt…but not exactly the easiest thing to transport. ENTER THE HACK! Thread one side of the chain through a drinking straw and fasten the clasp. Put in your bag and get ready to bowl out of the chambers and into the light as soon as you touch down at the festival.
09. Festival After-Care Hack
And when you get back to reality, don't forget to empty your bags and go over the inside with a lint roller. Once it's all over, nobody wants a desk, bed, sofa or personal belongings dusted in festival fallout.
10. Bonus After-Care Hack
Push those six-month old freezer bags of chili con carne aside and put your stinky shoes (and jeans) in for a deep chill overnight. It'll rid any unwanted smells and halt a whole load of embarrassment next time you have to take your shoes off at your bougie mates' pristine cream carpeted flat. Apparently a good remedy for this at the festival is spraying offensive jeans with vodka – but we're not sure you'll want to dwindle supplies just to smell nice.
…and breathe.
Who knew music festivals were so – demanding? If you have a job, a social life, are too lazy for all of the above or just don't like using scissors then throw it all it the can and get into the up-cycling spirit with The Levi's® Tailor Shop. Available in all Levi's® stores nationwide, they might not have the patience to spin a blanket out of your jeans but with some sort of nimble-fingered wizardry can turn jeans into shorts and make jackets sleeveless (sans awkward uneven arms, legs and the wrong kind of fray). Patches, studs and the more complex art of monogramming are also on hand for re-envisaging your jeans without going all Partridge and piercing your finger (not foot) on a 'spiiiiike'.
Plus when you were the kind of kid who used left-handed scissors at primary school, this is the sort of service that takes all of the pain and potential devastation of customisation away. Many a pair of jeans ended up in wardrobe limbo after my failed attempts at 'frayed beach bum' shorts. They were just plain bummy.
Visit Levi's Tailor Shop to find the nearest tailor to you and learn more about what's on offer. Treat your clothes, they do put up with you, after all.