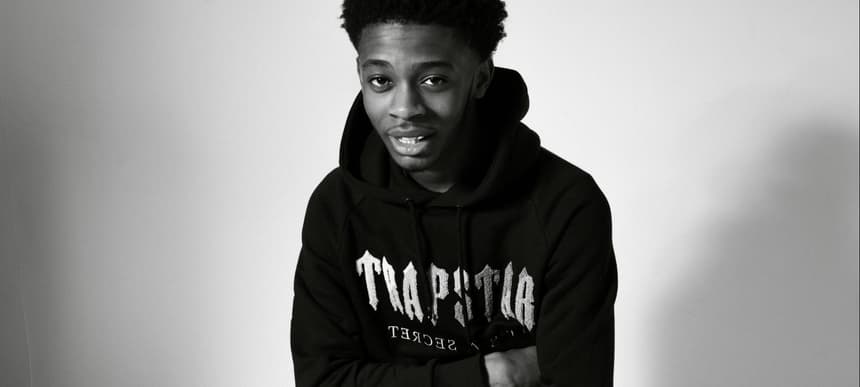 03.05.2022, Words by Billy Ward
The 10 Best FIFA Anthems, according to SwitchOTR
"No matter what mood you were in just know that this track was going to have you ready for anything..."
In the history of video games, few franchises have established themselves as a cornerstone of musical discovery quite like FIFA. From platforming some of the biggest names in the business to helping bring through artists such as Bakar, the football game's soundtracks have cemented their place in the hearts of music fans across the globe, including that of Croydon-raised drill artist SwitchOTR.
Despite being in the early days of his career, the 19-year-old rap sensation has already made a big impact re-imagining the UK drill genre with a melodic and danceable twist. 3 years ago, the rising star was still in college and was focusing on football as his main aspiration before his talent for music took centre stage. After building his early fan base on social media, SwitchOTR has quickly transitioned from the underground to being one of the fastest rising rappers in the UK, racking up millions of streams in the process and collaborating with some huge names, such as Loski, Russ Millions and Ms Banks.
We sat down with the South Norwood rapper to rummage through the FIFA archives and select some of his all-time favourite tunes from the game's iconic soundtracks.
1. Slaptop – 'Sunrise'
"I think the reason why this track will go down in history as one of the best FIFA tracks is literally down to the distinctive sound of it. From production straight through to the vocal, it's unusual but definitely works. It sounds robotic with some sort of dance tone but it's the trumpets and bass which means that I'll never forget for sure."
2. Saint Montel – 'My Type'
"There's a good 30 seconds at the beginning of the song where it's just a build up of production, sounds like some kind of jazzy pop! If you listen closely it's like the instruments within the beat just keep adding and adding up. So recognisable against other tracks, and that 'You-you-you're just my type' lyrics can't get left behind either."
3. Caesars Palace – 'Jerk It Out'
"To be honest, I don't remember this too much for the lyrics, instead for me I felt like it was the distinctiveness of the  instrumental especially with the drums and guitars. It was upbeat and that only meant one thing back in the day… volume up!"
4. Nico & Vinz – 'When The Day Comes'
"Nico & Vinz are no strangers to making absolute bangers! They always manage to create these kind of uplifting pieces of music, so important to get that variation on the FIFA soundtrack that year and they nailed it. Almost every time you heard it you felt like you knew it was going to be a good day."
5. Jungle – 'Busy Earnin'
"Yeah! The FIFA 15 main menu was never the same after I heard this, had it on repeat. You know when you don't quite know the lyrics off by heart but you catch the melody. This just brings back memories."
6. Kasabian – 'Club Foot'
"Took me straight back to FIFA 13 with this one, no matter what mood you were in just know that this track was going to have you ready for anything. Used it for motivation a couple times when I was down 3-0, just know that the boy made a came back…every time."
7. Clement Marfo & The Frontline – 'Us Against The World'
"In my opinion, this track was definitely most renowned for the chorus, you actually can't go wrong with it because it's so simple and catchy. Still a MUST in my top 10 list."
8. John Newman – 'Love Me Again'
"This one has got to be in this list as one of the top 10 FIFA tracks. There are so many different aspects which make the song so great, listening back to this I just have a real nonchalant feeling. John Newman definitely made a banger with this one, pretty sure I went up a couple FUT divisions too."
9. Kwabs – 'Walk'
"I feel like this is a massive track purely based off its message to the audience. When I was that age it was nice to hear something a bit more meaningful, you've got to read in between the lines with this one. A lot of people that played / play FIFA at the age I was would appreciate that extra bit of motivation that this song gave."
10. Foster The People – 'Are You What You Want To Be'
"Yeah, this is another FIFA anthem! In this case it almost felt so lighthearted with all the production behind it, it sends you into a slight trance when you listen to it. I knew exactly what time it was when I got back home from school and heard this next up from the FIFA soundtrack on the main menu."
Watch the music video for 'Coming for You' feat. Loski, Bandokay and Izzpot:
Read next: The 10 Best R&Drill Tracks, according to Shaé Universe