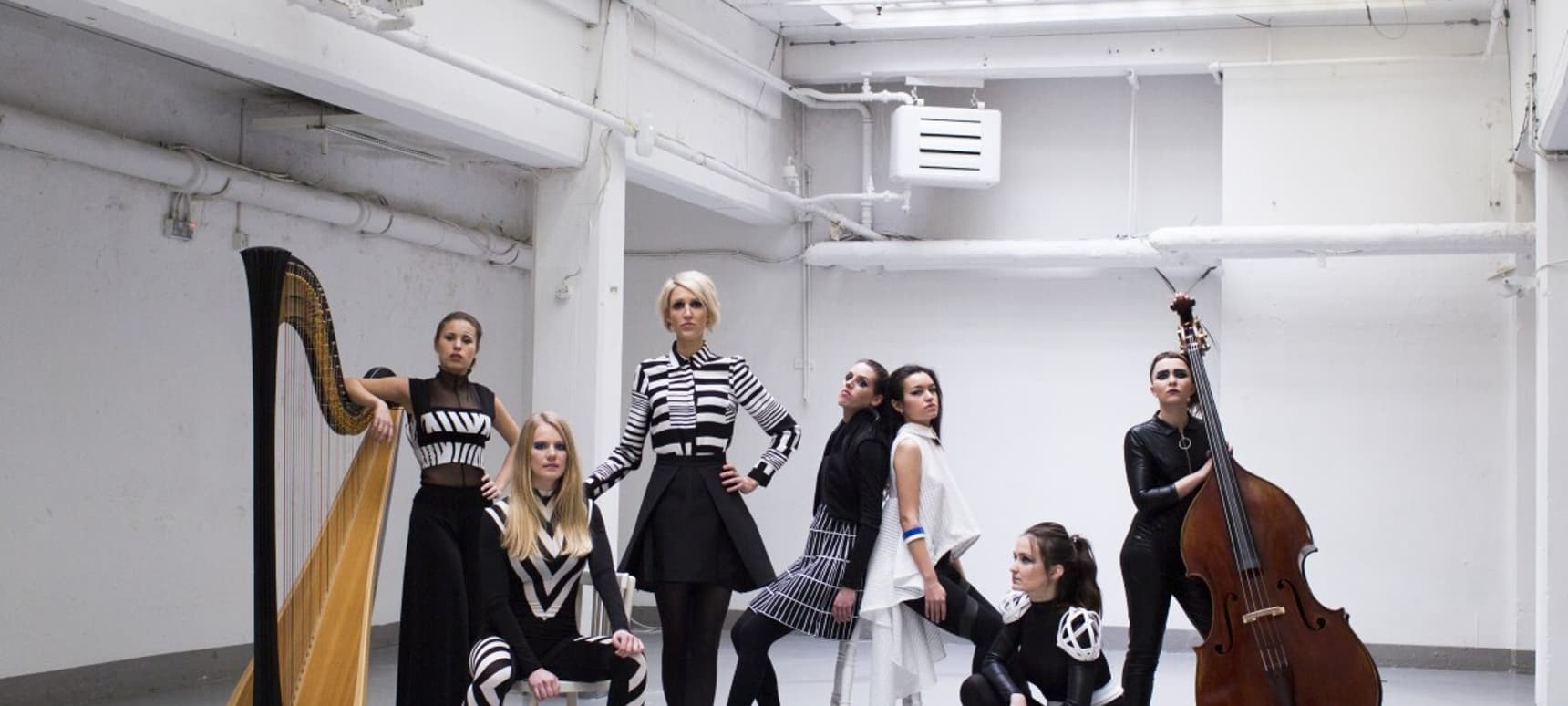 05.10.2016, Words by dummymag
The 10 best film scores, according to Kate Simko
Chicago native Kate Simko knows no boundaries when it comes to her musical prowess. From remixing Philip Glass to collaborating with Hot Creations head Jamie Jones and producing for Katy B – she's held a grip over extremely varied audiences from London to Ibiza with her audio-visual shows and sets as an in-demand house DJ.
Just as dialled into classical music as the sounds of the underground, Kate's background in classical piano and jazz music led to her enrolling at London's Royal College of Music back in 2012 to study Composition for Screen.
Inspired by what she learnt, Simko founded the seven-piece ensemble London Electronic Orchestra, which consists of former Royal College of Music musicians Tanya Cracknell and Kamila Bydlowska (violin), Davina Shum and Deni Teo (cello), Valeria Kurbatova (harp), and Nina Harries (bass). Gearing up for a landmark show in the Elgar Room at Royal Albert Hall on October 12th, the group will be joined by Tru Thoughts vocalist Abi Flynn, with styling by Chinese fashion designer Rui Xu, who was a favourite of the late architect Zaha Hadid.
Ahead of the occasion, Kate Simko has got onboard to share some of her favourite film scores – which range from the ethereal swathes of synth pop on Drive to the heightening tone of bleak crime thriller Fargo.
Read through Kate's film score selections below or listen on our YouTube playlist and get set to see her take on the Royal Albert Hall with London Electric Orchestra on October 12th.
Trent Reznor and Atticus Ross The Social Network OST
Kate Simko: "When Trent Reznor and Atticus Ross' score to The Social Network won the Oscar for best film score, it broke down boundaries in film music. The simple sparse piano against abrasive electronic washes and synth bass is extremely minimalistic compared to conventional Hollywood scores. Also, the close mic with a little reverb on the piano is tough to emulate (I've tried!). The score sits in its own unique territory in terms of mixing and sound design. Reznor and Ross' score to The Girl With A Dragon Tattoo takes their unconventional use of music beds and electronic sound to create a sublime subtext."
Cliff Martinez Drive OST
Kate Simko: "This is an amazing ethereal synth pop score by Cliff Martinez. The electronic backdrops meld into the film seamlessly so you feel like you're listening to the music from the driver's perspective. Clint Martinez used to be a drummer in Red Hot Chili Peppers and Captain Beefheart, and you can feel his fresh perspective in his soundtracks. I love all of his scores."
Philip Glass Koyaanisqatsi OST
Kate Simko: "Philip Glass' collaborations with Godfrey Reggio blur the lines between director and composer. Sometimes it feels like the film is following the score rather than the score being set to the music. With no dialogue or narration, the film score depicts the fragile, failing relationship between humans, the earth, and technology. Philip Glass' score is a masterpiece, juxtaposing angular minimalist woodwind melodies next to deep synth ostinato and repetitive chord progressions. I saw this score performed live in Geneva by the Philip Glass Ensemble last summer and it was mind-blowing."
Carter Burwell Fargo OST
Kate Simko: "Carter Burwell is definitely one of the greatest living film composers. His scores serve the film in an intimate, bespoke way. His soundtracks for the Coen Brothers have a deep range of musical content and incorporate a myriad of influences in a subtle, yet powerful way. For Fargo, Burwell researched Scandinavian folk music, as there is a large Scandinavian population in North Dakota. The result is a score that reflects the interior essence of the characters and location. Fargo is a bleak and sparse movie, and the epic nature of the score transforms the movie into grand, poetic piece of work."
John Williams Star Wars OST
Kate Simko: "This score changed the course of Hollywood film music. At the time, synth scores were the norm, and of course, an electronic score would seem to work in a sci-fi set in outer space. But John Williams wrote this incredible epic orchestral score full of timeless melodic motifs. This score was so fantastic that it made Hollywood fall back in love with the orchestra."
Danny Elfman Edward Scissorhands OST
Kate Simko: "The childlike glockenspiel, light woodwinds, and wordless choral arrangements take us to a fantasy world. This movie has been emulated many times, but Danny Elfman's signature sound is the original trendsetter and always identifiable. Elfman's long relationship with director Tim Burton has brought him deep inside Burton's fantasy worlds, creating a seamless relationship between the music and storytelling."
Ennio Morricone The Good, The Bad And The Ugly Theme
Kate Simko: "What an iconic theme! Ennio Morricone's use of the orchestra is so lush and personal. You always know it's him, and he encapsulates the feeling of an open Western landscape."
Hans Zimmer Time [from Inception]
Kate Simko: "Inception is about how dreams can be disorientating, and Zimmer's score carries us through the film evoking emotions with tension brewing below. Beautiful strings soar above a throbbing deep echoing beat. This theme is incredibly emotional, beautiful, and unsettling – all at the same time."
Curtis Mayfield Super Fly
Timeless funk soundtrack. I've had this on vinyl since my late teens and listened to it countless times. Curtiss managed to make an amazing funk record off the back of a lacklustre film.
Yann Tiersen La Valse D'Amelie (piano version) [from Amelie]
Kate Simko: "I prefer the piano version of the theme, although the melody is addictive no matter the instrumentation. This is definitely inspired by the French composer Eric Satie, who is the master of simple modal melodic motifs with harmonically deep chords. The score makes the movie, setting a carefree backdrop that subtly shifts to melancholic. It's worth checking out Lucien and Luciano's delicate house remix Amelie on Ice too."
Royal Albert Hall Presents Kate Simko and London Electric Orchestra on October 12th, 2016 at Royal Albert Hall, London (info).