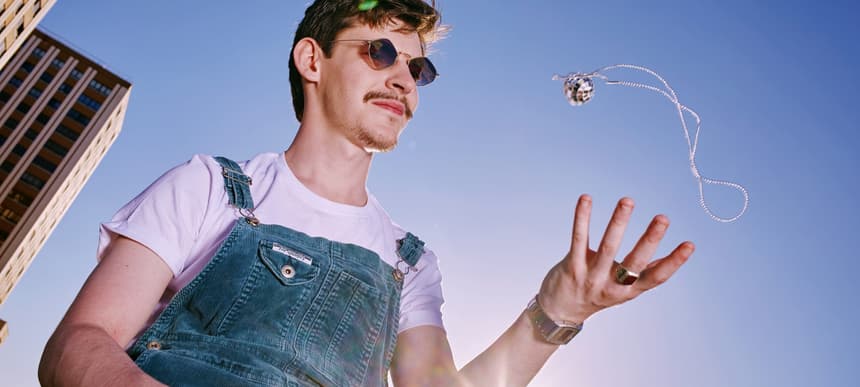 01.07.2021, Words by Billy Ward
The 10 Best French Touch Tracks, according to Bellaire
"[He] just added the beat you need to make the dance floor sweat!..."
Hailing from Northern France, 21-year-old Bellaire makes the kind of pulsating electronic music that could force even the laziest of punters to cut some shapes in the club. The Lille-based producer recently released his third EP: the soulful 'Date at the Disco' that finds him blend sun-kissed flavours of house, disco and jazz over eight mouth-watering dance cuts. Despite his young age, it comes as no surprise that the DJ who was playing shows while underage has quickly gone on to become one of the most notorious figures in the Parisian clubbing scene.
His sound can be labelled as French touch, a form of house music defined by attitude and geographical location that emerged in the '90s and has seen a resurgence in recent years. With a laid-back approach to sampling and an openness to bending the rules of more orthodox house, French touch is a rebellious strand of the genre that is constantly adapting and refuses to die. Bellaire invites us more closely into this world with the below, a run-through of the ten French touch tracks that have inspired his craft, from Daft Punk to Bob Sinclair to DJ Gregory.
1. Modjo – 'Lady (Hear Me Tonight)
"How not to start with this classic! It was released in the 2000's, this track sums up the French touch era! All the elements of the French sound are here: they sampled the legendary disco group Chic – Soup For One. It's also a typical French touch track with its groovy bass guitar sound."
2. Phoenix – 'If I Ever Feel Better'
"This track is made by the legendary pop/electro band in the 2000's, such a cornerstone one! Phoenix was totally part of the French touch, crossing inspirations from electronic music to pop. They worked with the legendary mixer/producer Philippe Zdar at the Motorbass Studio to record their most famous records!"
3. Alan Braxe – 'Intro'
"Alan Braxe is one of the faces of the French touch movement. Mostly providing dancefloor killers with melodies and groovy basslines, this track is his most famous one! I play it at every set, such a banger in the club! I love the vocal effects in this track and the bassline just puts the cherry on top."
4. Le Knight Club – 'Cherie D'amoure'
"Le Knight Club was formed by Guy Manuel De Homem Christo (half of Daft Punk) and Eric Chedeville. It was just before Daft Punk blew up with their album 'Discovery' This group is the reason I started loving French house! Le Knight Club
had one simple way of making music: sampling disco music and putting a heavy beat on top. That's what this track is. Simple and so good!"
5. Thomas Bangalter – 'Club Soda'
"One of my favorite French house tracks from the 2000's! Thomas Bangalter was the second member of Daft Punk and also released music before as a solo artist. This track also has what it needs, a groovy bassline, very downtempo house beat! Go
listen to all of his discography if you really dig this."
6. Daft Punk – 'One More Time'
"No need to say this has been the dance anthem for so many years! French touch at its best! Sampling the great "More Spell On You" by Eddie Johns. This track sums up the all era with some vocoder that will later define the Daft Punk sound and change
the whole electronic music industry."
7. Bob Sinclar – 'Gym Tonic'
"This track was actually co-produced with Thomas Bangalter, but it was difficult not to talk about Bob Sinclar. He produced in the 2000's his album "Champs Elysees" which became a hit album in the French touch era. The repetitive vocal, the sound of Bangalter and the disco sample are just perfect!"
8. Martin Solveig – 'Madan'
"I love the African disco house vibes of this track! So much joy when you listen to it! He sampled Salif Keita and just added the beat you need to make the dancefloor sweat! Martin Solveig also was a really good producer in the 2000's alongside producers like Bob Sinclar, Fred Falke, DJ Gregory…"
9. Daft Punk – 'Revolution 909'
"Using the legendary tr909, Daft Punk makes a banger once again! It's one of their earliest tunes. It comes along a very cool videoclip, and it quickly became one of their first hits. It sounds more like a raw house tune, made for the club."
10. Venus – 'Cheek' (DJ Gregory remix)
"One of the most famous anthems of the French touch era! So good! I saw it in a documentary that this track was played at every party in the 90's/2000's, especially in the legendary "Respect" parties in Paris where DJ Gregory played; but also legends like Daft Punk and Dimitri From Paris."
Stream 'Date at the Disco' below: