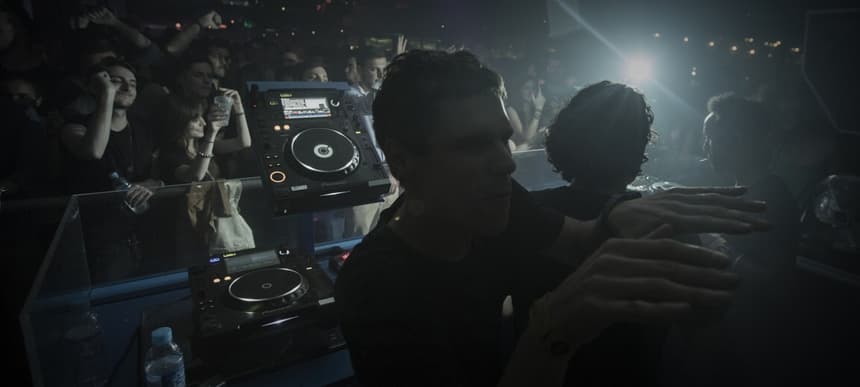 31.12.2014, Words by dummymag
The 10 best French underground records, according to Apollonia
Apollonia – the French house DJing trio of Dan Ghenacia, Dyed Soundorom, and Shonky – released their debut album, 'Tour à Tour', in October this year, fluidly translating their back-to-back-to-back DJ style into a studio-produced, project-oriented format.
Releasing a debut album was just one of many highlights for Apollonia this year: 2014 saw the three DJs grace magazine covers, record an Essential Mix, enter at #16 in Resident Advisor's top 100 chart, and have a massive summer in Ibiza. Apollonia have become one of the most popular international touring collectives out there without ever changing their fundamental setup: three friends playing the records they love at after-hours spots.
To round out their successful year, they'll be playing the Cityfox Experience in Brooklyn this evening for New Year's Eve alongside artists like Áme and Mano Le Tough. Before that show, they've chosen their favourite underground French records, from freaky funk groups to Francophone rappers to sensual new wave.
01. Le Club Un fait d'hiver et rien de plus
Apollonia: "The first time I [Dan Ghenacia] heard about funk was from this band in the early '80s. Unfortunately, they were a one hit wonder!"
02. French Funk Federation New Funk Generation
Apollonia: "F.F.F. were a late-'80s/early-'90s funk/rock band. Marco Prince was a very charismatic singer (in fact, he came once to an Apollonia party at Rex Club Paris!), bringing a new rebel vibe."
03. Serge Gainsbourg Requiem pour un con
Apollonia: "A French singer known for deep lyrics and a lot of wordplay. Famously flirted drunkenly with Whitney Houston, and burnt a 500 franc bill on TV. My [Dan Ghenacia] first breakbeat track."
04. Boule Noire Aimer d'amour
Apollonia: "In fact this is a French adaptation of Leo Sayer's Easy to Love. It was released in '77, but actually got famous in 1990. Somewhere between soul, funk, and cheese."
05. Berurier Noir Salut à toi
Apollonia: "Real underground punk/rock. This was the beginning of drum machines, before house music, and an anthem in France."
06. Supreme NTM Tout n'est pas si facile
Apollonia: "The best French hip hop band ever, they stamped the whole generation at this time. We were around 16 years old when it came out."
07. Desireless Voyage Voyage
Apollonia: "A classic – we could call it French new wave. Remember dancing at Panorama Bar one time and a DJ closed their set with it – magic moments!"
08. MC Solaar Nouveau Western
Apollonia: "His way of rapping was very inspiring, we could call him the French rap poet. Lots of deep lyrics, and he actually named Serge Gainsbourg as an inspiration. This is a track from his early period – he was the MC hanging with his DJ and dancers, before he moved into more commercial things at a later date."
09. Les Rita Mitsouko Marcia Baila
Apollonia: "A crazy band, a bit freaky. I [Dyed Soundorom] was crazy about her voice – she was singing in French, but it's difficult to understand what she is talking about. Had a fight with Serge Gainsbourg live on TV… you start to get the picture about Serge!"
10. Guesch Patti Etienne
Apollonia: "Another freaky singer, quite a free woman, pushing the boundaries for the times. I [Dyed Soundorom] liked this song a lot, but mainly because I quickly realized she was talking about sex… I was only seven at the time."
Apollonia released 'Tour à Tour' on October 17th 2014 (buy). Apollonia play The Cityfox Experience alongside Áme, Mano Le Tough, and more on New Year's Eve in Brooklyn, NYC (more information and tickets).