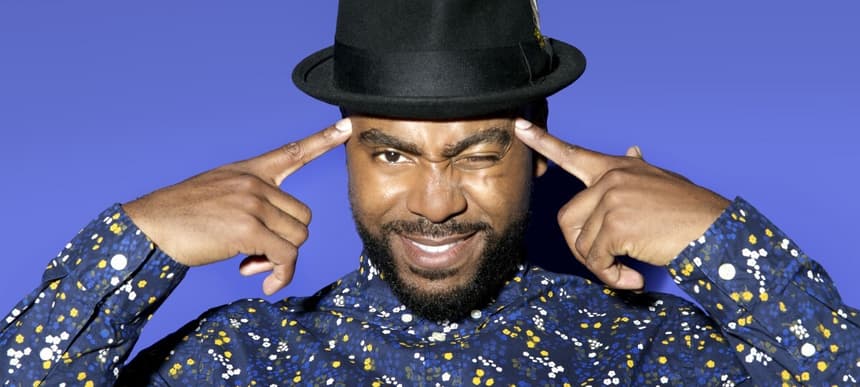 22.06.2016, Words by dummymag
The 10 best funk and soul tracks to save your week, according to Jodie Abacus
A South London singer with an ear for sweet melodies, we've been closely following the journey of Jodie Abacus over the past year. In this short time, he's delivered flurry of futuristic funk anthems that always offer some sort of shoulder to cry on like I'll Be Your Friend, or the aural pick-me-up of She's In Love With The Weekend. What's more, he's been edged onto the dancefloor with remixes from Boston Bun and Waze & Odysse
Growing up on a steady diet of hip hop, rock, jazz, soul and funk – Jodie mixes from an eclectic palette of influences that include musicians such as Hall & Oates, Stevie Wonder, Steely Dan, A Tribe Called Quest, Paul McCartney, Stereolab, Michael Jackson, Maxwell, Cee-lo, and more. Trying to track back to a pivotal point when he decided to progress a lifelong interest into a solid career, Jodie lands on the last few days of college, where he found himself at a crucial crossroad of preferences. Strong in his mindset, he found music was the right path to tread, and hasn't looked back over his shoulder since.
Now several singles deep and a whole lot of blood, sweat, and tears later – Jodie isn't looking to slow down. Always on a mission to lighten his listeners days, Jodie comes through with a solid selection of funk and soul inspired tracks that are sure to save even the drabbest of weeks.
Read Jodie's selections and listen seamlessly via our YouTube playlist.
Stevie Wonder Living Just Enough For The City
Jodie Abacus: "A tone, visual and feel is set for this song. It's a story in itself, but it feels relatable as it attaches itself to my memories of hard times living in London and making just enough money to get to work, as well as dark rainy days and looking at your bank account after toiling for a month and saying 'this sucks'."
Billy Joel My Life
Jodie Abacus: "I can't help but be possessed by the piano hook in this great tune. I just find it bright and rebellious. I like the thought that at any one point in time anyone around can just decide to go against the grain of monotony and take a risk. That one day, when you wake up to the realisation that you only have this one life, you're just gonna go for it and flip what anyone else has to say. This song has all those vibes all over it, and the piano says it all."
De La Soul Feat. Q-Tip & Vinia Mojica A Roller Skating Jam Named 'Saturdays'
Jodie Abacus: "Just like in the video, you wanna throw on some skates (I can't really skate …YET) and roll out on a carefree Saturday. It kicks off with the distinctive and unmistakable voice of Q-Tip rapping at the beginning, then there's a bit in the middle of the song where it switches to a sample from The Doors' Light My Fire. It gets me hyped every time, and I see is milkshakes, roller skates and dates."
Curiosity Killed The Cat Misfit
Jodie Abacus: "It has this "soul in London city that can't be mistaken" type vibe, that has me reminiscing of the days my dad use to go pick up his photo developing paper from around the city, when I use to go for a drive with him. I used to hear stuff like this on the radio all the time. I can see the sun casting a sun beam through the London's streets as I speak."
Royce Wood Jr Clanky Love
Jodie Abacus: "Never heard of the bloke…well, until he followed me on Twitter. Then to my surprise, I listened to his music and I was full on taken aback by his artistry. This what I would call fresh modern retro sonic fusion wonk. I catch the feelings and lyrics for this song, very intricate. Have a listen, and check out his album 'The Ashen Tang'."
Bill Withers Lovely Day
Jodie Abacus: "You know without a doubt, this is like breakfast in bed with the curtains open and the sun blazing in on those sheets baby. Instant nostalgia, as if it was a Sunday morning, but you've woke up hangover free (maybe) after getting lucky (maybe) the night before, and now you're walking to the coffee shop in your jogging bottoms to get an Americano. Naaaaameeen."
Kaytranada feat. Craig David Got It Good
Jodie Abacus: "David just rolls up and sets it down doesn't he? To be honest I didn't even know it was him on this track at first you know? I was on tour with Laura Mvula a couple of weeks ago when I heard this on the tour bus and a proper bo jam it is! Big up Craig David. Oh by the way…Kaytanada's '99.9%' album is actually on fire. It's probably burning through someone's desk and laptop as we speak."
Mary Jane Girls All Night Long
Jodie Abacus: "Oi listen. You wanna know sophistication? This is one of those old school 2-step tunes my older brother use go out and party to raves and house parties that I couldn't go to. Too bloody young innit! But it's definitely up in the "cognac of soul" vibes selection. Hey, remember where you saw that first yeah? "Cognac of soul". Or maybe it's a new saying, "this song feels a bit cognac-y." Don't steal my cognac idea Dummy."
N.E.R.D. Provider
Jodie Abacus: "I think about this song and I think about my friends in the past and how they had different ways of making money. If you know what I mean. I didn't get too close, as you have to be careful of the company you keep as my dad always said. I always say, if you're gonna do it, do it with a means to an end, or perhaps not at all. Such is life ay! We're all born into different situation and circumstances."
Jodie Abacus Halfway to Mexico
Jodie Abacus: "MAN….the blood, the sweat, the tears.The late nights, the early mornings, the breakups, the work, the travelling, the sacrifice, the doubts, the false promises, the let downs, the crying in bed looking up at the celling and asking, "why is this happening to me"? I could go on and on. I picked my own song because it represents what you go through everyday when you have the feeling of wanting to make your dreams come true, it never turns off. Halfway to Mexico = point of no return."