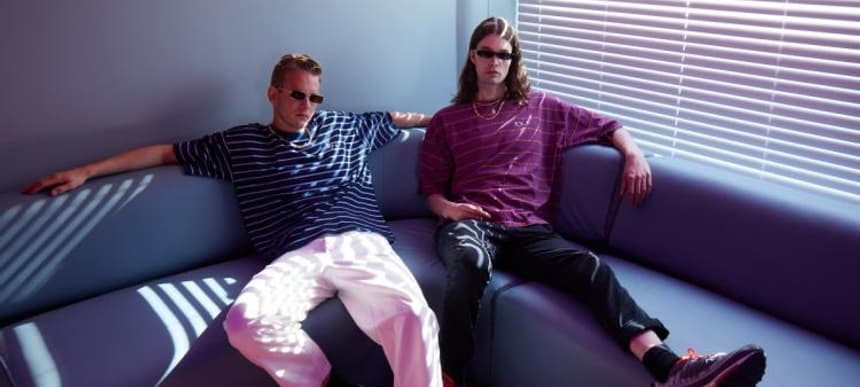 20.11.2018, Words by dummymag
The 10 Best Icelandic New Wave Rap Tracks, according to PSYCHOPLASMICS
Lord Pusswhip and Alfred Drexler list the fresh blood emerging out of Iceland's flourishing rap scene...
Operating out of a burgeoning scene of rap in Iceland, PSYCHOPLASMICS is the collaboration between Lord Pusswhip and Alfred Drexler, who draw hip-hop, IDM, trap and breakbeat into their work. Pioneers within their localised scene, the experimental duo have been pushing the boundaries of what they can do, and in turn gaining recognition on the world stage.
Their self-titled album is the latest outing for the pair, who grew up together on the island – and it's a remarkable document of widescreen, chaotic sounds underpinned by a deep hip-hop sensibility. But while Pusswhip and Drexler are concentrating on putting out envelope-pushing new sounds of their own, they've also got a strong ear to the ground in terms of the fresh sounds bubbling up out of the country.
Below, they've listed the top ten tracks to emerge recently from Iceland's flourishing rap scene.
–
1. Yung Nigo Drippin – 'Pluggið Hringir'
"Yung Nigo Drippin is doing the plug rap for Iceland in a laidback and effortless manner. 'Pluggið Hringir' is about the plug calling him up on the phone – "The plug loves me!""
2. Gísli Pálmi – 'Róró'
"Gísli Pálmi is the guy who started doing Lil B-style "swag" rap in 2011 and kind of opened up the door for the Icelandic new wave of rap. This song is a total cruncher."
3. Countess Malaise – 'Goddam I Love My Man'
"Here's an R&B track for the boys and ladies, produced by Pusswhip himself as well as top producer Bngrboy who appears on our new album. Countess Malaise is the most exciting rapper in Iceland – bar none!"
4. Flóni – 'Tala Saman'
"Flóni is the pretty boy for the second wave of new Icelandic rap. 'Tala Saman' is another slick R&B track for the ladies."
5. GKR ft. Birnir – 'Úff'
"GKR is an oddity in the rap scene here, known for his sincere raps. 'Úff' is by far the best song on his new album, 'Útrás', featuring the number one bad boy in the new wave of rap here, Birnir, who is also featured on our new album."
6. TY – 'Skósveinn'
"TY is also featured on our album but he's a member of psychedelic backpack rap group Geimfarar who enjoy an immense amount of respect in our city. We love his sardonic raps and experimental production."
7. Geisha Cartel ft. Fevor – 'Vera ég'
"This song is an absolute anthem by art-trappers Geisha Cartel and Renaissance man around town, Fevor."
8. Elli Grill – 'Evil Suburban Kids'
"Elli Grill is the weirdo of Icelandic rap, kind of a gremlinish Kool Keith with white boy dreads. This English number draws inspiration from the '90s horror rap from Memphis we love so much."
9. Lexi Picasso – 'Piano Jam'
"Lexi Picasso is another oddity in the Icelandic scene – an enigmatic Gatsby-like figure who apparently spent a lot of years in Atlanta hanging around the trap scene there. This track is off his massive 25-track self-titled album that came out last year, produced by The Justice League."
10. Húni – 'A L L'
"Húni is an experimental hip-hop producer that has stayed pretty low-key in the scene but managed to turn some heads with very interesting beats and soundscapes. Here's a bumpin' track from an EP he put out last year."
Listen to PSYCHOPLASMICS's 'De Pijp' here:
PSYCHOPLASMICS's self-titled debut album is out now.