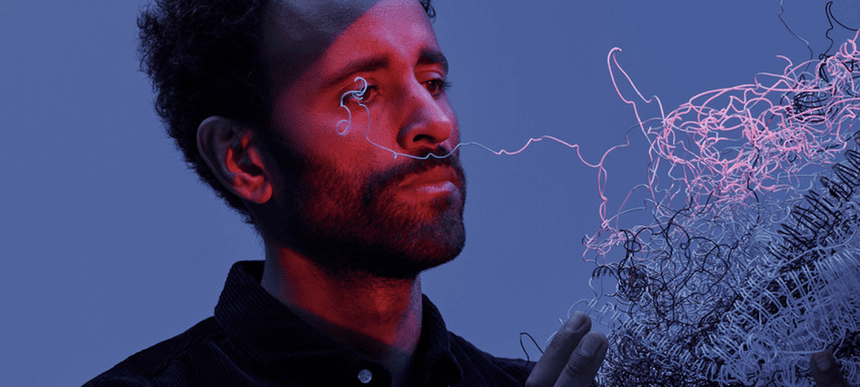 20.04.2022, Words by Billy Ward
The 10 Best Influential LGBTQ+ artists, according to Jimi Jules
"Switzerland has a lot more to offer than just chocolate, cheese and banks..."
"Better Together Forever" is the core statement of Jimi Jules' latest album '+', a boundary-defying exploration into modern electronica bringing together the many different threads of his artistry and imagination. Descending from a family of Swiss musicians, Jules has soulful vibrations running through his blood. Whether its producing music in the studio or hunting for hidden gems, the renowned DJ, producer and multi-instrumentalist is always looking to push the envelope with exciting sounds and genre-bending collaborations.
The new album represents the beginning of a whole new chapter for Jimi, following his debut full-length 'Equinox' in 2016. An innovative space for collaborations and symbiosis of mixed media, the project is all about connecting people, genres, places, beliefs and ideas. Interested to find out more about his latest body of work, Dummy hooked up with Jimi to get granular on the record's stylistic foundations. For many years now, LGBTQ+ artists have been paving the way creatively, forming a major part of the eclectic artist Jimi is today. Below, the Swiss producer lists the LGBTQ+ figures who have influenced him the most.
1. Martina Berther (E-Bass Player)
"I met Martina 15 years ago at the University of Music in Lucerne and she's been blowing my mind playing her e-bass ever since. Whether it's with her solo noise-experimental project Frieda Strom, her new wave band Ester Poly or her electronic-jazz trio Aul, she's always a pearl on stage, playing that bass like no one else."
"Born in the States, Mz Worthy is known for slamming house and techno records around the world. She was known as Worthy before her coming out during the recent pandemic. I met her around 10 years ago and when I heard her life-changing story on Facebook I was inspired to write a song about equality."
3. Cakes Da Killa (Rapper, Vocalist, Performer)
"I love the way American queer rapper Cakes Da Killa is shaking up the rap and electronic scene with his elegant way of dressing, rapping and entertaining. My favourite track of his is minimalistic house tune 'Taking Greezy'."
4. Jennifer Cardini (She/ DJ)
"Jenni is a french electronic producer & DJ living in Berlin, and she's also the boss of the house and techno label Correspondant. I really love her powerful and eclectic DJ sets, and her sense of humour when we play together. She never stops and her label is still one of my consistent favourites."
5. Tessa Testicle (Drag Queen)
"Tessa is a young and ambitious Swiss drag queen who is never afraid of trying something new. She sings, dances, performs and inspires the entire Swiss scene with her wild and charming attitude."
6. Frank Ocean
"I guess this guy doesn't need much on an introduction. Rocking stages all over the globe, his productions are out of this world. He's always on the quest to find and invent new forms of modern hip-hop. Always so deep and powerful."
7. Kaytranada (Singer/ Producer)
"Born in Haiti and raised in Canada, Kaytranada is an extraordinary electronic music producer. I love how he combines modern beats with old-school synths and samples. In my opinion, 'Chances' is one of the best songs ever made. So minimal, so groovy and so true!"
8. Severin Hallauer (Performer/ Artist)
"
Severin
is a Swiss artist and performer based in Zurich. I just recently found out about his art through a friend. I like the punky way he's show his art and we more of that in Switzerland. His most recent work 'Loving Switzerland' is definitely my favourite, and my album '+' is also the work of a modern Swiss citizen. Switzerland has a lot more to offer than just chocolate, cheese and banks, and Severin is the best example for that."
9. Tama Sumo (She/DJ)
"I think she's one of the most underrated DJs out there. She is a resident at Berghain / Panorama Bar in Berlin but has been playing all over the world for years. I first saw her at Hive Club in Zurich around a decade ago and she absolutely blew my mind with her funky and rough acid house and techno."
10. Arca
"Alejandra is a young Venezuelan musician, producer and performer living in Spain. Besides her own music, she has produced a bunch of records for Björk, FKA twigs, Kelela, Kanye West etc. I think her skillset and sound designs are out of this world, and she really knows how to experiment with all sorts of electronic, classical & pop elements. Definitely a good artist to get inspired by."
Stream Jimi Jules' new album '+' below:

Read next: The 10 Best Ridiculously Positive Songs, according to Metronomy