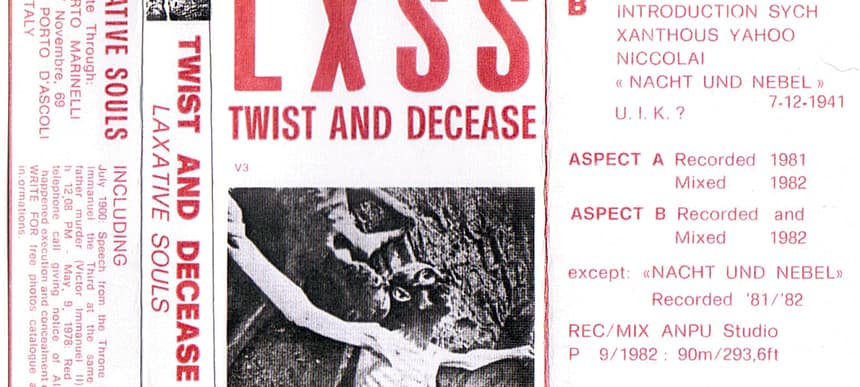 17.09.2013, Words by dummymag
The 10 best Italian new wave songs according to Alessio Natalizia
Last month, obsessive archivists Strut released a compilation of early 1980s Italian new wave succinctly titled 'Mutazione: Italian Electronic & New Wave Underground 1980-1988'. The compilation was put together by Alessio Natalizia, a man with fingers in many pies but perhaps best known as one-half of electronic duo Walls, and shines a light on a movement that, compared to its minimal synth and Neue Deutsche Welle counterparts, is quite overlooked.
Neon – Information Of Death
Natalizia: "Formed in Florence in 1979, led by Marcello Michelotti and still active today. Nothing sounded like this in Italy in the 1980s."

The Tapes – Il Tempio
Natalizia: "Without any doubt The Tapes are in my Italian new wave/electronic top five. This is taken from the amazing 'Carne Del Disastro' compilation LP, released in 1989."
Plath – I Am Strange Now
Natalizia: "From a 7" released in 1982. I love the production on this one – one minute and twenty-five seconds of pure hate. Amazing."

Krisma – Miami
Natalizia: "Seminal new wave/synth pop duo originally named Chrisma that I really wanted to include in Mutazione but couldn't for boring licenses issues."
​
Daniele Ciullini – Marbles In The Garden
Natalizia: "Taken from the 'Domestic Exile' C20 self-released in 1983. Italian mail-artist from Florence, he was Unit 8 in the TRAX collective."

Victrola – Maritime Tatami
Natalizia: "A true dance pop and new wave masterpiece from Messina/Sicily. This came out on the influential Italian label Electric Eye in 1983."

Monuments – Ice Age
Natalizia: "Electronic duo from Torino. This is taken from the 'Age' 12", released in 1984. One of the best electro pop records ever made in Italy."

Doris Nortin – Caution Radiation Norton
Natalizia: "You must have heard of Doris Norton if you are a bit of an electronic music fan, otherwise you haven't been digging deep enough!"

Pale TV – The Livid Triptych
Natalizia: "Really love this song, taken from the 'Blue Agents' LP, released in 1982 on the legendary Italian Records. They had quite an atypical line up of three girls and one guy – Alex (voice and sax), Whip (bass), Lady Adrenalina (drums) and Blue Niagara (synths)."

Faust'o – The Sound Of My Walls
Natalizia: "Great and shockingly underrated Italian musician. This is his most experimental work and the one I love the most."
​