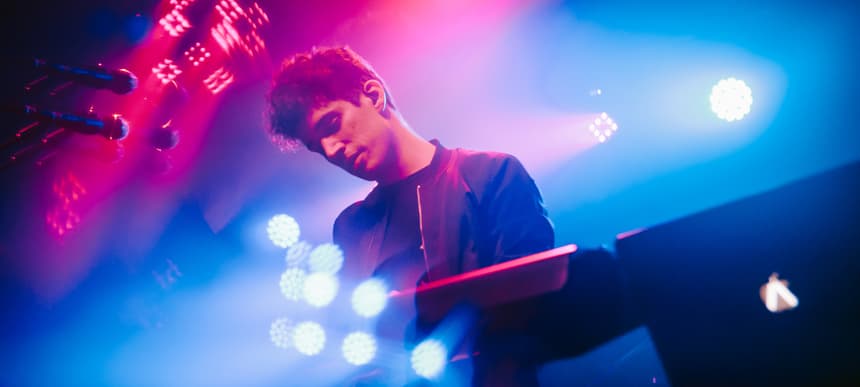 23.05.2022, Words by Billy Ward
The 10 Best J Dilla Releases, according to Anomalie
"I just leave it on loop because it's too good..."
When it comes to influential producers, J Dilla is up there with the all-time greats. A master of the drums and keyboard, as well as holding his own on the cello, violin, trombone and beyond, the late beat maker's indelible mark on the hip hop scene percolates much further than rap music.
One of the many artists keeping the legacy of Dilla alive to this day is Montreal-based composer Nicolas Dupuis aka Anomalie. Having sold out two world tours with his intricate 4-piece live band and performed at some of the world's biggest festivals, his recent 'Galerie' album is all about re-discovery and what it means to fall in love with music, combining cutting-edge electronic production, jazz, and classical harmonies. Most impressively, he's achieved all of this as an independent artist.
As someone who looked up to the iconic work Dilla put out during his life time – and keeping in line with his new album's focus on re-discovery – we dug through the crates with Anomalie to reveal his favourite ever J Dilla releases.
1. The Roots – 'Dynamite!'
"If I had to choose only one track I could listen to for the rest of my days, it would probably be this one. It's just incredible. The fact that the chord progression is a very slowed down chop of Bucky Pizzarelli's solo on 'Indiana' and that in that song it just happens in an instant is mind-blowing to me. How did he even think of that?"
2. J Dilla – 'So Far To Go' feat. Common & D'Angelo
"This has to be my favorite combination of artists on one track ever. Not only is J Dilla's sample selection genius and chopping once again legendary, Common's verse is insane and the D'Angelo hook and piano doodling just get me every single time."
3. The Pharcyde – 'Runnin'
"This one makes me feel nostalgic yet also instantly puts me in a good mood. I guess the nature of the chord progression on the guitar feels like the former while the drum pocket and "it's 1995" makes me want to run outside with a big smile and climb a mountain."
4. J Dilla – 'E=MC2′
"Powerful. Biggest stank face every time. That BASS. Those hats. Oof."
5. Slum Village – 'Get Dis Money'
"I love J Dilla. And I love Herbie Hancock. And this has both. His use of the sample ('Come Running To Me') is genius and definitely influenced my decision to make my own arrangement of the original for my album."
6. J Dilla – 'Dillatronic 12'
"I love the whole 'Dillatronic' album but this is definitely my favourite on the project. I'm a sucker for ostinatos and this is no exception. I just leave it on loop because it's too good."
7. Slum Village – 'Players' (Prod by J Dilla)
"This has to be one of the smoothest Dilla joints. Irresistible. That clap is insane."
8. Slum Village – 'Untitled (Fantastic)'
"This one also always feels nostalgic and soothing to me, it's like listening to a comforting hot beverage."
9. Slum Village – 'Tainted'
"Pocket is insane on this one. The Rhodes progression and occasional wood block thingy works wonders."
10. De La Soul – 'Stakes is High'
"Whenever I listen to this track I feel like I can conquer the world. Drums in the pocket and orchestra sample always gets me."
Stream Anomalie's new album 'Galerie' below: