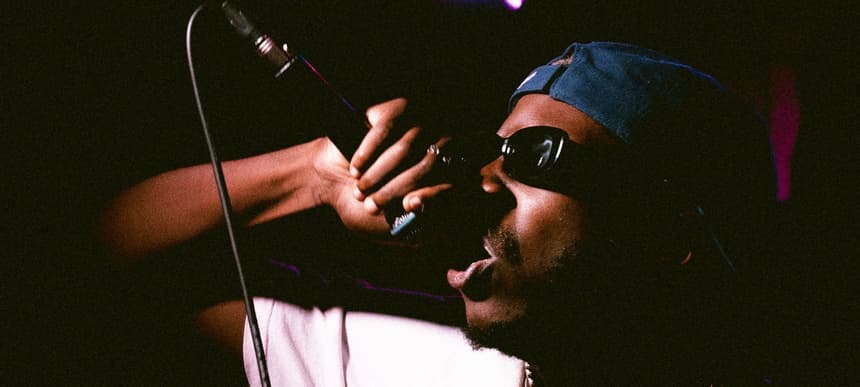 26.07.2022, Words by Billy Ward
The 10 Best Live Rap Performances, according to JD Cliffe
The North Londoner is performing at the halley x DMY Live Sessions this Thursday
Influenced heavily by the UK grime and rap scene, JD Cliffe knew from an early age that music was his path of choice. As a North Londoner, he was never short of iconic figures in the local area to take inspiration from, citing Skepta and JME's Boy Better Know as a monumental force in his development. Now paving his own way as a rapper, JD is flying high off the back of 'Go' and 'Wintertime in London', the two singles that complete his 2022 output so far.
With summer in full-swing, the North Londoner is readying up for a special live performance on Thursday July 28 at the halley, the beating heart of London's creative community. Curated by DMY, the event features an exciting all-rap line-up, including Bournemouth wordsmith Jaish and South East London's Le3 bLACK. Free tickets for the show are available here.
As the halley show edges closer, we spoke to JD Cliffe to get the low-down on his favourite ever rap performances. From fellow North Londoner Skepta, through to Kanye West and Tupac, this is an all-star list featuring some of the genre's most iconic moments.
1. Kanye West – 'All Day' (Live At The 2015 BRIT Awards)
"I remember watching this on TV and just thinking to myself this is absolutely crazy, the fact Kanye bought like 100 people on stage with him at the Brits with a couple of familiar faces (Skepta, Novelist, Jammer) just mobbing it out is what made this epic. Complete with the flamethrower, this is my favourite performance just based off how hype everyone on the stage was and what it meant for the UK that Kanye was giving the co-sign to our artists by bringing them on stage with him."
2. Tupac – The House of Blues (1996)
"All i can say about this performance is ICONIC. Tupac's character really shows in this performance and makes you understand why he is seen as one of the best rappers of all time, bonus points for Snoop coming out as well, this is one of those performances I will show my kids."
3. Dave – 'Black' (Live at The BRITs 2020)
"This was such an important performance from Dave as it highlighted the inequalities seen in the UK. The fact he did this on such a big platform as well just added to the greatness of it all. These kind of moments are what solidifies Dave as one of the UK goats."
4. DMX – Woodstock 1999
"This is just an epic performance, DMX performed to what seemed like the whole world, it's one of those performances that has to go down in history. DMX performed anthem after anthem to a crowd that was so hyped up. RIP DMX!"
5. J Hus – '21 Questions' 50 Cent Live Lounge Cover
"Hustla babyyyy, the smoothness J Hus showed in this performance is everything. Especially given the fact he covered such a classic track. The way the band deconstructed this along with Hus' lyrics and presence made this a top 5 pick for sure."
6. Playboi Carti – Rolling Loud 2021
"This show was just complete rage. The fact that for the majority of the show you can only see Carti's silhouette just adds to the cinematic energy of the whole performance. Paired with the energy from the crowd and Carti's hits, this is one show that I wish I could have witnessed live."
7. Tyler The Creator – NPR Music Tiny Desk Concert
"The replay value of this performance is crazy, I stick this on probably once a week. The way they deconstructed all the tracks with the band was artful, plus I love the NPR set up, very chilled intimate vibes."
8. Skepta – Boiler Room Set 2016
"This was Skep doing his thing best. Straight up bars from my childhood which I know every word to, energy must have been mad…Instant wheel ups for this one."
9. Kendrick Lamar – The GRAMMYs 2018
"The choreography of this show is what really appealed to me. Just how clean and in time everything was, also the fact it was at the biggest stage aka The Grammy's just added to the grandness of it all."
10. Section Boyz Headline Show w/Skepta & Drake
"This was a crazy moment for UK culture. It was kinda like the co-sign from Drake that the UK was next up, also the energy looked like it was crazy with Section Boyz and Skep giving a mad performance."
View this post on Instagram
Get your free tickets for the halley x DMY live session here.