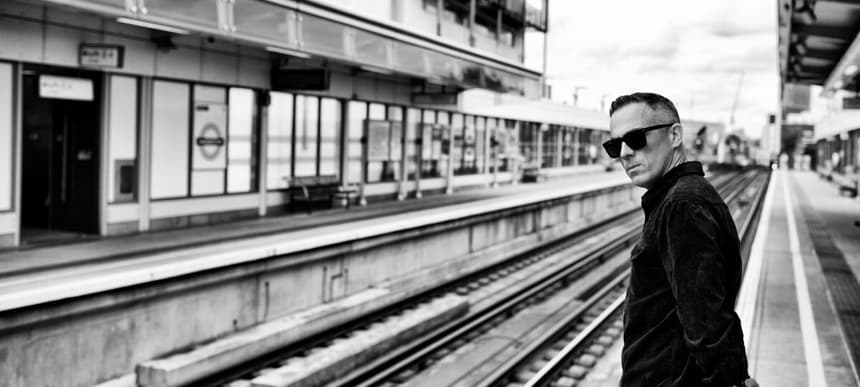 16.12.2015, Words by dummymag
The 10 best London anthems, according to DJ Zinc
DJ Zinc's CV must be longer than both mine and your arms put together. A pioneer and stalwart of several key electronic music genres that have taken London (and beyond) by storm; his influence spans drum and bass, garage, bass, house and breaks from the early '90s right through to the present day. His involvement in pirate radio goes way back to the roots, playing his first show back on Impact FM in '91 with DJ Swift, then rising the ranks of various pirate stations after that. Heavily involved with the wider culture around radio, he was soon making a high proportion of the music that was played on the stations. An early signing to Rinse when it was still pirate, DJ Zinc has grown alongside the London platform as it evolved into a legal station, label and successful event hub. He is as important to the city's culture as say, I dunno…pie and mash – so it made complete sense to share his 10 best selections of London anthems which, quite rightly so, includes a little bit of shameless self promotion.
In DJ Zinc's own words: "I don't underestimate the privilege of being involved at a street level and being able to observe the rave>> jungle >> drum'n'bass scene as a pirate and club DJ and producer, the garage scene as a producer and dubstep through the people I have worked with. My path has given me a unique look into London clubland; not every aspect of course, but a few scenes very close up.
My 10 best London anthems won't be revolutionary, but certainly connect the dots. i'll just add that the artists aren't all from London, or the labels. I know these tracks have been smashing clubs to bits around the world for years, but for me London is the place where you'd hear these tracks within the same night and it all made sense."
Read DJ Zinc's epic party-starting list below and listen via our YouTube playlist.
01. Bodysnatch Euphony (Just 4 U London) (Original Mix)
DJ Zinc: "I remember being given a promo of this in a pirate radio squat in Hackney Wick. It wasn't an instant hit but we (and the other pirates) kept playing it and after about six months it became an anthem. And while the 'Kuff Mix' was played a bit, the original was the one."
02. A Guy Called Gerald Anything Can Happen
DJ Zinc: "Gerald is widely heralded and rightly so. Voodoo Ray was pivotal, but this one is more for the heads. If you were listening to Weekend Rush or Defection in 1991 you'd have heard this track every show – at least 20 times each weekend. I preferred Version 2.1 but either mix was battered."
03. DJ SS Black
DJ Zinc: "SS is responsible for at least 10 tracks that tore London apart – some of them better known than this -but Black is the one the heads seem to favour."
04. Skream Midnight Request Line
DJ Zinc: "I remember listening to a CD of tracks by Benga and Skream before they'd released anything – they must have been 14 or 15 years old. At the time there was a sense of excitement about what was becoming dubstep (not just because of their demos, it was already evolving quickly) but I can't imagine anyone had any idea of how big it would become. Midnight Request Line is one of the best, if not the best example of what it was before it wasn't any more…"
05. Sia Little Man (Exemen Works)
DJ Zinc: "Wookie was on fire back then. Tune after tune after tune, but this one has stood the test of time above the others and still gets played. Some are bored of hearing it so many times but i think if it weren't so good it would have faded! Sia has a stunning voice, the words are so moving (Sam Frank to partly thank for those) plus Wookie's trademark beats and bass. Perfect."
06. Roy Davis Jr ft Peven Everett Gabriel (Live Garage Version)
DJ Zinc: "No surprises here – another massively popular track, but justifiably so. I often find that tracks which are very hard to mix as a DJ are often the best, as it sometimes means its more 'live' (and I've wrestled with this one a few times :/ ). Similar to Little Man – it's maybe the vocals that really set this apart, and those horns…"
07. JME ft Giggs Man Don't Care
DJ Zinc: "I love JME. He's smart, funny and genuine – a great example of how you can do your thing and make it work. And when it comes to smashing London with tracks, if you were at the Deviation carnival after party in 2015 when Benji played this you'll agree. Hands down tune of the night."
08. DJ Zinc 138 Trek
DJ Zinc: "Erm, not sure if I'm supposed to include my tracks, but eff it. I wasn't playing garage when I made this and didn't expect it to fit into that scene, but people like Slimzee picked up on it and it became an anthem. It still gets played and puts a smile on my face every time that happens."
09. Fugees Ready Or Not (DJ Zinc remix)
DJ Zinc: "Erm part two…often attributed to DJ Hype, i did this mix on Christmas Eve 1995 around my mate Trevor's house. It sounded quite different until i played it to Hype who suggested a different bassline – so there's some justification in the mistake. It was a toss up between this and Super Sharp Shooter for one of my jungle tracks. They both changed my life and both still get played. What a lucky sod eh!"
10. Wiley Eskimo (Instrumental)
DJ Zinc: "Couldn't have a London list without Wiley. While this track has demolished dance floors all over the world, I reckon none more so than London."
DJ Zinc plays Rinse FM's Boxing Day Party at Ministry Of Sound on December 26th (info).