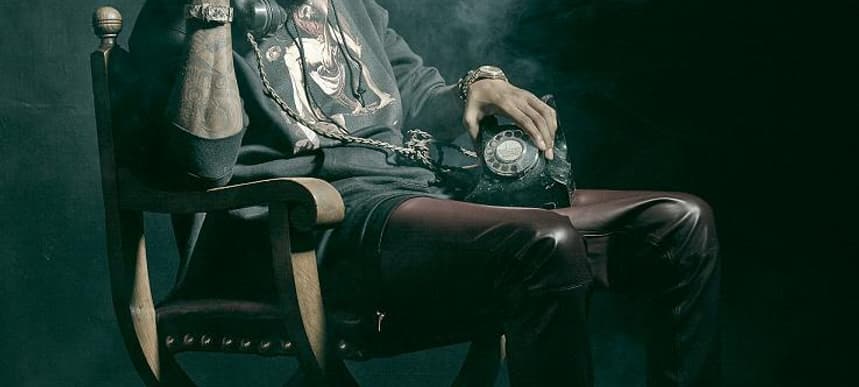 15.05.2014, Words by Anthony Walker
The 10 best Lord of the Mics clashes, according to Jammer
This Sunday, the sixth Lord of the Mics event will take place in London with an anticipated headline clash between P Money and Big H. The grime MC battle event was started by scene elder Jammer in 2004 and has been the venue for some of the most intense and memorable moments in the genre's history – many taking place in his own, now famous, basement.
With LOTM 6 in sight, we caught up with Jammer to find out about some of his favourite clashes from the past, covering the first two series through the reboot of the brand for the third in 2011and onwards. Some clips may be familiar (Wiley and Kano's and Skepta and Devilman's are particularly special) but it's mainly a celebration of an integral part of grime's ongoing creative and cultural life from someone right in the centre of things.
Wiley vs. Kano (LOTM 1)

Jammer: "This clash was the start of everything for Lord of the Mics. Although we already had clashes happening live on radio, the headlining clashes were filmed and took part in the basement. Once the Wiley and Kano clash had been filmed, we realised the interest and the hype that it created, which led to us concentrating and formulating the DVD as a brand."

Skepta vs. Devilman (LOTM 2)

Jammer: "This is a standout clash for me for a few different reasons. It opened the boundaries of clashing not just in terms of area and bringing London and the Midlands together, but it made different accents more acceptable and understandable. The most notable thing about this clash, though, was the way the artists used each other's lyrics against their opponent by remixing styles. This changed clashing and helped it to evolve in to the art form that exists today."


Demon vs. Bashy (LOTM 2)

Jammer: "This has to go down as one of the most entertaining. It's the only clash where someone admitted defeat live on camera and put their hands up to it. The amazing thing about clashing is that there's usually no winner, it's a personal opinion of the viewer or listener that decides which artist was the best and that could be based on whatever they choose: entertainment value, lyrics, flow – there's no set rules! Demon and Bashy were making things up on the spot and the entertainment value as a result was EPIC!"


Footsie vs. Scratchy (LOTM 1)

Jammer: "Hilarious! They tore strips off each other by dissing each other, Footsie disses Scratchy's hair, Scratchy disses Footsie's nose. This was one of the most personal when it comes to Lord of the Mics clashes."


Tinchy vs. Ears (LOTM 2)

Jammer: "This was another super entertaining clash. The lyrical flow on this was amazing and showed the younger generation the levels to be on top of your game."


Marger vs. Lay-Z (LOTM 3)

Jammer: "For the first time in LOTM history things got so heated in the basement that it actually got physical between the MCs. It was the relaunch of the LOTM brand and although we don't ever condone it going as far as it did (hence why it has never happened before), this created so much hype on the lead up to the launch that everyone wanted to buy the DVD just to see what had happened!"


Lil Nasty vs. Maxsta (LOTM 5)

Jammer: "This brought us in to new territory. We'd always worked with the hottest underground MCs but this clash was exciting because we were seeing artists that had been signed to major record labels come back to their roots and show their real passion for their craft in the basement. The clash was super intense, they both came from the same area, they were under no illusion as to the fact they didn't really like each other and it resulted on a tension filled, edge of your seat moment."


Domino vs. Slix (LOTM 1)

Jammer: "This was the clash of the underdog. Nobody expected Slix to put up the fight he did and then he rolled out remixed lyrics from the likes of Tinchy Stryder."


Blay vs. Fangol (LOTM 4)

Jammer: "The MCs got so frustrated with each other the looks are written all over their faces in the clash but they kept their heads and respect for each other enough to see it through to the end. Fangol showed great charisma in this clash and got a good balance between that and being a serious and talented MC."


Depzman vs. KDot (LOTM 4) ​

Jammer: "I had to put this one in. This clash got a lot of more established artists from the scene involved and back to helping the younger generation rise through the ranks. I remember Chipmunk really getting behind Depzman and posting up his support via Twitter etc. Even the old skool LOTM generation were back on board with the likes of Kano getting back in to the hype of it all. It's a huge loss to us all that Depzman is no longer with us and we're so honoured that he was part of LOTM, his music will forever live on. R.I.P. Depz."