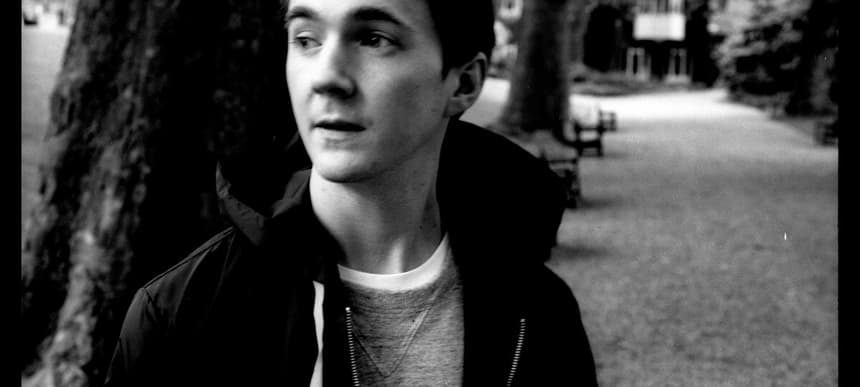 17.06.2014, Words by dummymag
The 10 best Matthew Herbert productions, according to Ben UFO
There's a memorable moment in Ben UFO's contribution to the Fabriclive series, where the ultra-modern funk sheen of Jam City's Club Thanz gives way to Matthew Herbert's low and gritty 1996 track Take Me Back. You can see why the Hessle Audio co-founder might be a fan of Matthew Herbert's music: his dance productions (released under names like Herbert, Wishmountain, and Doctor Rockit) display the same idiosyncratic, experimental, yet resolutely club-focused vision that all of the music in Ben UFO's DJ sets tends to exhibit.
Herbert's back catalogue is vast and, stylistically, exhaustive (he's released everything from downtempo and jazz to techno and electro-funk), but it's tied together by his use of eccentric, everyday sound sampling and musique concrète production techniques. You can hear this influence in a Hessle Audio artist like Joe, whose tracks are Herbert-esque not just in the way they work found samples into heavy club rhythms, but also in their wry sense of humour.
Needless to say, Hessle Audio are fans of what Herbert does, so it was not a major leap of logic that they invited him in as their special guest at their upcoming Fabric takeover. Herbert will be appearing in Room One alongside label mainstays Pearson Sound, Pangaea, and Ben UFO himself, as well as Livity Sound's Asusu, this Friday (June 20th).
Before the show, we asked Ben UFO to put together a little primer of Herbert's club material. Keen to stress that these are his favourites rather than a definitive top 10, here he digs deep into Herbert's back catalogue to pull up some of his essentials.
For a bonus round, check out another feature that Herbert himself made for Dummy last year, "the 10 best sounds that my house makes".
01. Recloose Can't Take It (Herbert Remix)
Ben UFO: "I first came across Herbert's music through hearing his remixes of other people. There's absolutely loads of them… I've barely scratched the surface, but of all his remixes that I've heard, this is probably my favourite. It somehow manages to stay relatively faithful to the original, but takes it to a completely different place."
02. Herbert I Hadn't Known (I Only Heard)
Ben UFO: "I've noticed a lot of people playing this out again recently… check the aggressive little looped percussion breakdown that temporarily shifts the mood away from total bliss around 4:30mins."
03. Herbert Butt Head
Ben UFO: "Totally bizarre, a sparse yet irresistible groove. I first heard this record when Zip played it during a back to back set we played at one of the Toi Toi parties in London last year."
04. Moloko Sing It Back (Herbert's Tasteful Dub)
Ben UFO: "I'm guessing this is Herbert's most famous remix. I think I first heard Floating Points play it, and initially found it hard to believe that I was enjoying something with that vocal quite so much."
05. Wishmountain Radio
Ben UFO: "One of the things I love about Herbert's output is that he was comfortable releasing tracks like Radio at the same time as he was releasing hauntingly beautiful, sparing vocal house records. His various production guises are at once completely distinct and unmistakably him."
06. Point Blank Rog (Herbert's Breakfast Remix)
Ben UFO: "I don't know if there ever was this kind of crossover, but in my head records like this make perfect sense alongside the early UK garage records that were being released at the time. There's also a flute breakdown… (Shout out to my dad on this one.)"
07. Herbert Here Tonight
Ben UFO: "The oldest track on this list, I think, released on the Back 2 Basics label out of Leeds in 1995. Another one where I feel as though I can hear links to garage, particularly in those vocal edits."
08. Wishmountain Rose
Ben UFO: "A slightly odd one out on this list, but a beautifully understated track I've been listening to a lot again recently."
09. Matthew Herbert 'Globus Mix Vol. 5: Letsallmakemistakes'
Ben UFO: "I can't overemphasise how big an impact this mix had on me. When I heard it for the first time I'd not been DJing house and techno for long, and I was spending a lot of time trying to figure out ways to draw in all the different elements of the music I liked in a way that felt natural and fluid. It seemed to me at the time as though most house and techno DJs were quite focused in their approaches, and as a result were comfortable staying in their respective lanes.
"When I heard this set, it felt to me as though someone had figured it all out… 10 years earlier. Effortless transitions between DBX and Theo Parrish, DJ Deeon and Mr Oizo, etc. etc… "
10. Herbert Moving Like A Train (Smith 'N' Hack Remix)
Ben UFO: "Not strictly a Herbert production, but a good excuse to finish on a huge dancefloor record that still makes me laugh whenever I hear it."
Matthew Herbert and Ben UFO play Room One at Fabric this Friday (June 20th) alongside Pearson Sound, Pangaea, and Asusu (buy tickets).