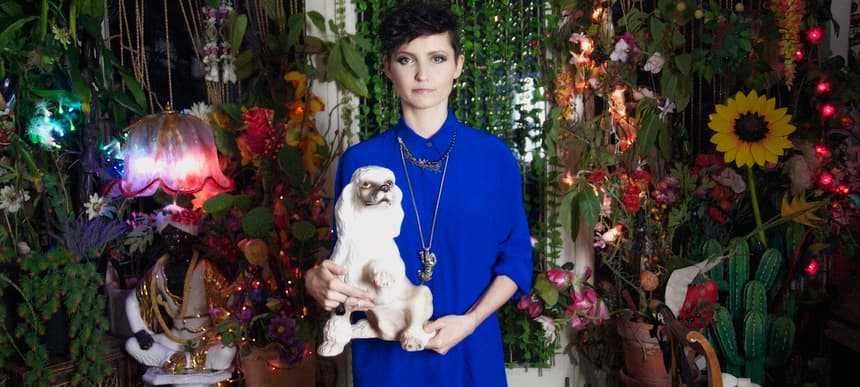 26.05.2015, Words by dummymag
The 10 best minimal house tracks, according to Magda
Magda's diverse tastes are reflected in her DJ sets, which can include everything from coldwave to cosmic disco to post-punk to electronic pop – but the genre that she's probably most recognised is minimal.
Born Magdalena Chojnacka in Poland, Magda was raised in Detroit and became immersed in the city's underground scenes during the 1990s, as the minimal house and techno movements were kicking off. By 1998, she was touring the world with Richie Hawtin, and has since held a tight relationship with his M_Nus label, putting out the seminal, edit-heavy mix album 'She's A Dancing Machine' through the imprint, as well as her debut album 'From The Fallen Page' – a rare release, as Magda is a DJ first and a producer second. Now one of the most renowned DJs on the scene, Magda can boast a Fabric mix under her belt as well as her own curatorial platform, the Items & Things label.
Magda's latest project is Define The Relationship, a series presented with Tehran-born, Berlin-based artist NYMA that remakes classic songs as darker, dancefloor-minded electronic tracks. Previously Magda and NYMA have remade tracks by Chaka Khan and LL Cool J, and their next single is an epic, 11-minute version of Joy Division's classic Love Will Tear Us Apart, with Miss Kittin paying tribute to Ian Curtis on vocals.
With the latest Define The Relationship EP out now, Magda has contributed to our '10 best' series, selecting a topic she is quite familar with – minimal house. Get stuck into the selections, and cop an exclusive stream of one of the EP tracks, below.
01. Daniel Bell Rhodes 2
Magda: "Dan Bell's tracks have inspired me since the early '90s. I love the simplicity and the space each sound has for itself, and how well they compliment each other."
02. Bruno Pronsato Open Your Eyes
Magda: "I love the way Bruno works with vocals and bends genres. The sounds are refined and all come together to make a dark but very funky track."
03. The Persuader Centralbron
Magda: "This is one of my favourite tracks since it came out in 2001. It still sounds fresh. It's stripped down nicely, using elements of new wave just enough, but not too much. It's simple and extremely catchy."
04. Theo Parrish Walking Thru The Sky
Magda: "This Detroit track is a classic. Minimal percussion with an incredible piano line, in true Theo Parrish style."
05. Dave Aju Runout
Magda: "The groove here is pretty loose and out there, which is great. It's thick and dirty, and a bit reminiscent of Matthew Herbert's Wishmountain project. The way the melody works with all the sounds is great."
06. Losoul Sawce
Magda: "This is such a great building track. It's very dramatic, and one of my favorite Losoul productions."
07. Daze Maxim Simply Driving Gold
Magda: "I like the wonky melodies and the vocals here. The track is driving, but also odd and funky."
08. Krikor 1968 (Ark remix)
Magda: "Ark and Krikor have always sampled in an interesting way. With its use of cut vocals and short instrument samples, this track is a great example of that sampling style."
09. Kalabrese Chicken Fried Rice
Magda: "I like this Perlon record because it's quite different. The vocals and the arrangement are quite poppy, but the use of the stripped down sounds, like the tom and the bassline, is really unique."
10. Studiogemeinschaft Employee
Magda: "I like the catchy melody throughout this track. It's very nostalgic of my time in Berlin 10 years ago."
Define The Relationship release 'Love Will Tear Us Apart' on May 26th 2015 (download).