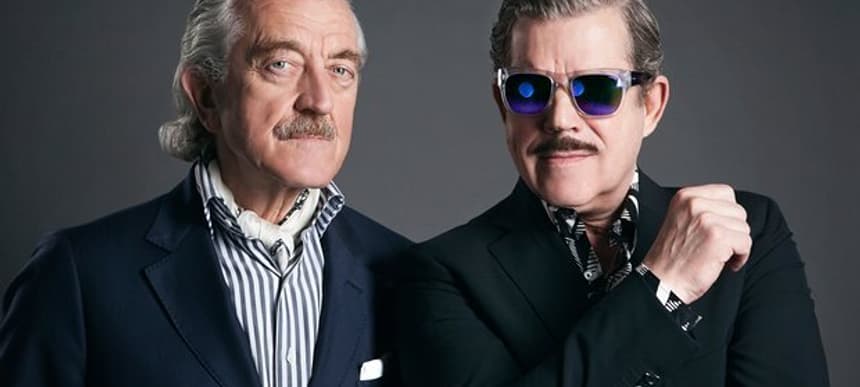 18.11.2016, Words by dummymag
The 10 best music videos, according to Yello
Yello is a music group that, even if you don't know who they are, you kinda do. You know they're a big deal. You know they're innovators in their scene. A Swiss electronic duo consisting of Dieter Meier and Boris Blank, their 36-year-long musical career has surpassed many people's phone contracts, mortgages, and marriages to bear around 13 studio albums and their weirdly erotic trademark synth-jam Oh Yeah, which has appeared in iconic films such as Ferris Bueller's Day Off and American Pie.
Breaking a seven-year hiatus, the pair returned in September with their first album since 2009, 'Toy'. Collating their forays across the musical spectrum – be it '80s synth-meandering, Balearic sunset jams or being the personal soundtrack of The Simpsons beer-mascot, Duffman – it's the perfect demonstration of their skills across the board, combining their decade-defying success with the perfect blend of upcoming talent, such as Fifi Rong and Malia. The result is one of their strongest albums to date, with their innovative output showing no signs of faltering.
Hot off the back of a sold-out run of live shows at Berlin's Kraftwerk, the pair will celebrate the release in all its glory next week, taking over Ministry Of Sound to host a conversation with Andrew Weatherall and also unleashing new mixes and visuals from the album, as well as DJ sets from Carl Craig, Optimo's JD Twitch, one-man orchestra and percussionist Ricardo Donoso and special guests to be announced.
In advance of the occasion, we got the pair to impart some music video wisdom on us and compile some of their favourite visual cuts from the past few decades. As expected, the results are all encompassing – ranging from Herbie Hancock to Alicia Keys. Read through Dieter and Boris' musings below, and listen seamlessly on our YouTube playlist.
Fifi Rong Future Never Comes
Dieter and Boris: "Fifi Rong is a great person, a wonderful singer, and a fascinating artist. The video for Future Never Comes by Paris Seawell is simply magic. As we said previously, Fifi is like a rare flower that doesn't bloom in every garden."
Marvin Gaye Inner City Blues (Make Me Wanna Holler)
Boris: "This song has accompanied me for a very long time. Inner City Blues directly evokes an indescribable mood. I'm not sure if the video for the song was created during Marvin's lifetime but whether it was or not – it perfectly underlines the mood of the track."
Ok Go Upside Down & Inside Out
Dieter and Boris: "An incredible video and an insane idea. The entertainment value of the pictures is 100% and it would be great to watch, even if the music didn't sound so spectacular."
Erykah Badu Bag Lady
Boris: "This song Bag Lady by Erykah Badu touches me literally under the skin. She has an indescribable voice – this is a truly brilliant song and phenomenal video."
Beck Wow
Boris: "Great video. Poppy and psychedelic, it has a very organic flow. I just recently discovered the video after working for days on a remix of Wow for Beck. And, I must also say the clip is Wow."
Håkan Lidbo Clockwise
Boris: "Håkan Lidbo is a musician and has been a friend of mine for over 15 years. I created the "YELLOFIER" app together with him. Possibly recorded before we built the app, the video Clockwise by Håkan is musically and visually far ahead of the time."
Aphex Twin On
Herbie Hancock Rock It
Kraftwerk The Model
Dieter and Boris: "There's no need to write a lot of words about this song – the images and music that Kraftwerk created have gone down in history a long time ago. It's still such a brilliant piece of nostalgia."
Alicia Keys In Common
Dieter: "A very catchy song that's exotic and erotic, but not cheap. I like the music a bit better than the pictures. I find the video very emotional, but there's no real comparison to the music…"
Yello's album 'Toy' is out now. They take over Ministry of Sound with 'Yellosphere', for one night only featuring Andrew Weatherall, Carl Craig, J.D. Twitch (Optimo) and more on November 24th.