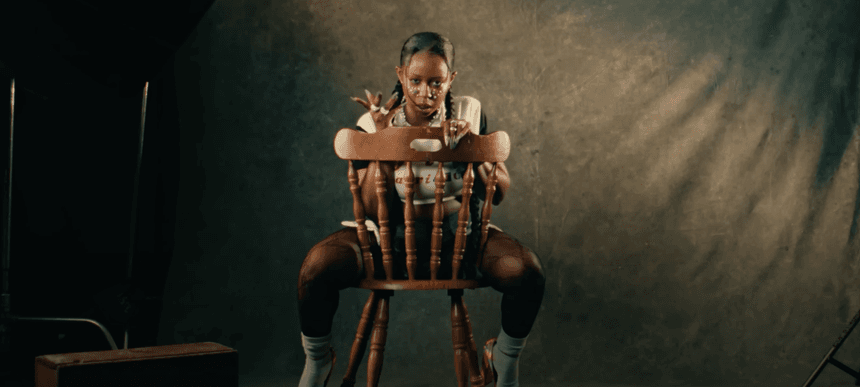 20.09.2023, Words by Billy Ward
The 10 Best Nigerian Rap Tracks, according to Lifesize Teddy
"The way to find cool kids like you was to stumble on one singing this track..."
Lifesize Teddy is one of Nigeria's most exciting young rap prospects whose presence on the global stage grows by the day. Born Banigo Apiafi Treasure, the rising talent announced last month that she had signed to one of Africa's biggest labels Mavin Records – an imprint that has uplifted some of Afrobeat's leading names. 
An audacious declaration of rapper's talent and artistic vision, Lifesize Teddy's self-titled debut EP is a project that sees the 23-year old rapper, singer/songwriter and poet announce herself as a complex and layered young woman with a penchant for clairvoyance. To celebrate the release, we sat down with Lifesize Teddy to run through her favourite Nigerian rap bangers. 
1. Naeto C - 'Kini Big Deal'
"This record changed everything with its style, finesse and swagger. Naeto had all the kids singing "shebi shebi we're on fire" and other leng slangs like 'you know my P'. Great times when this song was out."
"This record is the OG flex record. 'I got some stunner shades on, Prada on my back, Louis on my feet, Gucci on my wrist...I'm a big boy'. Kids used to sing this at all the school assemblies you know. The way to find cool kids like you was to stumble on one singing this track. It was and still is a beast of a jam."
3. Ice Prince - 'Superstar'
"I remember when Ice was the new kid on the block and I was instantly sold on him. I was like 11 when this record dropped and I had just entered JSS3 (Junior Secondary School Three). My friends and I had to get Supra shoes because of Ice. It was literally the right thing to do. Superstar Ice!"
"This record was a problem! A menace! M.I. came and reinvented the rap sound, making it even more fun to rap. A lot of people think rap is just rap you know - no fun, just dropping mindless bars lol. Rap music is different pockets of enjoyment and 'Anoti' will always be testament to that. It made everyone dance!"
5. M.I Feat. Poe - 'All Fall Down'
"This record felt like a permission slip to follow my dreams. The moment I heard 'nothing done for love is worth giving up', I held on to it. It was like a mantra and lifeline. Big Blessings to M.I. for the Illegal Music projects, I found plenty gems there."
"OG Sash! I remember coming back from school one afternoon with my uniform still on, playing around the living room and I see this babe on my TV. She was on a podium with mics everywhere and rapping super hard. It felt so audacious and cool. I loved it!"
"This is a tough record, very tough. A real classic Nigerian hip-hop record. Defiance and blood were in her eyes when she put pen to her paper. 'Hold up don't tell me shit' revolutionary to me! It was a girl power moment!"
8. D'Banj - 'Mo Gbono Feli Feli'
"This might be a controversial take but this record flies as a hip-hop record for me. The hardness of the jam can never be understated. It was so fresh. It's also built around a rapper's braggadocio, with that sick hook! And with Don Jazzy's voice in the backgroud, it was pure brilliance. I think rappers should have utilised this sound a lot more. It was something crazy!"
9. LADIPOE feat. Buju - 'Feeling'
"This is arguably the best rap record to come out of Nigeria in a long while. It's so happy and so bright-sounding. The writing is genius too. Every demographic can relate to the feeling in this song. I think we should make more inclusive rap songs like this."
10. Lifesize Teddy - 'Prophecy' 
"This record is both a prayer and an affirmation. Very autobiographical. It encompasses the start of my journey and it's an introduction to my hungry and yearning spirit." 
Stream Lifesize Teddy's debut EP below: