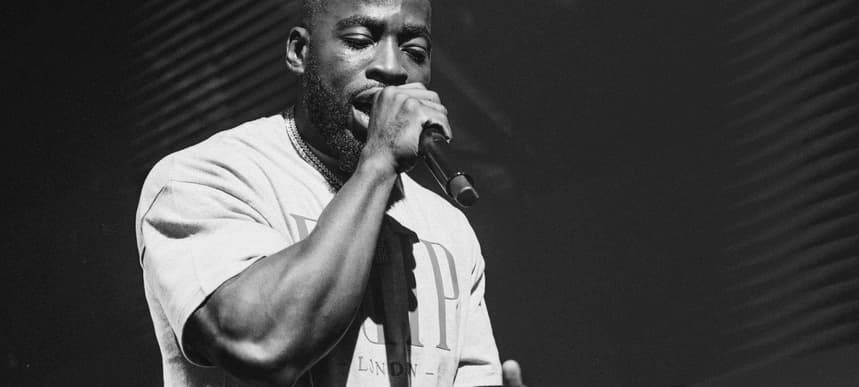 24.11.2021, Words by Billy Ward
The 10 Best Nostalgic Rap Tracks, according to Vic Santoro
"Everytime I hear it I wanna go out clubbing or somewhere that requires dressing nice"
Vic Santoro was only seventeen when his wayward path landed him behind bars. Following an eleven year stint in prison where he had time to think about his life, the 32-year-old has found his purpose in music and is using his second chance to positively impact the community which birthed him. These days, Vic's many labels include BAFTA Award-winning actor, public speaker and campaigner, but his rapping is what truly sets him apart.
Following his acclaimed 'Glory Days' trilogy released throughout 2021, the Cameroon-born South London artist is enjoying life after recently unveiling his extensive 'Glory Days Deluxe' mixtape. A heart-felt and gritty account of his previous life on the roads, as well as a celebration of his blossoming new chapter, Santoro's powerful project impressed during his headline show at O2 Academy Islington earlier in the week.
The rapper and public speaker has spent a lot of time reflecting over the years. In the run up to his recent headline event, we sat down with Vic to discuss ten rap songs which bring him the most nostalgia, from Giggs and J Hus, to Meek Mill and Tinie Tempah.
1. 2Pac – 'Changes' feat. Talent
"The message in the song really resonates with me from when I was a kid until now; the frustration, the anger and the hope."
2. Giggs – 'Talking Da Hardest'
"I heard this come over the radio whilst I was cleaning my cell, the fact that someone from South London was on radio made me believe anything is possible."
3. Klashnekoff – 'Murda'
"This basically was the energy across the inner city at the time. The wordplay and flow literally blew me away and made me want to improve my rapping ability."
4. Skinnyman – 'Council Estate Of Mind'
"This was an important song for me because he spoke on all the things I was witnessing and captures the emotions perfectly."
5. J Hus – 'No Denying'
"This is basically my theme song, the way he's channelling in the song is powerful, the production also is on another planet."
6. Meek Mill – 'Intro'
"This is the ultimate victory song, it's full of emotion and excitement."
7. Eminem – 'Stan' feat. Dido
"I really loved the concept of this song and the fact he was shining a light on what it can be like being a known artist from both perspectives."
8. Krept & Konan – 'Don't Waste My Time'
"This is my ultimate go-to song in the gym, there's an energy that it releases I feel, also it was one of the songs that motivated me as an artist."
9. Tinie Tempah – 'Pass Out'
"This will always be an all time classic for me, everytime I hear it I wanna go out clubbing or somewhere that requires dressing nice."
10. Big Pun – 'Beware'
"One of the best rap songs of all time – flow, lyrics and the whole production."
Stream 'Glory Days Deluxe Mixtape' below:
Read next: The 10 Best Jazz Rap Tracks, according to Rarelyalways