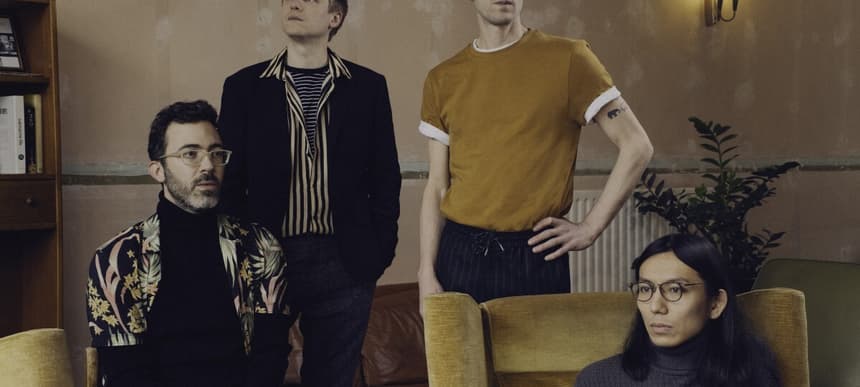 18.06.2018, Words by dummymag
The 10 Best Noughties Synth-Pop tracks according to Teleman
At a time when good bands are thin on the ground it's welcome news that experimental indie pop outfit Teleman are back with great new single 'Cactus' and new album 'Family of Aliens' to be released in September. Their third album for established indie label Moshi Moshi promises pop hooks, melancholic undertones and melody throughout which sounds good to us. In the meantime the band have chosen their 10 favourite noughties synth-pop tracks (they could have done the eighties of course but that was far too obvious).
Fischerspooner – Emerge
Jonny: "Electroclash was like the fucked up cousin of synth-pop but related nonetheless. With wonderfully simple arrangements 'Emerge' sweeps between empty kraftwerk-esq verses to a full scale electro barrage when the female vocal comes in. This was a favourite at house parties we would throw in the noughties. I once met the singer in a bar in New York and was somewhat starstruck. Simple pleasures."
Royksopp – Eple
Pete: "I had no idea who Royksopp were in the noughties but I had heard this tune so many times it's quite a nostalgia trip to hear it now. It ticks a lot of boxes for me, simple, bouncy and not too serious. Their more recent work with Robyn on The Inevitable End is incredibly detailed and rich. This old stuff still sounds great!"
The Knife – Heartbeats
Hiro: "You can't make a noughties synth-pop playlist without this song. Blocky synths, electronic drum kit and somewhat-a-bit-silly-yet-tasteful-solo, everything fits in nicely and makes the song one of the greatest noughties songs. Something quite nostalgic about this song as well, I used to listen to it a lot when I was living in Tokyo."
Add N to (X) – Plug Me In
Jonny: "This is a very weird song sung by a robot with a catchy, bouncy melody carried along by some looping big-beat drums. Despite this we all know what the 'plug me in' euphemism is don't we? I believe there may be some little robot babies on the way, let's hope they oiled themselves up first."
Daft Punk – Veridis Quo
Tommy: "A lot of synth-pop from the noughties conjures thoughts of high octane bangers. This song offers a totally different vibe, proving that Daft Punk were capable of creating really nuanced and beautiful sounds. Discovery was a total bomb of an album and a great way to start the decade."
Sébastien Tellier – Roche
Pete: "This is just one shining example from the album Sexuality which is brimming full of beautiful music. All the songs are quite sexy, obviously. The arrangements are water tight and harmonies a bit jazzy and/or classical at times and as an added bonus all the drums are synthesized. There's a real depth to this body of work so well worth exploring if you haven't already."
Ladytron – Playgirl
Jonny: "Ladytron make delicious, lush synth-pop and this early song is a perfect example. So simple and infectious I really love Helen Marnie's voice, it's so dreamy. I would probably leave Teleman to be in this band. There is a banging Felix Da Housecat remix of this but it's from 2011 so it just missed the list – look it up though!"
Pacific! – Hot Lips
Hiro: "My Swedish ex-flatmate used to listen to this song and that's how I got to know it. You don't really hear but there are some great Swedish bands out there and Pacific! are one of them.
The singer's voice reminds me of Philip Oakey a bit, it's enthralling. Steady drum beats (love the big claps), constant synths and disco bass line make you dance."
LCD Soundsystem – Losing My Edge
Pete: "James Murphy is obviously some kind of legendary music superhero. This song along with the other hits from the eponymous debut were some of the most played dance floor bangers
of the noughties. 'Losing My Edge' was LCD's first single, a comic and absurd lament on getting older and the fear of losing one's 'cool' status – 'I was there'."
Hot Chip – Boy From School
Pete: "This band were, and still are, quite a big influence on the Teleman musical journey. The honesty and earnestness of their lyrics is quite arresting, and they're often doing something new and exciting with their sound. This song has quite a sad lyric while maintaining a steady upbeat disco groove with a catchy synth riff – quite moving and I still love this track today."
Listen to the Spotify playlist: https://spoti.fi/2LO8VAQ
Teleman play Lightbox, London on July 4th: Tickets